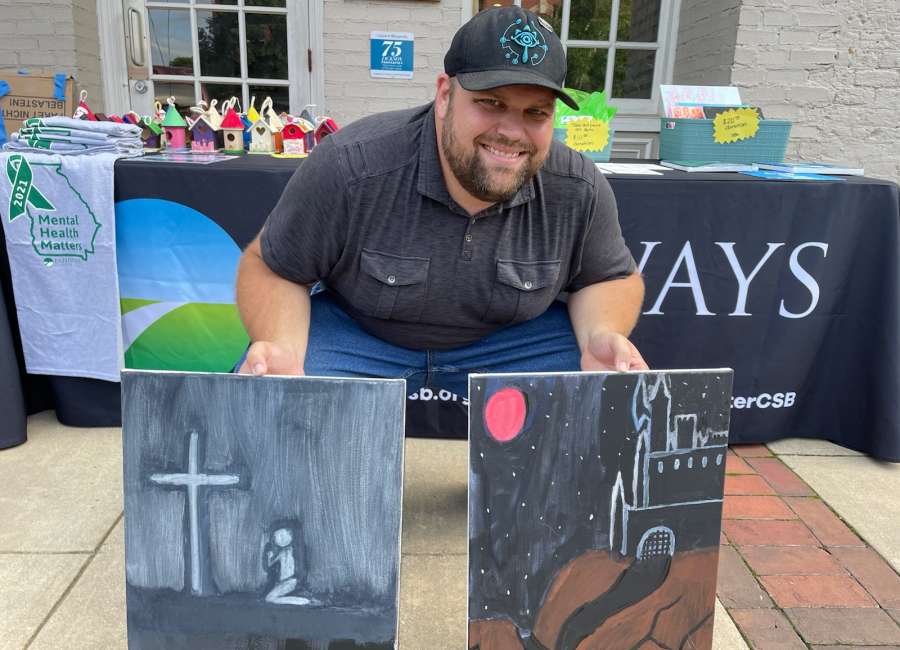 After a long battle with depression, Talmadge Smith found some solace in painting.
A couple months ago, canvases and paints were brought to the Pathways Center's day program, Smith said. The patients were asked if they wanted to work with the art materials, and Smith, on a whim, decided to give painting a try.
He'd never done much art outside of a couple of high school art classes, but that didn't stop him from putting a brush to canvas.
Inspired by a sight at Tybee Island, Smith said his first painting was of a moon over the ocean.
"I've been to Tybee Island a few times," he said. "Right after my father passed away due to COVID, we brought his ashes to Tybee Island. I remember seeing the full moon over the ocean, and it was very breathtaking, so I kept the picture in my mind and brought it to the first one on the canvas."
That painting, along with five others Smith painted, was sold at the Fall Art Walk in Newnan.
"I've always had a talent to envision things--to see things before they happen--like seeing a picture that belongs on a canvas or taking a pictures that's right in front of me and putting it on a canvas," Smith said.
According to Abigail Alvarez, Interim Director of Client Engagement at Pathways Center, Smith's paintings raised more than $100 dollars to purchase more art supplies for the art program at the center.
To further Smith's art, Alvarez said Pathways Center gifted him an easel and several canvases.
The supplies were much needed, Smith said, because low-cost art supplies are hard to come by.
"I'm always resourcing to find paints and canvases at thrift stores and low-discount stores," he said. "Trying to afford the materials is a little tricky sometimes."
The act of painting, Smith said, has helped him cope with his depression and gave him a boost of confidence. His paintings allow him to have an outlet for his feeling.
One of his paintings features a bottle with dark figures squeezed inside. The glass is cracked, but still held together. Smith said each of the figures represented his worst emotions, such as depression, anger, despair and suicidal thoughts.
"Trying to keep them all bottled up is one thing, and the cracks show how much stress a person can take," he said of the piece.
Now, Smith occasionally leads an artist discussion group for other patients at Pathways Center, said Heather Porter, who runs Pathways's day program.
In the group, Smith demonstrated painting a supernova and talked about artists, such as Vincent Van Gogh, who suffered from mental illness.
"The purpose of our discussion groups is to discuss how that particular topic relates to their individual mental health, and it give them a way to relate to each other about it," Porter said. "Talmadge often leads the artist discussion group and how helps with coping skills and managing symptoms."
Many of Smith's paintings are landscapes, and several continue to be inspired by trips to Tybee Island.
On another trip to the coast, Smith said he painted a sunset over the marsh and painted a lighthouse on the island.
The picture of the lighthouse, he said, he left behind at the home he was staying at, and the owner hung it on the wall for future guests to see.