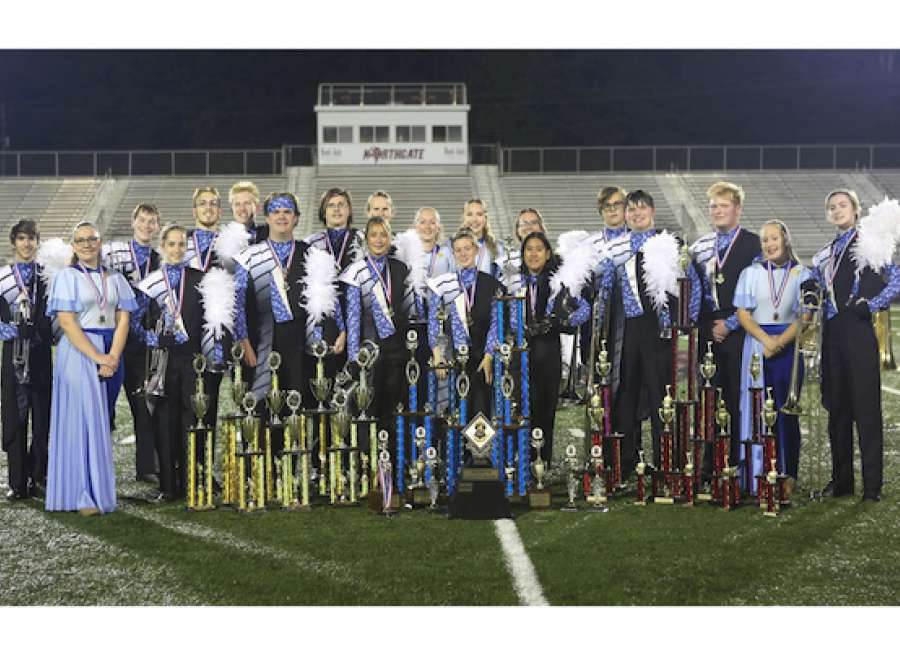 It's been 25 years since Northgate High School musicians took the field for the first time, and the quarter-century competitive season was a particularly successful one for the Viking Band.

Northgate wrapped up its season across town at Newnan High School's Old South Marching Band Festival – a competition that's 17 years older than the Viking Band – by racking up a score of 95.07 to earn the overall Grand Champion title.
Director Alan Armstrong, who has headed the band program since Northgate opened, said this year's field show, "Where I Belong," had a special two-fold meaning.
"For those who didn't know anything about our school, it told a rather universal story of leaving your home to cut your own path and finding your way back home," Armstrong said. "For those that knew the story of Northgate, it was the same story about coming back home, but was intended as a celebration of our 25th anniversary."
Multiple musical and visual references in the show honored the memories of people who during their lifetimes were important to Northgate and the band program, Armstrong said, and the final medley of "Country Roads" and Daughtry's "Home" was meant to welcome alumni back home.
"The final words of the narrator – 'Home will always be the place … where I belong' brought everything full circle for those who had come back to celebrate our 25th anniversary with the current Northgate family," he said.
Musical soloists in the show included Melanie Barbret, Noah Mlakar, Rachel Gaydon, Tristan Ritter, Rhiannon Lefebvre and Michael Collins. Visual soloists were Avery Boardman, Rachel Glover and Hallie Christensen.
Boardman, a senior and Guard Captain, said her final season was the best of the four years at Northgate despite many challenges.
"I am very, very proud of my peers for all of their hard work, and I am so glad that we had a great group this year," she said. "This sport is never just about the competitions, but I am extremely proud of us for how we ended the season with a grand champion win. As a senior, and also as a leadership member, I couldn't have asked for a better season."
With 80 members on the field, the 2021 Viking Band was the smallest competitive band that had ever represented Northgate, according to Armstrong, who said it was "quite an accomplishment" to be successful in competition after being crippled by COVID-19 restrictions last season.
Northgate began the year at the Carrollton High School's "Legacy of Champions" competition. The band and colorguard were named Class Champions and the guard won the Silver Division championship at that contest. The band finished fourth overall in the show, across all classifications.
At its second competition, the Strong Rock Classic, the Viking Band finished second across all classifications.
At the season finale Old South competition, Northgate's guard, percussion and drum majors were named Class Champions as well as Silver Division Champions. The overall band was named Class Champions and Silver Division Champions before being awarded the "best of show" Grand Championship out of the 14 bands from Georgia and Alabama competing in the event.
"We are so proud of these kids," Associate Band Director Chris Sink said. "Over half the band had not only never competed, but had never even ridden a bus to an away football game. There was so much new to them about this year, and what they were able to accomplish was incredible."
In its 42nd year, the annual Old South competition is judged each year by highly esteemed music educators from across Georgia, including a mix of high school and college band directors.
"The Northgate Viking Band was very deserving of the recognition, and we congratulate all of their hard-working students, supportive band parents, and their highly skilled directors and staff," said Newnan High Band Director Josh Boyd.
And while Old South is one of the most prestigious and longest-running marching band competitions in the southeastern U.S., damage from the March 26 tornado presented some unique problems in staging the event this year, according to Boyd. But the Marching Cats and their supporters rose to the challenge, he said.
"Our band students, parents and alumni worked extra special hard this year to overcome many obstacles related to challenges caused by tornado damage," Boyd said. "Through their hard work, the 42nd Annual Old South Marching Competition was one of the best in history. We hosted over 4,000 total students and spectators, and capped off the event with a performance from both our Newnan Marching Cats and the amazing University of Georgia Marching Wolves."
Northgate Drum Major Logan Stelling, who called the 2021 season a "beautiful experience," said the Newnan competition was a perfect ending.
"None of us will ever forget the thrilling feeling of ending the season at such a cherished event," Stelling said. "We owe it to our friends at Newnan High School for welcoming us and hosting such a great show."
The Viking Band hosts its own marching competition each year, the Valhalla Classic. This year, 15 bands competed, and Ola High School earned the 2021 Grand Champion title.
"Beautiful weather, outstanding performances and the joy of watching band students do the things they love to do, perform and entertain a crowd, made the 15th annual Valhalla Classic a special day for everyone involved," Armstrong said.
Armstrong said that despite many challenges, the Viking Band's 25th year was "a wonderful year to share with our band family."
"Our staff did an outstanding job meeting the kids where they were and getting them where they wanted to be," he said. "Our parents were amazing with the support they provided to help us reach all our goals. I'm probably most proud of our seniors and leadership team. With so many inexperienced members, it took a huge effort on their part to make it all come together, and they made it happen. We truly couldn't be more proud of them all."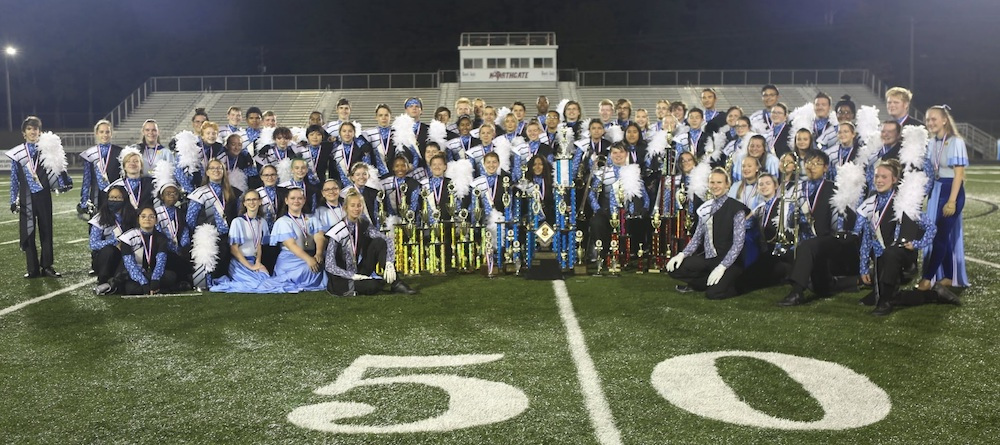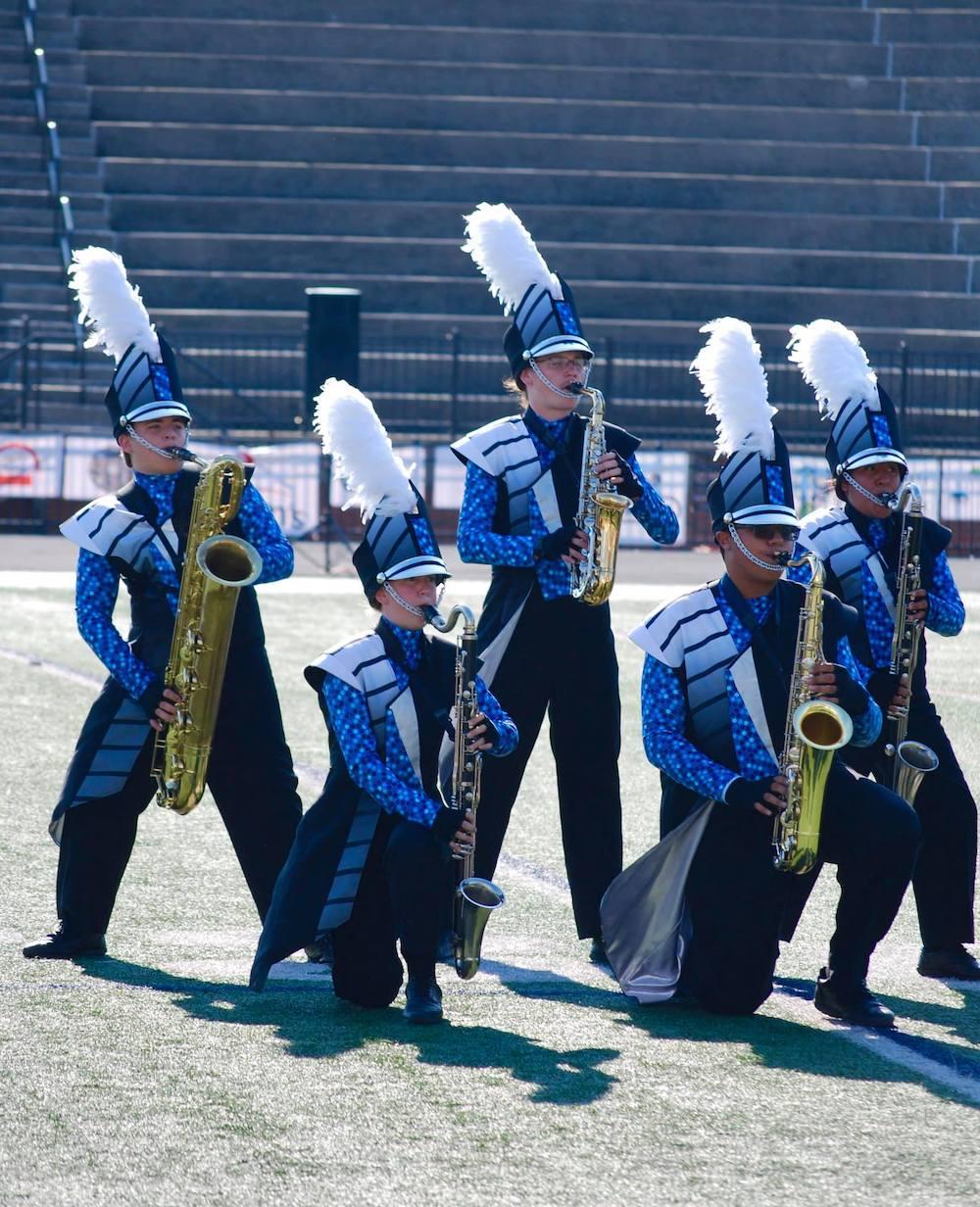 Photos courtesy Northgate High