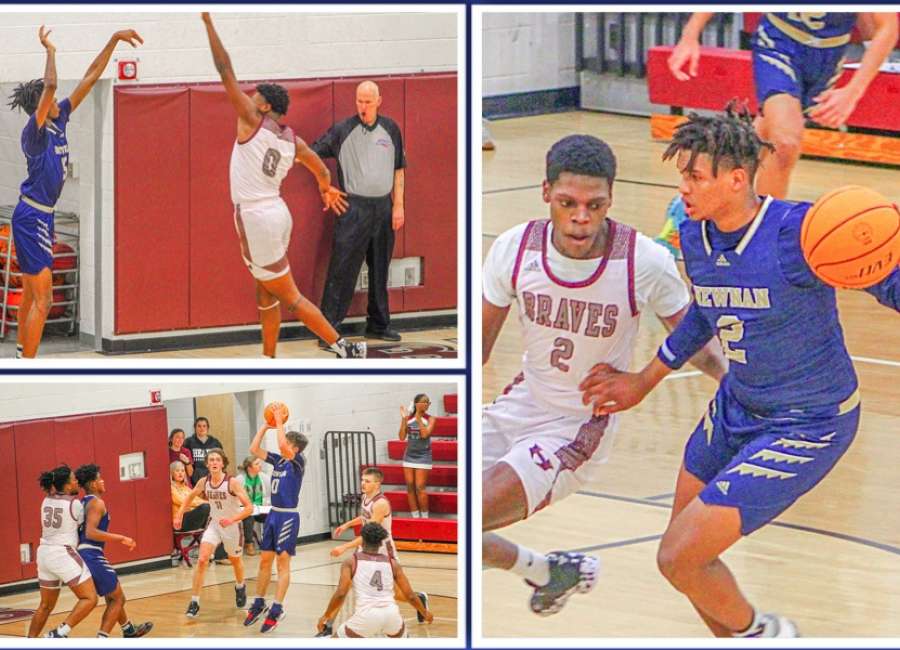 BY DERRICK TEAGLE

Newnan Girls ran into a juggernaut in the Heard County Lady Braves, who once again proved that their top ten ranking #7 in Class AA is legit.
The Braves jumped out to an early 10-0 lead with their full-court trapping defense. The Lady Cougars lost 60-21 and are now 1-4 on the season.
Newnan Boys played against a very gritty Duluth team at the beautiful Buford Arena. This tournament featured some of the best boys and girls teams in Georgia.
The Cougars, playing great defense, went to halftime with a 43-24 lead. Georgia High School basketball guru Sandy Spiel said he was very impressed with the Cougars during a half-time conversation.
The Wildcats started making their perimeter shots and outscored the Cougars 22-14 in the third quarter.
The fourth quarter saw the Wildcats close the lead to 4 points but a back-to-back basket by Sophomore Wheeler Drake and Junior Derrius Teagle increased the lead to 8.
The Cougars won the game 76-56, led by Seniors Wesley Drake and Zion Brown 27 points apiece.
Coach Gatz shared his team was challenged by Duluth and it was "great to see our team get a victory after facing some adversity"
Newnan vs Heard County
Newnan beat Heard County 81-41 earlier this year. The Braves were without 2 starters who were still playing football. The Braves were back at full strength and at the start of the game you can tell that this team was very different.
The Braves added size 6'6" Johnathan Echols who helped get the Cougars in some foul trouble. The very loud crowd and poor shooting had the Cougars in a dog fight at the end of the half, 27-21 Cougars.
The Cougars started flexing their muscles with 6'6" football wide reciever Justyn Reid and several other big men in the third quarter. The Cougars frustrated the Braves and were on to a blowout leading 50-31 heading into the 4th quarter.
Six-foot-five-inch freshmen Jayden Morrison and 6'5" senior JJ Walden both contributed big shots in the Cougars 76-51 road victory.
The Cougar's leading scorer Wesley Drake led the Cougars with 17 points. The Cougars are now 5-0 on the season.
Photos by Kristy Rodgers