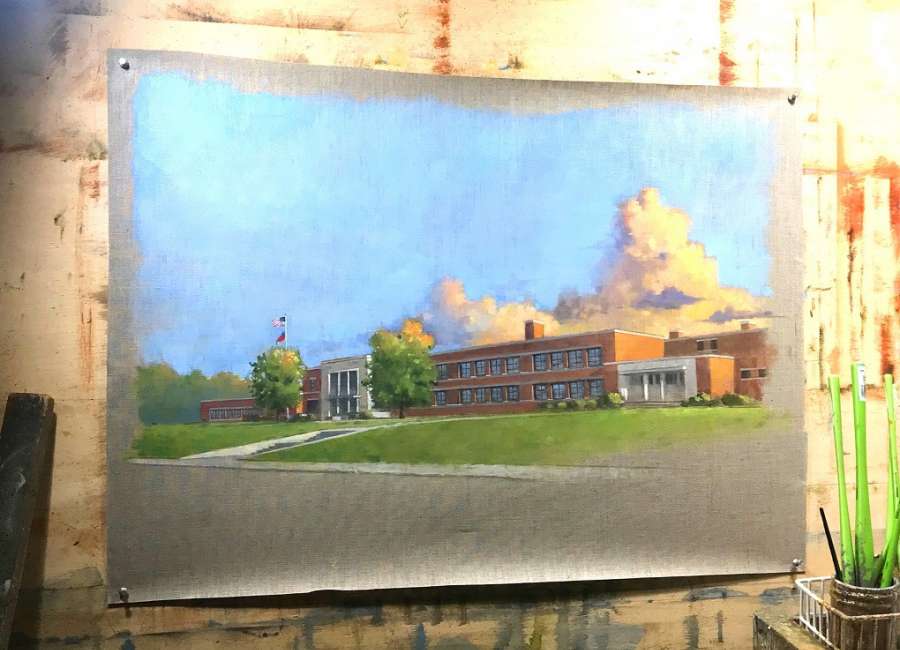 Newnan artist Martin Pate's work is being used to raise money for various Newnan and Coweta organizations.
Pate's piece, "Newnan High Sunset," is being used by the Coweta County Ferst Foundation on notecards, and the proceeds will be used to benefit the school and CCFF.
CCFF is a nonprofit that provides a free, age-appropriate book each month to Coweta students under the age of 5. Approximately 2,000 children receive a free book each month from the organization, according to CCFF board member Janie Lore.
"Newnan High Sunset," will also be featured on ornaments sold by Newnan High School's Interact Club, which is a service organization at the school through the Newnan Rotary Club.
Lilly Collins, president of the NHS Interact Club, said the money from the ornaments will be used to complete service projects organized by the club.
The projects include buying Christmas gifts for children in need and donating food and pajamas to families in need, according to Collins.
Pate said he gave the painting to CCFF and the NHS Interact Club in response to the damage from the tornado in March.
"Years ago, I had done a painting of the high school that did not sell until the tornado hit and someone contacted me to buy it. So I knew there was going to be emotional interest in the school, so I did this new painting," he said.
Pate made the painting after the fence was put up around the school. He said he took a photo and recreated what he needed from his mind.
While Pate did not attend NHS, his children did. He said the damage to the school was emotional for him, his family and many people he knows in Newnan.
"It was real emotional for me to see it. My daughter lives near the school, and her house was damaged," he said. "I remember what my high school was like to me, as far as memories, and I knew that it would be the same for my children with their school. When the news came out that they'd have to tear most of the front down, that hit really close to home. I knew a lot of people, including my children, would be sad about that."
The notecards from CCFF can be purchased at Corner Arts Gallery and Lee King Pharmacy. For more information, contact Janie Lore at janielore4@gmail.com . For more information on the ornaments from the NHS Interact Club, go to https://www.newnanrotary.org/event/6101 .