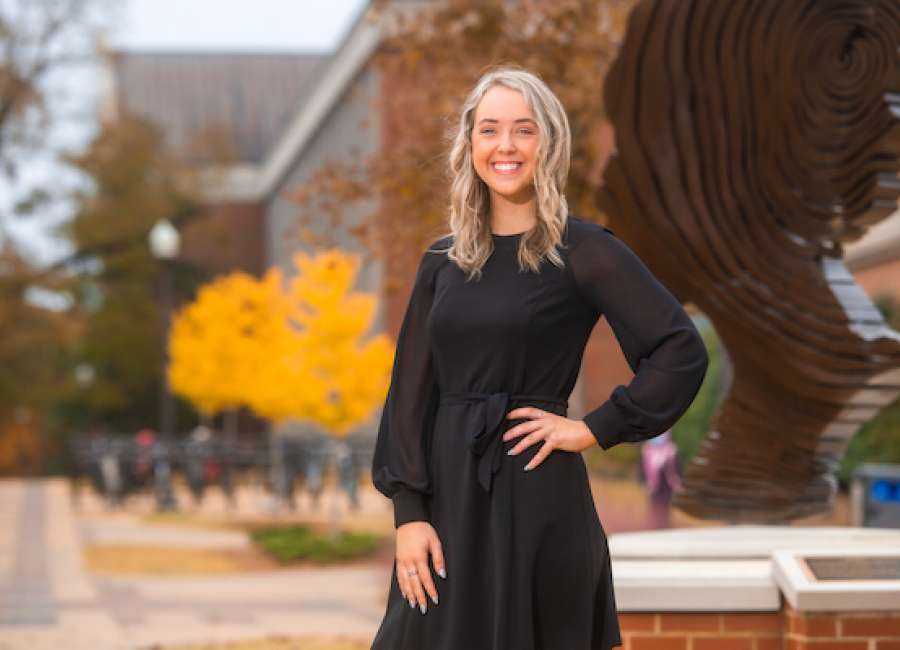 Hannah Lynn McGill of Newnan has been selected to serve as the student marshal for the College of Liberal Arts in Auburn University's fall 2021 commencement ceremony, scheduled for Friday and Saturday.

McGill is graduating with a degree in health services administration and will be continuing her role with Radix Health as an implementation intern before pursuing a full-time position with the company. She said she hopes to continue to improve patient access and grow in the health care information technology realm, while continuing her education.
"I have future goals of attending graduate school and obtaining a master's in either health informatics or health administration," McGill said. "I plan to get my master's and hopefully pioneer my own health IT startup company.
"Health services administration is a perfect combination of business and health care, and I instantly knew this degree was for me, as I wanted to be in a field that is making a difference while presenting new challenges at the same time," she said.
"The best part of this program is the professors, who are encouraging, supportive and enlightening. They have helped shape me into a better leader and prepared me for my future," McGill added.
McGill was involved with the University Program Council during her time at Auburn, serving as vice president of coordinated events her senior year. She was a Camp War Eagle counselor during the summer of 2020 and a member of the Hospital and Health Administration Organization.
Each college at Auburn enlists a special committee to select a student marshal who best represents the values and level of excellence within the college and to carry its flag at the front of the commencement procession.
Auburn's fall commencement ceremonies will take place on Pat Dye Field at Jordan-Hare Stadium, contingent on weather, with Auburn Arena serving as the inclement weather option.
The university will kick off its graduation weekend at 5 p.m. CT on Friday, Dec. 10, with a commencement address from Auburn alumnus Joe Forehand Jr., the former chairman and CEO of Accenture.
Open to all graduates and families, the evening will include the group recognition of graduates with academic honors, conferral of degrees by the Auburn University Board of Trustees and the Graduate School ceremony for master's and doctoral graduates.
The Friday night commencement address will immediately be followed by the Graduate School ceremony for the conferral of master's and doctoral degrees. On Saturday, the university will host 10 undergraduate ceremonies at assigned times throughout the day in the stadium, with the College of Liberal Arts beginning at 8 a.m.
"We are extremely proud of Hannah and her academic achievements during her time at Auburn," College of Liberal Arts Interim Dean Ana Franco-Watkins said. "An accomplished leader, she is a role model for others, and we wish her the very best in her future career as a healthcare professional."