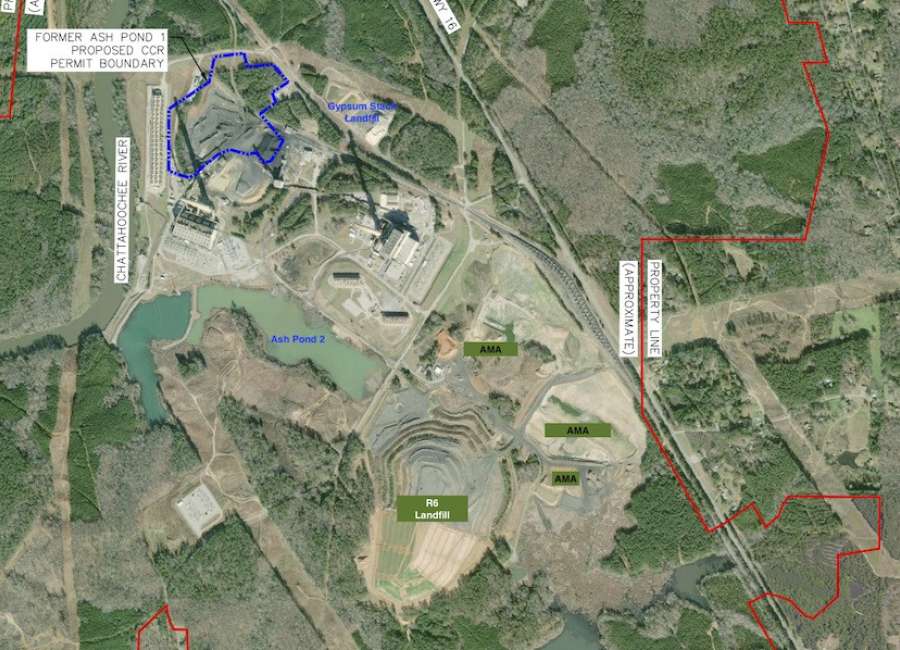 The Georgia Environmental Protection Division has issued the first two draft permits for the long-term management of coal ash at Georgia Power Plant Yates.
While Georgia Power plans to store all coal ash on-site in landfills, in a process known as "closure in place," the first two permits are not for closure in place.
Plant Yates stopped burning coal in 2015 and switched to natural gas.
Instead, they are for the closure of Ash Pond One and the "gypsum stack landfill" by removal. All coal ash and other coal combustion residuals have been removed from Ash Pond One and the gypsum stack landfill. Most of that material has been transferred to the "Ash Management Area," where Georgia Power plans to permanently store most of the CCR from Plant Yates. The rest will go in the R-6 landfill, which has been on-site since 1995.
For CCR ponds and landfills that are closed by removal, groundwater monitoring is required for five years. Closure in place, however, requires 30 years post-closure care including groundwater monitoring. Monitoring requirements can be extended at the end of that 30 years depending on groundwater test results.
Permits for closure in place in the AMA are expected in the fourth quarter of 2022, according to Kevin Chambers, EPD spokesman.
CCR is also stored in an existing landfill, known as R6. That landfill was originally permitted in 1985.
Georgia Power has applied for a total of five permits for CCR disposal: Ash Pond One, Ash Pond Two, the Gypsum Stack Landfill, R6 and a single permit Ash Ponds A, B, B-prime and 3, which make up the ash management area.
The draft permits for Ash Pond One and the gypsum stack landfill were issued Nov. 15. There is a 30-day public comment period.
For both projects, all CCR was removed, and an additional six inches of soil below the CCR was also removed. The ponds/landfills were then filled in and graded, then grassed. Georgia Power must continue groundwater monitoring for five years after all CCR was removed.
Both Ash Pond One and the Gypsum Stack Landfill are isolated from the rest of the coal ash disposal areas. Both are on the northern side of Plant Yates, while the other ash facilities are on the southern side.
The Ash Pond 1 "closure area" is 23 acres. Approximately 650,000 cubic yards of CCR was removed. Approximately 40,000 cubic yards of the CCR was used to establish final grade elevations for the R6 landfill and the rest "was used to establish final grades for a portion of the AMA," according to the closure narrative provided by Georgia Power. The closure narrative is dated November 2018. All removal was complete by that time.
The Gypsum Stack landfill was used to dispose of material from the plant's "scrubbers," which remove sulfur dioxide from flue gasses. Of the 81,000 cubic yards of gypsum removed from the landfill, 21,000 cubic yards were sold for "beneficial agricultural purposes." Gypsum can be used as a soil amendment which provides calcium and sulfur to plants, and has been used in the U.S for over 250 years, according to Ohio State University.
Gypsum can also be used to make Sheetrock. Closure work began in 2015 and removal was completed in January 2017, according to information provided by Georgia Power.
Written comments can be submitted to epdcomments@dnr.ga.gov or by mail to the EPD-Atlanta, Land Protection Branch, 4244 International Parkway, Atlanta Trade-Port, Suite 104, Atlanta, GA 30354.
Emails should include "Plant Yates" and "CCR Permit" in the subject line.
Following the public comment period, EPD staff will review all comments, according to the public notice of the draft permit issuance. EPD will make any necessary changes based on the comments and make a final recommendation on the CCR permit to the director of the EPD. A written response to comments will be created, giving a summary of comments and responses and describing any changes made to the final permit, according to the public notice.
The EPD has issued several permits for removal at other plants and, so far, has issued two draft permits for closure in place, at Plant Hammond in Rome and Plant Bowen in Bartow County. The public comment period for Plant Hammond ended in September and the public comment period for Bowen ended Nov. 15, said Chambers. EPD staff are in the process of responding to the comments received during those two public comment periods.
The draft permit and all information used to develop the draft permit are available for review in the EPD office of the Land Protection Branch. Significant information is also available online, at https://epd.georgia.gov/ccr-draft-permits .
Georgia Power posts additional information, including groundwater monitoring results, on its Plant Yates Environmental Compliance page, https://www.georgiapower.com/company/environmental-compliance/plant-list/plant-yates.html