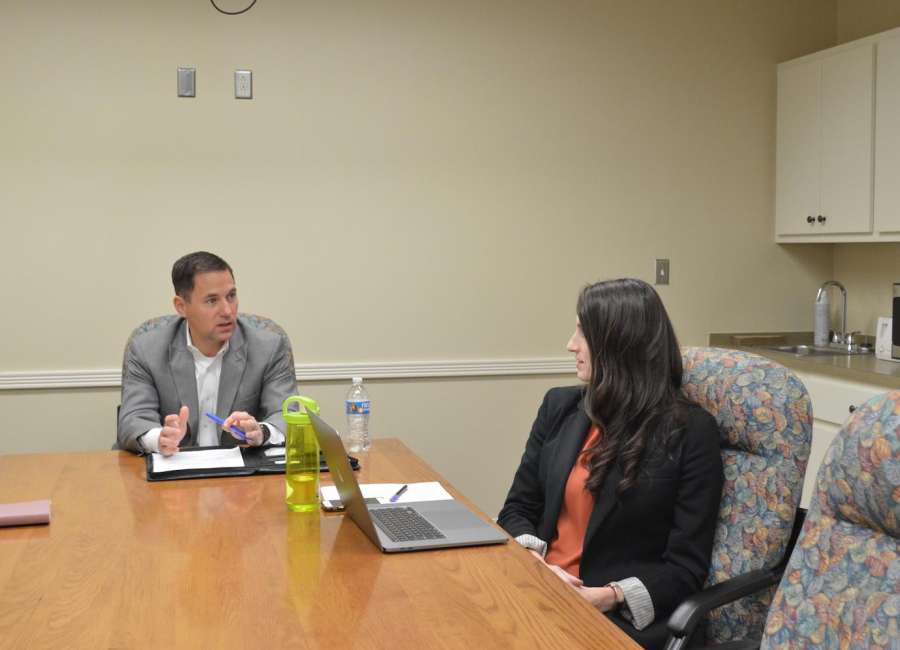 Dramatic changes are coming to Coweta and Newnan's tourism marketing and visitor's center operations, as the operations of the Coweta Convention and Visitors Bureau will now become part of Explore Newnan Coweta Inc.
The Coweta CVB was created in late 1992, and operates the Coweta Visitor's Center. It has been funded by the hotel/motel taxes on hotels in unincorporated Coweta. The city of Newnan has used its hotel/motel taxes for other purposes, including construction and operation of The Newnan Centre.
In 2019, Coweta County and the city of Newnan voted to increase their hotel/motel tax rates from 5 to 8 percent. Under state law, a portion of that increase had to fund a "destination marketing organization," and the rest of the increase goes to "tourism product development."
Under state law, the CVB, which operates as a 501(c)(3) organization, wasn't eligible to serve as the destination marketing organization, and Explore Newnan Coweta Inc. was created. The organization held its first meeting in early 2020, but the COVID-19 pandemic slowed things down considerably. The organization hired its first director in July and, as of Dec. 31, will take over CVB operations.
It's the first time that Coweta and the city of Newnan are jointly funding coordinated tourism marketing activities.
Of the 8 percent hotel/motel tax, 3 percent is unrestricted, which means the city and county can use it in their budgets however they choose. The allocation of the remaining 5 percent is a bit different for the county and city. For the county's tax, 3.5 percent goes to fund ENCI and 1.5 percent goes to tourism product development, which can cover a wide variety of projects such as trails, museums and everything in between. The city of Newnan will continue to contribute 2 percent to the Newnan Centre, which is considered tourism product development, and will contribute 3 percent to ENCI.
Seeking a new, temporary location
Hopes are to eventually house ENCI, including multiple employees and the visitor's center, in a reconstruction of the Newnan passenger depot, which would be built next to the existing freight depot on East Broad Street. But that project is a few years away, and new space is needed now.
The current visitor's center has been housed in the 1904 Courthouse since the courthouse restoration project was completed in 2010. The rest of the courthouse is used by Coweta Probate Court – and the probate court needs more space. Because of that, the visitor's center will close at the end of 2021. Hopes are to reopen in another location soon – but first they've got to find that location.
And so far, the search isn't going very well.
The current visitor's center is quite small and only has office space for one person. ENCI will have at least two employees and probably three. Hopes are to find something with enough room for employees and a large enough lobby to serve as a welcome center.
ENCI President and CEO Heather Daniel said their goal is to have the new space still in downtown, where it is walkable and parking is available. She told the ENCI board Tuesday that she looked at one downtown location, but it's not handicapped accessible and the owner wants a three-year lease. She said she's looked at a few properties that were all upstairs with no elevators, and those won't work for a visitor's center.
Going mobile
In the meantime, they're working on plans for a mobile visitor's center. Mobile centers are something that many CVBs have; some are like food trucks, while others are trailers.
The mobile visitors center goes where the visitors are, such as to events and popular locations.
"We want to create a mobile welcome center that travels to different places throughout the community," Daniel said. "We'll be able to have really engaging conversations with visitors where they are."
Local businesses and organizations can ask to have the visitor's center on hand for events.
"It will allow us to put boots on the ground, throughout the community, without making the visitors come to us, into a brick and mortar building," she said. Daniel has been working with a local company that builds custom food trucks on proposals for the mobile visitor's center.
While ENCI absorbing the CVB is happening at the same time that the visitor's center is leaving the courthouse, the probate court's need for new space is not new.
In 2013, the county did a needs assessment for various departments, and revisited that in 2020. Early in 2020 Probate Court was already in need of more space.
The demand for firearms permits is still extremely high, and people are already having to fill out paperwork for various licenses in the lobby and hallways, according to Daniel. The visitor's center space will be a place where people can take care of their paperwork.
New partnerships and projects
ENCI is working on a few projects, including a partnership with the city of Newnan to do downtown trolley tours. The tours would use the city's existing trolley. The tour would include the 1904 courthouse and historic homes, and there may one day be other tours going further afield.
Having scheduled tours will make it easier for people to tour the courthouse and the ceremonial courtroom. Currently, people drop in and ask if they can tour the courthouse; oftentimes they can't because the courtroom is in use.
Hopes are to launch the trolley tours in the spring.
Daniel is also working on coordinating with other organizations, including the Newnan-Coweta Chamber of Commerce, Coweta Parks and Recreation Department and the Newnan-Coweta Historical Society.
She said she's met several times with the parks and recreation department leaders, and the historical society will be a partner on the train depot project.
The train depot project will be about 2,400 square feet on the main floor, with about 1,200 square foot on the second floor for offices, and the total project will likely run around $850,000 to $1 million, Daniel told the ENCI board Tuesday. "Hopefully we can start moving forward," she said. "I think the next step will probably be getting the city, county, ENCI and historical society in a room to discuss the next steps."
Seeking information, building a brand
ENCI is working on collecting data and a new branding project, and consultants from a marketing agency spoke to the board about some of the things they are working on. Once some of the new branding is in place, a new website will launch, Daniel said.
The branding project will help define Newnan-Coweta's identity. ENCI is also working with a research firm to learn more about who visits our area, using cell phone and automobile data. That information will help ENCI understand visitors to the county and what they are looking for.
"We've never actually gotten this information before," Daniel said, other than from just talking to hotel and restaurant owners and from people who come into the visitor's center and sign the log book. "This will actually give us hard data that we are able to use to market," she said.
Most of Coweta's current travelers are here for business reasons. And while that has helped keep occupancy levels up during the pandemic, ENCI wants to attract more travelers for tourism reasons, as well as the large number of day trippers. And find ways to encourage those day trippers to spend the night.
"We will absolutely continue to target the people who are visiting here now," Daniel said, but the data "gives us the opportunity to see if there are other markets we can continue to go after."