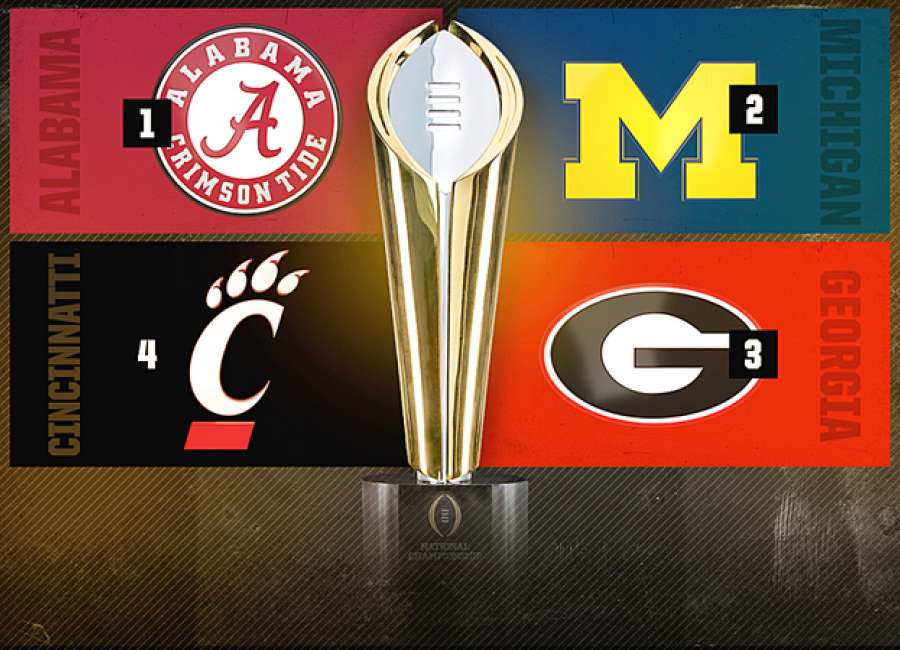 By Derrick Teagle
In August I made a prediction that the Georgia Bulldogs would win its first College Football National Championship in over 40 years.
The college football season has been a season like no other as the teams we are used to seeing (Ohio State, Notre Dame and Clemson) are nowhere to be found. The season gave us the weekly surprises but also a Georgia team that was as dominant as any team over the last decade … then the SEC Championship game happened.
Cotton Bowl
Friday, Dec. 31, 2021 at 3:30 p.m.
AT&T Stadium, Arlington, Texas
#1 Alabama vs. #4 Cincinnati
Alabama comes into the game "rolling" after a comeback victory over their rivals Auburn and the blowout victory over Georgia. The Crimson Tide, a 14-point favorite, has reminded the nation that they are still the King of College Football. The Cincinnati Bearcats, the only undefeated FBS team, won its conference (AAC) Championship over Houston 35-20.
The 3 Keys to the Game
1. The Bearcats Cornerbacks vs. The Crimson Tide Wide Receivers
The Bearcats featured the best cornerbacks tandem in the Nation. Ahmad Gardner the Bearcats CB has NEVER allowed a touchdown in his career. He has only allowed 14 catches ALL year. Coby Bryant on the other side is a future NFL Draft Pick as well. The Crimson Tide who destroyed the Georgia secondary is missing a 1,000-yard receiver (John Metchie) but is not short on talent led by future First Round NFL Draft Pick Jameson Williams. — Advantage: Bearcats
2. The Alabama Running Game
Alabama, even in its defeat of Georgia, has not been a good running team this year. The Tide is averaging 4.1 yards per-carry which ranked 79th out of 130 teams. If the Tide cannot run on the Bearcats then the Tide could be in trouble. — Advantage: Bearcats
3. Cincinnati Offensive Tackles vs. Alabama Will Anderson
Cincinnati must protect its quarterback, Desmond Ridder, but that's easier said than done against the premier pass rusher in the Nation in Dutchtown High School product Will Anderson. Anderson is a handful (15.5 Sacks, 33 TFL) for any offensive tackle and will be a future top 10 NFL Draft Pick. — Advantage: Tide
My Prediction Alabama 26, Cincinnati 23
Orange Bowl
Friday, Dec. 31, 2021 at 7:30 p.m.
Hard Rock Stadium, Miami, Florida
#2 Michigan vs. #3 Georgia
Georgia has the nation's best defense and has a Mel Kiper record of 19 draft-eligible players which is way more than the 8 Michigan draft-eligible players. The game comes down to the sidelines as top 3 recruiting classes stacked like IHOP pancakes for Georgia facing an overachieving Michigan team that had "fired my coach'' rumblings during the preseason.
Georgia is absolutely loaded at every position and this is the year that the Bulldogs should win the championship … if the Bulldogs don't win it all then UGA fans may need to start asking the question, is Kirby Smart only a great recruiter?
The 3 Keys to the Game
1. Georgia Defense performing like the Georgia Defense
This defense is arguably better than the professional defense playing at "The Benz" on Sundays. Michigan will not have the Heisman Trophy Winner Bryce Young throwing the football. — Advantage: Bulldogs
2. Michigan Defensive Ends vs Georgia Offensive Tackles
Michigan Defensive Ends Aidan Hutchinson and David Ojabo both will be selected in the First Round of next year's NFL Draft. Georgia needs to protect whoever starts at quarterback to win this game. — Advantage: Wolverines
3. Stetson Bennett's ability to run
Bennett doesn't look the part, but against the Michigan Defensive front, you surely don't want a "statue" playing quarterback. Bennett can and will extend plays, and that will be a key to a Georgia victory. — Advantage: Bulldogs
My Prediction: Georgia 34, Michigan 17
Georgia 31, Alabama 20 (National Championship Game)
I asked an expert panel of Coweta County residents to give their predictions for the college football playoffs
Lt. Aaron Fenimore Sr., East Coweta parent
Georgia 21, Michigan 17
Alabama 42, Cincinnati 20
Alabama 31, Georgia 24
NHS Basketball Coach Demarcus Wilkins
Georgia 24, Michigan 21
Alabama 31, Cincinnati 10
Georgia 21, Alabama 17
Kevin Daniel, North Ga. Bricks
Georgia 17, Michigan 10
Alabama 38, Cincinnati 17
Georgia 27, Alabama 24
Craig Buchanan, Bridging The Gap
Michigan 24, Georgia 20
Alabama 41, Cincinnati 28
Alabama winning
Keith Ross, Keith Ross Insurance Agency
Michigan 30, Georgia 24
Alabama 42, Cincinnati 17
Michigan 30, Alabama 24
Jason Nalls, Newnan HS Alumni
Michigan 31, Georgia 28
Alabama 41, Cincinnati 27
Michigan 24, Alabama 20
Deangelo Sanchez, College Sports Superfan
Michigan 23, Georgia 20
Alabama 43, Cincinnati 24
Alabama 41, Michigan 17
Todd Burnett, Trinity Christian School Basketball Coach
Georgia 31, Michigan 13
Alabama 42, Cincinnati 21
Alabama 31, Georgia 27
Mario Houston, Grind 2 Shine Youth Empowerment Program
Georgia 31, Michigan 17
Alabama 41, Cincinnati 17
My heart says Georgia, but my brain is telling me BAMA.