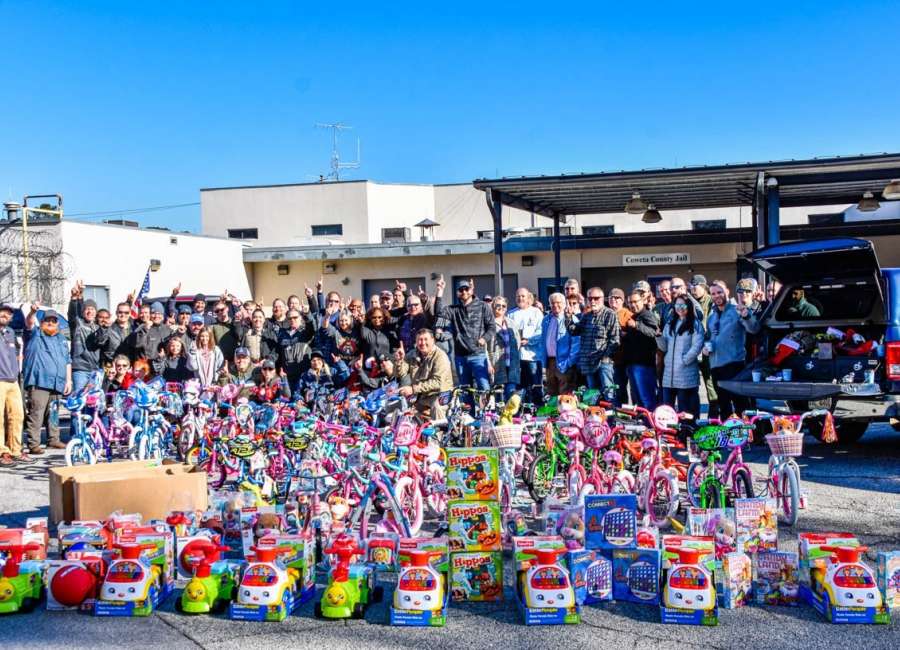 Coweta County deputies are prepared to set a world record.
On Saturday, Dec. 11, the deputies will attempt to assemble 200 bicycles in less than 90 minutes.
Last year, the deputies built 50 bikes in 50 minutes for their bike build off, said Major Warren Campbell at the Coweta County Sheriff's Office.
This year, enough money was raised to build 212 bikes and counting.
"In my opinion, we broke a world record last year — 50 bikes in 50 minutes," Campbell said. "We're doing a little bit of research, if we can build 200 bikes in 90 minutes, it's going to be a galactic record. It's at least going to be another world record. We'll reset the world record we set last year."
About 50 CCSO staff members helped build bikes last year, said Campbell. This year, community organizations can participate to help CCSO reach its goal of 200 bikes in less than 90 minutes.
"Last year, we had some businesses come out and help. A part of our mission statement is to have big partnerships with the community. If there's an organization that calls us, we want them to come out and work alongside us. It's an easy opportunity for businesses to see police officers and detention officers are no different from the regular community," he said.
If an organization wants to volunteer with CCSO to build bikes, contact Campbell at wcampbell@coweta.ga.us .
The bike build off itself was started by Southside Safe and Vault owner CJ D'Onofrio.
For several years, D'Onofrio bought and built bikes for Toys for Tots in his living room.
The amount of bikes D'Onofrio built grew larger each year. He said once he hit 50 bikes, he knew he couldn't do it alone.
So he got in touch with CCSO, who took on the assembly project last year.
D'Onofrio said he believes the deputies will be able to achieve their goal in building the bikes.
"I'm pretty confident they'll be able to do that," he said.
To purchase bikes for the build off, D'Onofrio set up a GoFundMe page. Money can be donated until the day of the build off to help purchase bikes.
D'Onofrio said additional toys will be bought and donated to Toys for Tots with any leftover money in the fund.
"Everybody can participate, whether they give a dollar or $100 or $1 million," he said. "It's about the community being together and a part of it, not who can do more. We don't say so-and-so gave $1,000. Everybody is seen at the end of the day. When everybody gives a little bit, it turns out to be a lot."
To donate money to purchase bikes, go to https://www.gofundme.com/f/rryfte-2021-toys-for-tots-bicycle-build-off-with-ccso .