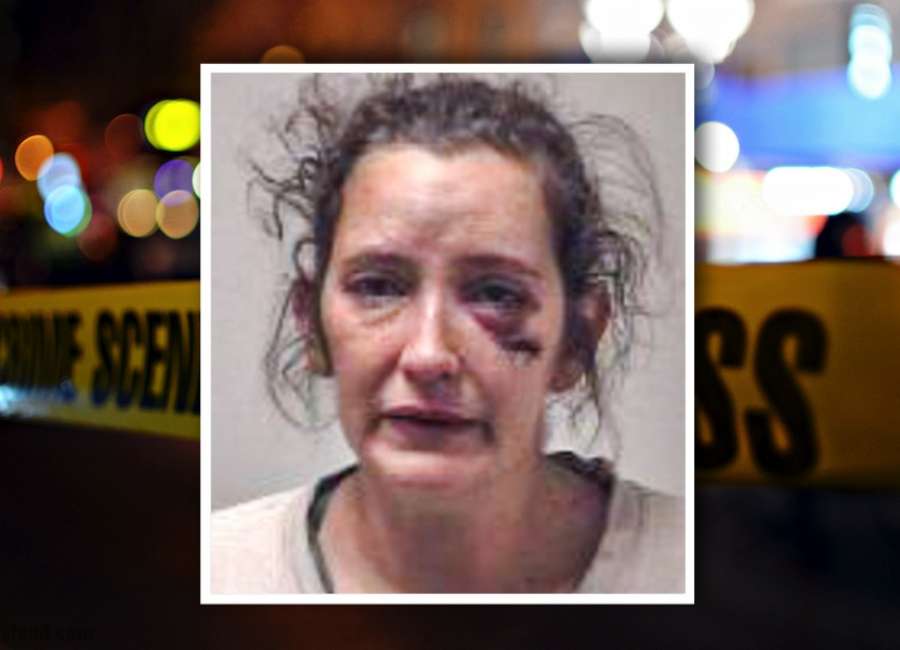 Holidays usually mean spending time with people we know, and deputies responding to a knife attack last week found two familiar faces at the scene.

Sheriff's officials say Ashley Elizabeth Malphus, 38, faces charges of aggravated assault after stabbing her husband for the second time in 18 months.
The Wednesday incident stemmed from an altercation over his alleged flirtation with another woman, according to the CCSO report.
Deputies were called to a local hotel, where video footage allegedly showed Ashley Malphus at around 9 p.m., hitting and yelling at a man – later identified as her husband, 45-year-old Charles Stephen Malphus Jr. of Newnan – and then chasing him around a vehicle with what appears to be a knife.
After Charles Malphus slipped and fell near the door of the hotel lobby, deputies said Ashley Malphus began stabbing him in the back. When he rolled over and tried to grab her arms, she began to stab him in the torso.
The video then allegedly showed the two fighting for the knife and Charles Malphus punching Ashley Malphus in the face while attempting to escape. After finally knocking the knife to the ground, deputies said Charles Malphus is shown picking up the knife and walking away, leaving his wife lying on the ground.
Later, the video reportedly shows him returning to help her up before both walk out of frame.
It is not the first violent altercation between the couple. In May of 2020, Charles Malphus was determined to be the aggressor after Ashley Malphus stabbed him twice in the abdomen during a fight, sending him to the hospital.
At that time, Ashley Malphus told deputies her husband was beating her as the couple was driving on Interstate 85, and she "stabbed him to make him stop," the CCSO report stated.
Deputies photographed Ashley Malphus' injuries at the 2020 scene, and Ashley Malphus was later found to have acted in self-defense, resulting in Charles Malphus being charged with battery.
This time, Ashley Malphus appeared to be the aggressor, according to the video.
"At no time does the male attempt to attack the female with the knife while they are in the camera angle," the report stated.
Witnesses said six people – including the Malphuses, Charles Malphus' sister, other relatives, and a friend of the sister's – arrived in a single vehicle around 8:30 p.m. and attempted to check into the hotel.
An employee said Ashley Malphus asked him what he would do if his partner repeatedly cheated, and he replied that he would break off the relationship.
The employee said he was explaining that a card she was attempting to use had declined when Charles Malphus stepped out of the vehicle, and "the next thing he knew" Ashley Malphus was chasing and stabbing him.
Deputies later found Charles Malphus at Wellstar West Georgia Medical Center in LaGrange after he was driven to the facility by his sister. He was reportedly conscious and alert, and being treated for puncture wounds to his left wrist, back and torso. He reportedly told deputies he loved his wife and didn't want to press any charges.
According to the report, Charles Malphus told deputies that a group of people – which included his wife and sister – had earlier been out drinking, first at a Newnan bar and later at a restaurant. He said he and his wife began arguing in the car on the way to the hotel and that she was upset about him flirting with another woman who also was in the car with them.
He admitted to deputies that he had punched his wife, but only to get away from her as she was stabbing him, the report stated, and that he didn't know what happened to the knife. Charles Malphus said his wife had jumped out of the car near the Valero gas station at Exit 18.
His sister – who was arrested at the hospital on an unrelated outstanding warrant – had driven him to the facility.
Ashley Malphus was also located in the Wellstar emergency department, where she was receiving stitches for a gash on her face. She reportedly also had a cut on her left arm and blood on her right arm, along with bruising on her forehead and chest.
Deputies said she said she wanted to talk to the investigator who worked the May 2020 incident – who is no longer an investigator with the CCSO – and that she "had an attitude" when they tried to question her.
However, she started talking to the deputies without being questioned, according to the report.
"(We) allowed (her) to speak and just listened to what she had to say," the report stated.
Ashley Malphus said her husband has been in and out of prison, that he has cheated on her with other women, and that he has beaten and injured her in the past.
She admitted she stabbed him with "an orange gripped knife" – which has not been located – but that she felt like had no other choice.
"She either had to stab him or … she would end up in the morgue," the report stated.
After being treated and released from the hospital, Ashley Malphus was arrested for aggravated assault with a knife and transported to the Coweta County Jail. She's currently being held without bond.