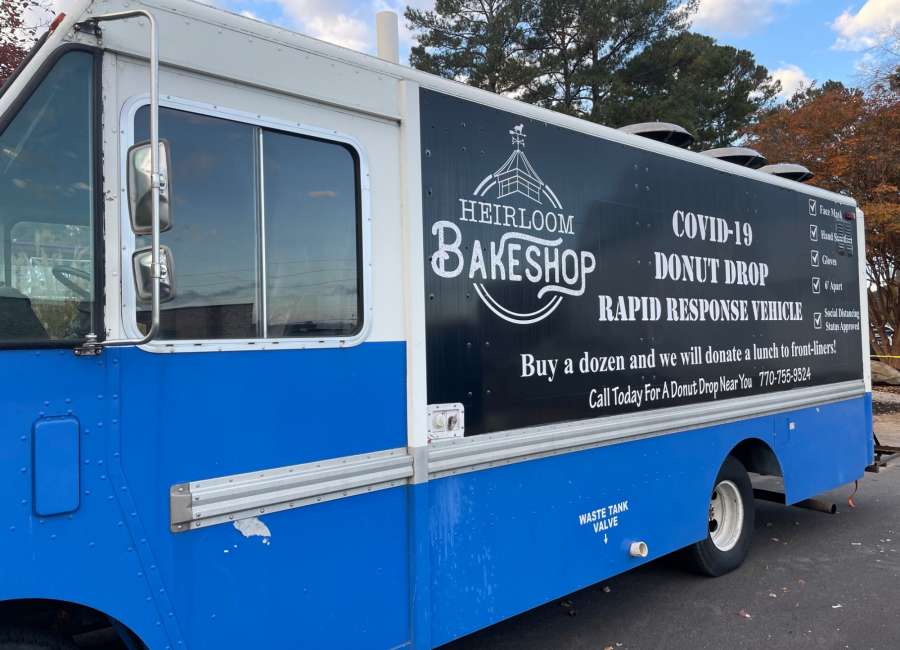 Southside Church in Newnan recently provided a sweet treat for hospital staff at Piedmont Newnan Hospital.
Southside Church donated funds to purchase donuts from Heirloom Bakeshop.
Lead Pastor Greg McEvoy, alongside three other Southside staff members, delivered the donation check to the hospital. Piedmont Newnan chose to use the gift, dedicated to boosting its workers' morale, to hire Heirloom Bakeshop's "COVID-19 Donut Drop Rapid Response Vehicle" and provide specialty donuts to the hospital's staff from one morning in late September.
"We are thankful for all the generous donations from our community," said Vicki Kaiser, executive director of oncology, support services and community affairs at Piedmont Newnan. "During this fourth wave and beyond, while we were not receiving as many weekly donations as in the beginning of the pandemic, our community has still supported us, and we have received some larger donations like this one from Southside that have really made an impact on staff morale."
McEvoy said the donation was made possible because of the ongoing financial generosity of its attendees and members.
"We have so many medical professionals that we have the privilege of being around, and we see the overrun at the hospitals," McEvoy explained. "Morale was dipping, and we just wanted to do our part and say, we see you, and we appreciate you."
"I don't think it registers what the hospitals are going through until you take a chance to sit and hear it from their perspective, and that's the part that got me," he continued. "When they would talk about their staff, their emotions and plead with you to be safe, it was coming from a different place."
Kaiser said the support partners like Southside Church made a difference for both the staff and the patients.
"Events like this that give our staff a chance to take a quick break are encouraging and give us a renewed sense of purpose so that we are even better able to serve our community," Kaiser said. "Our staff was so appreciative of the donation and donut day from Southside, and it brightens everyone's day to start the morning off with a treat."
McEvoy said Southside Church chooses to invest its resources in ways that will positively impact the community.
"Words are only powerful when they're backed up by action," he said. "This was a small action we could take to communicate at a very loud volume that we care about our community, and we love our people," McEvoy said.
Southside Church is a local nondenominational church in Peachtree City that operates in strategic partnership with North Point Ministries in Alpharetta.