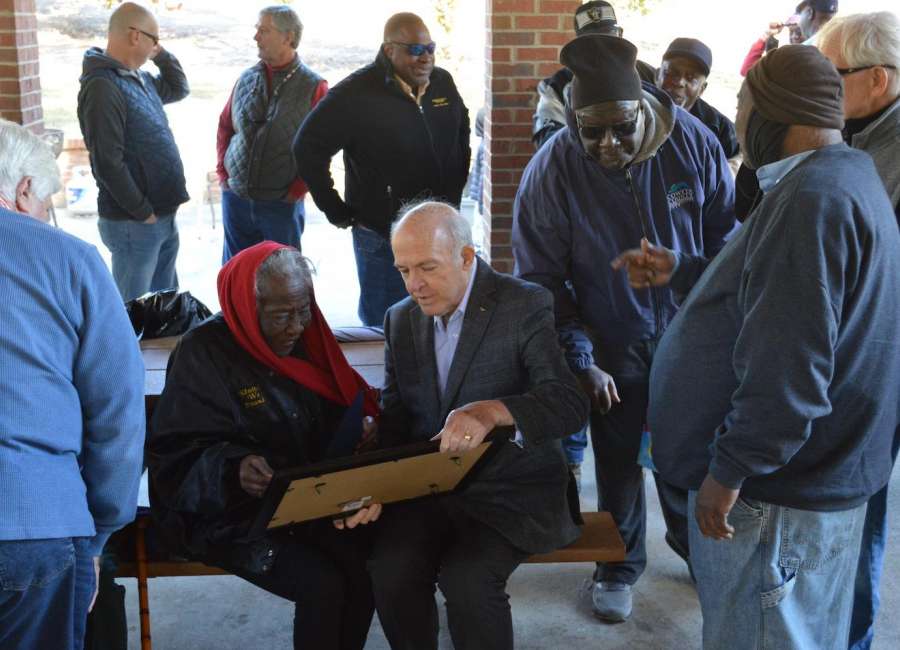 Mrs. Carrie Mae Pritchett was honored Nov. 6 with a ceremony dedicating the Carrie Mae Williams Pritchett Pavilion at Lynch Park.
The Newnan City Council voted in September to name the pavilion at the park after Pritchett, a longtime community leader and co-founder of the United We Stand for Positive Results organization.
Pritchett, her son Willie Pritchett Jr. and Clarence "C-Bo" Bohannon founded United We Stand, a mentoring organization for youth in the area, particularly in the Rocky Hill Community of Newnan, in the 1990s. Pritchett mentored young girls through the organization and coordinated with the city, the Division of Family and Children's Services and the Department of Health. Pritchett also served for several years on the Coweta DFCS board.
Pritchett was also a big part of the revitalization of the park, which was named in honor of Willie Lynch, the first African American member of the Newnan City Council.
Revitalization of the park "started with the pavilion and the pool," said Mayor Keith Brady. There were upgrades to the playground and Pickett Field over the years, as well as parking improvements. The city recently completed major upgrades to Pickett Field.
"We are proud to be here today to recognize Mrs. Carrie Mae Pritchett who was instrumental in not only United We Stand but also in formulating everything that happened over here," Brady said.
"We appreciate you very, very much."
Brady read a proclamation declaring Nov. 6 as Carrie Mae Williams Pritchett Day in the city of Newnan and "encouraging the citizens of Newnan to celebrate this amazing woman."
He presented Pritchett with a replica of the plaque that will be installed at the pavilion.
A large group of Pritchett's friends and family, city officials and community members turned out for the event.
United We Stand has been inactive since Willie Pritchett's death in 2016. Bohannon said they are hoping to turn the organization over to a younger generation so that it can continue.
United We Stand is for "self-love and healing in Rocky Hill and around the community, for positive results in the village," said Bohannon. United We Stand worked with various government agencies and other organizations. Now it is officially time to pass the torch on to others, he said.