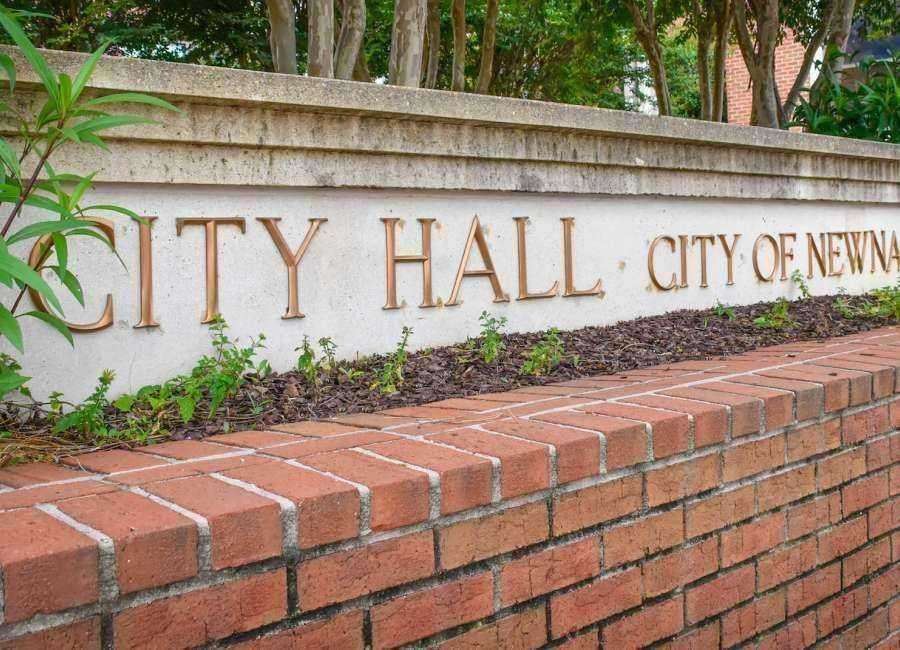 The Newnan City Council formally supported the funding of road improvements at their meeting on Tuesday.
The council officially supported transportation projects for the 2022 Transportation Improvement Projects program, which would help provide funding to improve a handful of state highways and other major roads.
The five projects include improvements to Lower Fayetteville Road, sidewalk and improvements on Jackson Street from the Highway 34 bypass to Clark Street, intersection improvements for Bullsboro Drive from Jefferson Street to Lakeside Way, realignment of Sprayberry Road to Greison Trail, including construction of a roundabout, and the addition of a left turn lane on Greenville Street to Sewell Road.
"I have had some residents on Jackson Street express some major concerns about the concept plan that is before us," said Councilwoman Cynthia Jenkins. "I realize this is about applying for funding and not necessarily about approving the plan."
Jenkins said this was the time to express concerns about the design, and said she had some questions about the scope of the project in total.
Specifically, she asked if the Jackson Street improvements would address drainage issues that some residents have been concerned with.
"They are concerned that it will create further damage to their properties with the design," Jenkins said. "I'm trying to find out if this design is simply meant to meet the requirements of the grant, or are we going to go deeper to try to solve some of these issues?"
"This project is what we call a streetscape project, a gateway project," said Michael Klahr, Newnan director of engineering. "As you know, we've done the streetscapes out in Greenville Street and Clark and Temple. We decided Jackson Street was next."
Klahr said the city isn't even at "concept" yet for the Jackson Street improvement, but rather was at a preliminary stage to have the data to submit to the Atlanta Regional Commission for funding.
"It's comprehensive," Klahr said. "It's more than just sidewalks. They've identified problems with the existing storm sewers, the water and sanitary sewer, the pavement conditions, the curb reveals, traffic calming measures."
Klahr said that if the project goes the way the city envisions it, it would "solve all of those problems."
Councilman Paul Guillaume expressed concern about a roundabout on the intersection of Summerlin and Lower Fayetteville Road.
"Traveling that road quite often, please help me understand how a roundabout is going to solve the problem at that particular intersection, which is a mess," Guillaume said.
Klahr said the city was about to lock down the concept on the project, and said the city was pretty far along with it. He said a requirement of GDOT for highways was an intersection control evaluation.
"You go through the criteria, traffic counts, turning movements, current and projected, and you have to show that a roundabout is not the best alternative," Klahr said. "It was shown that the roundabout was the best alternative and as you recall, we came before you earlier and passed a resolution earlier, passing all five roundabouts in this project."
Klahr said it would be hard to change that project at this point.
The ARC has called for projects through its 2022 Transportation Improvement Program solicitation for the surface transportation block grant, and has requested resolutions in support from the local governing body.
According to the ARC's website, the Transportation Improvement Program allocates federal funds for use in the construction of high-priority projects in the region's Regional Transportation Plan. That plan is, according to the ARC, the region's long-range transportation plan.
Some of the projects listed were included in the 2019 T-SPLOST list and would have been funded using T-SPLOST dollars, but that proposed sales tax was soundly defeated at the polls.
The council also supported a list of roads to be improved under the Georgia Department of Transportation's Local Maintenance Improvement Grant program during the coming year.
This program is intended to maintain or repair local roads operated by the city of Newnan. The city has 12 roads on the list, totaling 3.6 miles in length. The city's total cost estimate for the LMIG project list is $1,923,202.
The city is required to match at least 30 percent of that project, which will be done using SPLOST 2019 funds.
Included in the list is 1,837 feet of Alpine Drive from Lagrange Street to Woodland Drive; 625 feet of Woodlake Drive from the city limits to the cul-de-sac; 1,178 feet of Mosswood Trail from Mosswood Drive to the cul-de-sac; 715 feet of Mosswood Lane from Mosswood Trail to the cul-de-sac; 390 feet of Mosswood Drive from the city limits to the cul-de-sac; 550 feet of Ginger Gold Drive from Vista Bella Way to Vista Bella Way; 770 feet of Hampshire Lane from Vista Bella Way to William Pride Way; and 2,165 feet of Williams Pride Way from Vista Bella Way to Vista Bella Way.
Also on the list are 960 feet of Spring Street from near First Avenue to the railroad track; 2,024 feet of Spring Street from the railroad track to Boone Drive; 2,675 feet of Fourth Street from First Avenue to Boone Drive; and 4,911 feet of Hospital Road from Temple Avenue to the joint near the Highway 34 Bypass.
Not included in that list, despite a request from Councilman George Alexander, was improvements to West Washington Street and Salbide Avenue.
"If we can somehow get West Washington and Salbide Avenue at a later date, I've been pushing and pushing for these streets for years, and they're bad," Alexander said. "I know we've talked about it."
Klahr said the cost of repairing West Washington Street would be around $1.194 million by itself, which would take up most of the LMIG project.
City officials said they can look at West Washington Street at a later date.