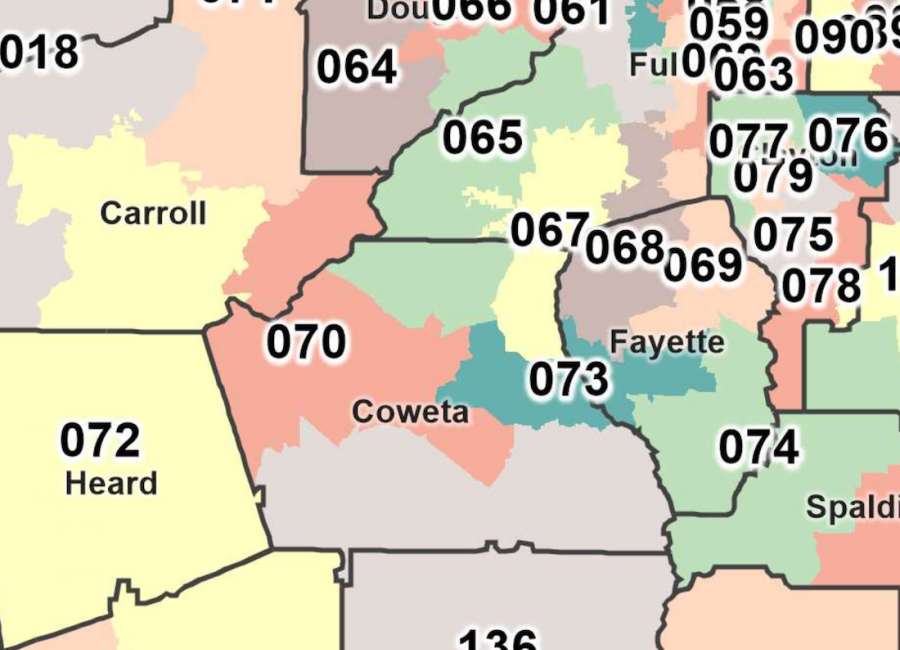 Residents of northern Coweta would be split into two state House districts, both of which are primarily in Fulton County, under the current proposal from the House Legislative and Congressional Reapportionment Committee
The Georgia General Assembly is in a special session to approve state and federal district maps for the next 10 years, and the current proposal makes dramatic changes to the way Coweta would be represented in the Georgia House of Representatives.
Both of the districts that cover north Coweta have most of their population in Fulton County and are likely to be represented by Fulton Democrats.
Northern Coweta is currently part of HD 71 and is represented by Philip Singleton, R-Sharpsburg.
Under the current proposal, Singleton lives in the new HD 67, which includes the eastern section of south Fulton County including Palmetto, Fairburn and part of Union City. Georgia requires representatives to live in the districts they represent. Members of Congress, however, do not have to live in their districts.
Two districts centered in Fulton
The western half of northern Coweta would be in HD 65, which also includes Chattahoochee Hills, the city of South Fulton and a portion of Douglas County. Rep. Mandisha Thomas, D-Atlanta, would be the incumbent in that district.
Thomas was elected in 2020 and defeated Rep. Sharon Beasley-Teague in the 2020 primary. Beasley-Teague had served since 1993. The current HD 65 is different from the proposed one, and takes in more of the eastern portion of southern Fulton County.
Numbering of districts changes every time there is redistricting, and current numbers may not coincide with new numbers.
Both districts lean strongly Democrat, Singleton said, and residents in northern Coweta would likely lose active representation under the plan.
The change isn't about Republicans or Democrats, Singleton said in a town hall meeting on the issue held Thursday night.

"It's about the people of Coweta," he said. "It's a problem when my district's voice isn't heard."
A Fulton County representative's priorities will likely be in Fulton County, said one woman at the meeting. "I'm worried about our neighbors in north Coweta," she said. "How will they have representation if they have someone who doesn't share their values or even share their county?"
Singleton said he doesn't have a good answer. "The truth is, they won't," he said.
Singleton said his concern is not about himself and losing his seat. "It's about the county, and this is definitely not what's right for the county," he said.
Singleton said he would be willing to make concessions to keep this from happening to north Coweta.
"If they just want to get rid of me and I can save the county, that is what I'll do," he said.
Another issue is the change to the makeup of the county's legislative delegation. When it comes to certain "local legislation" that must be passed by the general assembly, disagreements and disunity between members of the delegation can stall legislation.
That's an issue in places like Cobb and Cherokee counties, where members of the delegation don't work together, Singleton said.
Singleton said he's also concerned about the constituent services part of being a representative, and whether residents in north Coweta will get good constituent services from representatives based in Fulton.
The chopping of north Coweta into two districts based in Fulton County isn't the only change proposed to Coweta's maps, but it is the most significant.
Rep. Josh Bonner, R-Peachtree City, will have more constituents in Coweta – but they will be different from his current ones.
Bonner currently represents the Senoia and Haralson area, as well as Brooks, part of Peachtree City and Tyrone.
In his proposed new district, Bonner will get a significant part of Singleton's old district, and will lose Senoia and Haralson to Rep. David Jenkins, R-Grantville (Meriwether County).
Jenkins, who defeated Democrat Bob Trammell in 2020, will gain a much larger portion of Coweta than he had, as well as a larger portion of Meriwether County.
Rep. Lynn Smith, R-Newnan, will see her district shrink somewhat, because of Coweta's significant population growth.
Voting Rights Act drives district decisions
Districts are changed every 10 years to account for changes in population, and restricting follows the Census.
Population growth in Georgia has been concentrated in the northern portions of Georgia, and south Georgia districts keep getting bigger, to account for them having a smaller proportion of the state's population.
Districts have to be drawn in accordance with the U.S. and Georgia constitutions and the Voting Rights Act, and must not dilute minority voting strength. There are also guidelines used to justify how districts are drawn, including respecting communities of interest, natural boundaries and political boundaries.
Naturally occurring "majority minority" districts have to be drawn, and legislators must also avoid "packing," which is concentrating large numbers of minority voters in districts.
"There are a ton of major changes all over the state because of the way they have to draw the lines," Singleton said.
Redistricting as retribution
While population growth has necessitated changes in the districts representing Coweta, Singleton said that the changes to his district look a lot like vindictive gerrymandering by Speaker of the House David Ralston.
Singleton has made no bones about his opposition to Ralston on several issues.
"I know I am a thorn in Republican leadership. I'm difficult to deal with," Singleton said. "By every metric, I'm the most conservative member of the Georgia General Assembly."
By splitting up north Coweta and putting those voters into two heavily Democratic districts, "They're taking away 30,000 of the most conservative voices in the state," Singleton said. Only about 8 to 12 percent of Republicans are constitutional conservatives, he said. "It's time for the establishment to stop trying to cut us out like we're a cancer and realize we are the lifeblood of the party."
Several people at the meeting expressed astonishment that it was the Republican leadership that made these changes. They also expressed concern about MARTA and asked whether Coweta would start to "look like Clayton County" with the new representatives.
Linda Menk, vice chair of the Coweta GOP and member of the Coweta County Board of Education, said that the district plan "has Marcy Sakrison written all over it," referring to Singleton's opponent when he was first elected and in 2020.
When he chaired the Senate Reapportionment and Redistricting Committee 10 years ago, Sen. Mitch Seabaugh, R-Sharpsburg, called redistricting "the most political activity under the gold dome.
"Teamwork is important, and those who have demonstrated they have zero desire to work with anyone, easily could find themselves isolated with no help," he once said. "Being a team player doesn't mean one walks blindly and does as instructed. Instead, disagreements are handled with respect. Colleagues are treated with respect."
During that redistricting on the House side, something similar happened to a representative in south Georgia who got on the wrong side of the speaker, said Brant Frost IV, chairman of the Coweta County Republican Party.
That happens "basically every 10 years, depending on how vindictive leadership is," Frost said. "They pick one or two people and make an example of them."
The minority always submits its own maps during redistricting. The maps have no power, but can be used in future legal challenges. The Democrat-drawn map draws Bonner out of Coweta, and leaves three districts in Coweta – 70, 71 and 132. However, the maps drawn by the minority party may not necessarily follow all the rules that have to be followed when drawing districts, according to a redistricting expert.
Singleton said he will be voting against the maps if they don't change. All Democrats are expected to vote against the maps in order to retain the ability to sue, so it will only take 12 Republicans voting against the maps to keep them from passing and force changes.
A fairly easy fix?
There is a way to fix the split of northern Coweta without impacting other districts, Frost said. The two districts could be tweaked so that all of northern Coweta is in one, along with Chattahoochee Hills and some other areas that would create a "swing district" that is about 55 percent Republican, leaning Democrat, he said. Rep. Thomas would be the incumbent in the other, heavily Democratic district.
Those at the meeting were asked to travel to the state capitol Friday to speak at a meeting of the House Redistricting and Reapportionment Committee and let committee members know how the change will impact them.
Smith serves on the House Legislative and Congressional Reapportionment Committee, and provided a copy of a statement she said she made at the meeting.
The statement said: "On behalf of the whole Coweta delegation, Sen. Brass, Reps Bonner, Singleton, Jenkins & myself, I'd like to recognize a group of Coweta citizens who are here today to ask that the two proposed House Districts, HD56 & HD68, be reconfigured to make their community of interest whole again. We, the delegation, support their position. The proposed districts break up their community of interest currently HD71, represented by Rep. Singleton."
Changes to other districts
Coweta's other legislators were asked to share their thoughts on the proposed maps.
State Sen. Matt Brass, R-Newnan, formerly served as chairman of the Senate Reapportionment and Redistricting Committee and was an aide to Seabaugh during the last redistricting session.
Brass thinks there could be some changes during the committee process, before the districts are finalized.
"What we're seeing isn't what we're going to see when the bill becomes law. It's just a proposal," he said. "Let people shoot holes in them (the maps), see what they missed and how to make it better. It's all part of the process, just like every other bill that's introduced. It gets better as you get more input on it."
Jenkins said his district moved north because of the population growth farther north. "Everybody south of me needed population," he said. He's from Tyrone and bought his first house in Haralson, so he said he's happy to be able to represent more of Coweta County. He's also happy to represent more of Meriwether, where he lives and where his wife serves as tax commissioner.
Jenkins said he's looked at the two north Coweta districts and isn't convinced that a Republican couldn't win in HD 65.
Bonner also spoke about the challenges of drawing districts in areas of population growth.
"We certainly don't know if the map that was presented is the one that we will actually end up with," he said. Bonner added he is happy with his district.
North Fayette County currently is divided into two districts. One representative lives in Tyrone, and one lives in South Fulton, he said. "We have seen in Fayette County that the overall representation has not been diminished."