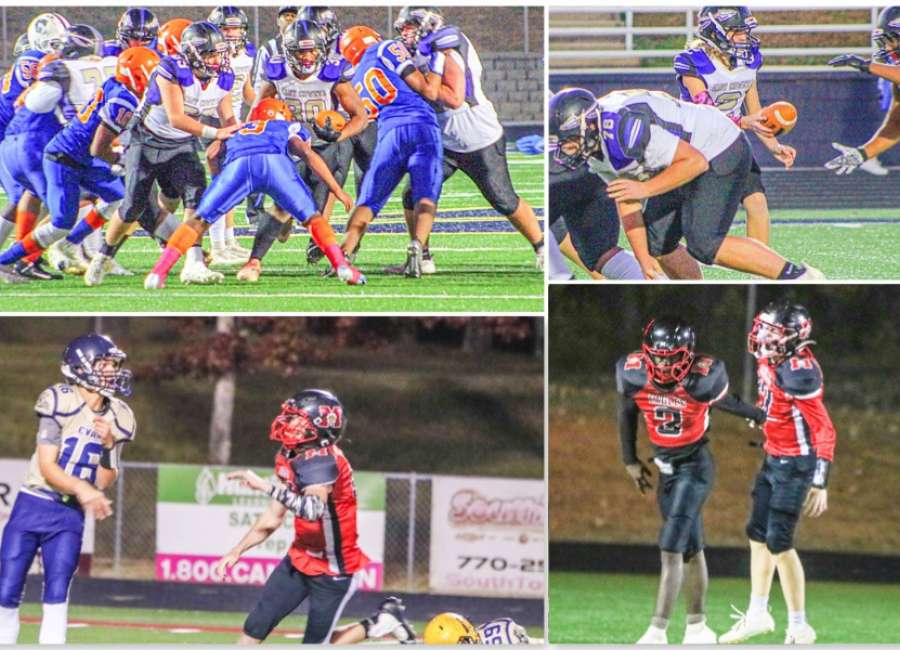 BY Jared Boggs

Two dominant victories Wednesday night placed the two top-seeded teams in the Coweta County Middle School Athletic League on a collision course — for the second time this year.
The Smokey Road Wildcats (7-0) and the Madras Eagles (5-2) will face off Dec. 1 at Drake Stadium for the CCMSAL championship. Smokey Road survived a 20-12 showdown in the first matchup of the titans on Nov. 3 on the back of a final-second touchdown by quarterback Rodney Colton.
Ranked first and second in the league, respectively, the Wildcats and the Eagles capped off their semifinal births by crushing their opponents in merciless fashion.
For the Wildcats, their victory came over fourth-ranked East Coweta. Trailing early, Smokey Road relied on Colton's dynamic quarterback play to erase an early 8-6 deficit. The Wildcats needed fewer than 30 seconds for Colton to pound out a 59-yard touchdown run to put his team back on top.
A successful two-point conversion attempt by Ajalin Beadle capped off the scoring drive to put Smokey Road up 14-8.
A motivated Wildcats team controlled the rest of the game, scoring a total of 38 unanswered points to defeat the East Coweta Indians 44-8.
Aiming for a rematch, the Madras Eagles played a nearly perfect game with a 32-7 rout of the third-ranked Evans Cougars.
Several explosive plays catapulted the Eagles to victory, including a 65-yard run from Dylan Barber. The team's suffocating defense — which shutout the Cougars the week before — ensured Madras never fell behind by preventing Evans from scoring a touchdown until the final seconds of the game.
Despite earning a 20-0 lead by half, the Eagles never let off the gas. Defensively, Madras came away with several turnovers on the night, including an interception by Tadarrion Turner to prevent a third quarter score by the Cougars.
Madras gave up a turnover of their own, however, in the Eagles' biggest mishap of the game. The fumble came in Eagles territory with less than six minutes to play and led to the Cougars' lone score Wednesday night.
Both teams will have to play their A-game in December as the two juggernauts face off in a heated rematch for the CCMSAL title.