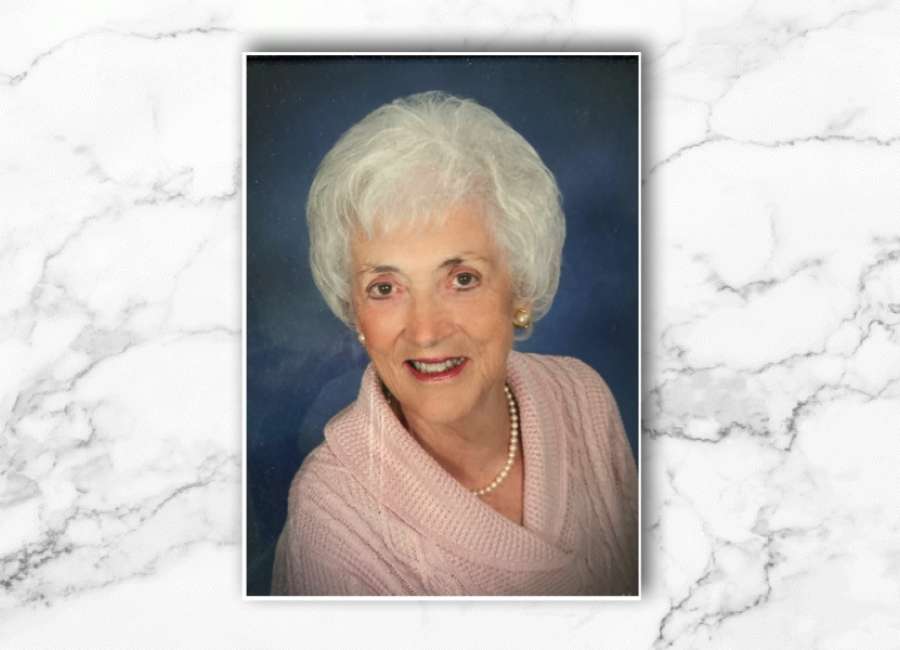 Elizabeth "Libby" Johnson Buchanan of Newnan, Georgia, passed away peacefully on November 12, 2021, at Watercrest Senior Living, at the age of 92, her two daughters by her side.
Libby was born in Mt. Vernon, Kentucky, December 19, 1928. The daughter of P.B. Johnson and Sadie Johnson Sowers, she grew up in the eastern part of the Blue Grass State, until bravely moving to Washington D.C. to begin working at the Pentagon. On a blind date in Washington D.C., she met Naval Lt. Edward Storey Buchanan from Newnan, Georgia. Marrying in 1947, Libby and Ed began their military adventures together, raising two daughters as they traversed coast-to-coast duty stations. Libby supported Ed's ambitions and her children's lives tirelessly, selflessly, and vibrantly. She always established a loving home, regardless of how many moves were required.
Following Ed's Naval retirement in 1962, the family left Pt. Mugu Naval Air Station, California. Settling in Indian Harbour Beach, Florida, Ed began his new career with the NASA Manned Space Flight Program at Cape Canaveral. During this exciting time, the family thrived, and Libby easily embraced civilian life.
Newnan became Libby and Ed's final home in 1987. Libby thoroughly enjoyed Newnan life as she traveled, played a mean hand of bridge, and served her community and church with cherished friends. She loved God, her church, her loving family, her home, and her many friends made while moving all over the country. She enjoyed her bridge games, reading, crossword and jigsaw puzzles, entertaining, cooking, sewing, and all handwork arts. Proud of being a Naval wife, she was extremely patriotic, evidenced by her numerous patriotic sweaters. A ferocious interest in Newnan and Buchanan family history led her to countless hours of research and archiving of family memorabilia. Sunday afternoons were spent driving country roads and around town recounting family stories.
Libby enjoyed helping others, as she was an active member of the Pink Ladies' Guild at Newnan Hospital. She spent years participating in the "Feeding Our Friends" ministry with Central Baptist Church. She was a member of the Kiwanis Club Auxiliary.
Libby is predeceased by her parents, her husband, Edward S. Buchanan, and her brother, Bob J. Johnson.
Survivors include daughters, Pamela B. Kent of Auburn, Alabama; Elizabeth B. Rogers and husband, Jonathan P. Rogers (Jack) of Richmond, Virginia.
She is also survived by her grandchildren: Elizabeth K. Weatherly (David) of Maryville, Tennessee; Kathryn R. Burns (Worth) of Greenville, South Carolina; and Jonathan Clay Rogers (Amanda) of Homewood, Alabama.
Her great-grandchildren: Bramm, Campbell, Harrison, and Harper Weatherly; Jake, Sadie, Eliza, and Jane Burns; Eloise and Lane Rogers.
The family is deeply grateful for the loving care of the nursing staff and caretakers at Watercrest Memory Care Senior Living and Sacred Journey Hospice. These compassionate professionals made Libby's final days peaceful and provided treasured comfort to her children.
The family kindly requests in lieu of flowers, contributions be made to Central Baptist Church, 14 W. Broad Street, Newnan, Georgia 30263, or the charity of your choice.
The service to celebrate Libby's life will be held on Monday, November 22, 2021, at 2:00 PM at Central Baptist Church in Newnan, Georgia. The family will receive friends starting at 12:30 PM until service time. The family will have a private burial at a later time.
Condolences may be expressed online at www.mckoon.com
McKoon Funeral Home & Crematory (770)-253-4580