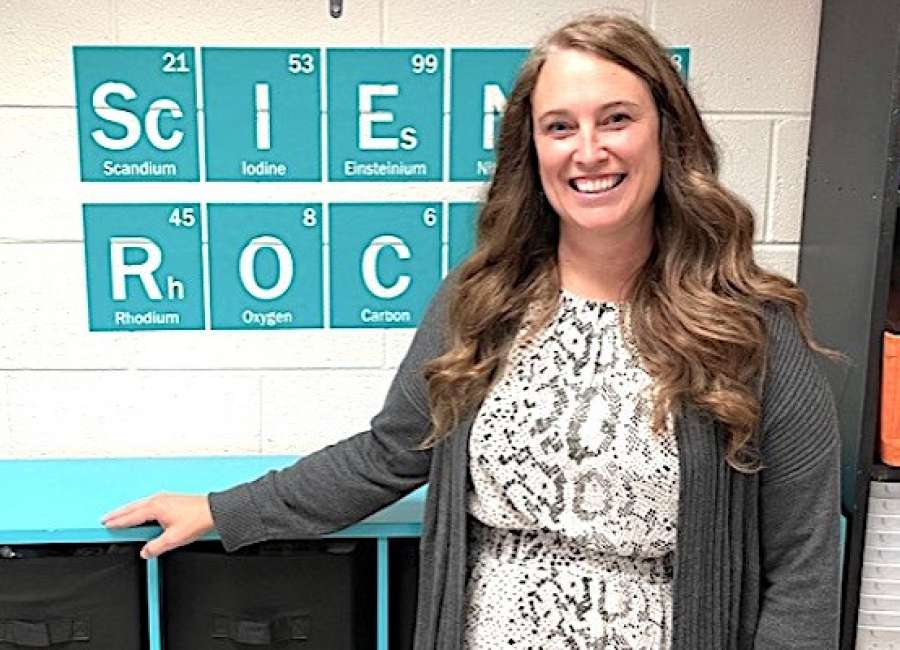 East Coweta Middle School teacher Stephanie Ferrari has been named the 2021 winner of the Excellence in Education Award.

The award is presented annually to a certified, full-time Coweta County teacher by the Chi Chapter of Alpha Delta Kappa, the local chapter of the international honorary organization for women educators.
Ferrari teaches sixth and seventh grade gifted science classes, and she is in her fifth year at East Coweta Middle. She came to Coweta County Schools from Henry County, where she taught for 15 years.
At ECMS, Ferrari has served as a sixth grade science teacher and a sixth grade team leader as well as teaching gifted classes. She volunteers at school sporting events and will coach the Academic Bowl team this year.
Her peers and administrators say Ferrari's classes feature high student engagement and challenging work, that students feel valued in her classes, that she is always willing to help them, and that "she just makes people happy."
Ferrari is married to Matt Ferrari, a teacher and coach at East Coweta High School, and has three elementary-age children: Addelyn, Brayson and Corbin. Her peers and administrators say Ferrari has been able to find an "amazing" home-work balance – an area of struggle for many educators – making each of her students feel valued while making a point of being present for her own children at home.
Philpott awarded Ann McLean scholarship
In celebration of October as ADK Month, Chi Chapter also presented Adrienne Philpott with the Ann McLean Alpha Delta Kappa Scholarship for $1,000, awarded to a nontraditional student pursuing a career in education.
Philpott – a full-time wife, mother, teacher and student – is currently working toward her goal of becoming an elementary educator through the nontraditional education degree program at the Newnan campus of the University of West Georgia. She is also employed as a Georgia pre-K assistant teacher at Stonebridge Early Learning Center.
She began her journey toward certification in 2019. Even though Philpott holds an associate degree from Griffin Technical College, her courses were not all transferable to the university level, leaving her with a large number of courses to take within the core curriculum. She is on track to enter the elementary education cohort at UWG in January.
Philpott said she has realized during her time of working in pre-K, as well as 10 previous years of working with children of all ages, that teaching is her passion. While adding full-time-student to her plate has been challenging at times, she said she has found it to be "an amazing and insightful learning experience" so far.
Obtaining a teaching position will help her to better financially provide for her family, Philpott said, and she hopes her decision to go back to school many years after getting married and raising a family will be an example of hard work and persistence that her children will remember.
As an educator, Philpott said her goals are to address the individual needs of her students to help them reach their full potential, to make learning engaging, and to ensure her students feel important, valued and respected.
Chi Chapter celebrates each October
Since 1947, women educators have banded together to experience professional and personal growth opportunities through the international organization of Alpha Delta Kappa. In the past two years alone, Alpha Delta Kappa members have given nearly $12 million in monetary and other gifts and nearly $2 million in scholarships, and they have provided more than 2 million hours of volunteer service to their communities.
More than 25,000 women educators around the world have discovered the many opportunities provided by membership in Alpha Delta Kappa – opportunities for recognition of their commitment to educational excellence, for personal and professional growth and for collectively channeling their energies toward the good of their schools, communities, the teaching profession and the world.
Headquartered in Kansas City, Missouri, Alpha Delta Kappa has more than 1,100 chapters located in towns and cities in every state in the U.S., and around the world in Australia, Canada, Jamaica, Mexico and Puerto Rico.
The local Chi Chapter in Coweta County, Georgia, celebrates the heritage of this organization during October every year and honors Alpha Delta Kappa through several activities and service projects in October:
• Recognizes one outstanding woman educator in the Coweta County School System with the
Chi Chapter Excellence in Education Award. The award recipient receives a monetary gift, a framed certificate of the award, and recognition in The Newnan Times-Herald and social media.
• Recognizes one college student at the University of West Georgia, Newnan Campus, who is enrolled in the nontraditional education degree program. Ann McLean is remembered with great respect as a 30-year teacher in the Coweta County School System and a 25-year Chi Chapter member.
• Provides treats for the entire staff of the school where this year's Excellence in Education Award is presented. This year, the organization recognized the staff of East Coweta Middle School and thanked them for their dedication to the students there.
• Makes individual financial donations to the Coweta Ferst Foundation to help support early literacy efforts for preschoolers in Coweta County by funding monthly books that are mailed directly to registered preschoolers' homes at no cost to the families.
• Participates individually in service projects and other community efforts, such as reading to students, donating funds to media centers, donating to personal charities, all in the name of Alpha Delta Kappa.
There are more than 30,000 Alpha Delta Kappa members and 1,200 chapters throughout the world. Membership in the local Chi Chapter has grown from 14 members when it was first established in 1957 to more than 50 today.