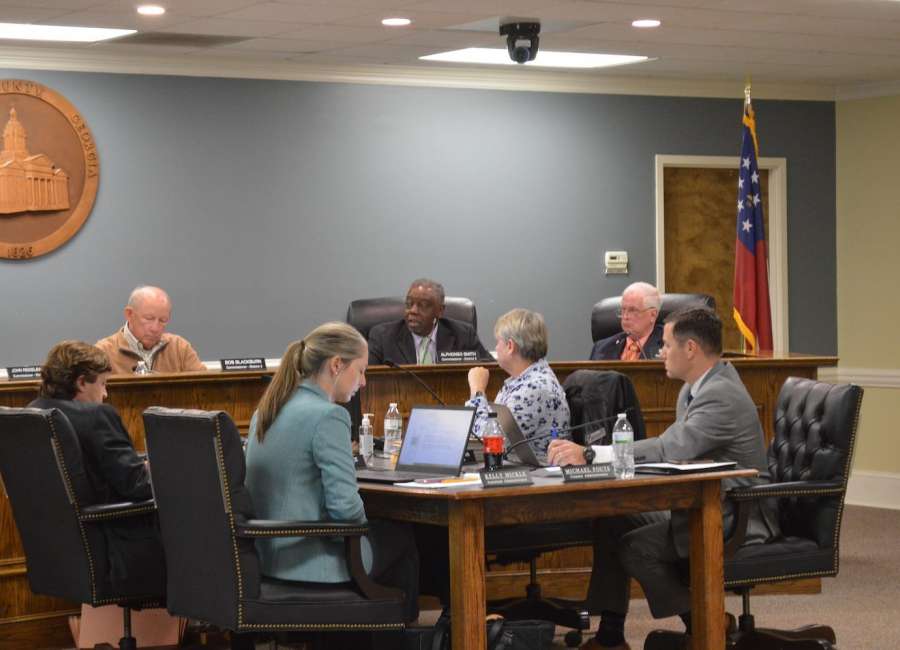 Coweta's proposed ordinance that would allow for the redevelopment of lots with mobile homes, and even some mobile home parks, will be getting a bit more tweaking.
The Coweta County Commissioners recently considered proposed ordinance changes, but commissioners were concerned about the proposal that would make lots with "abandoned" mobile homes ineligible.
The proposed ordinance has two options that would allow mobile homes to be replaced with "site-built" homes that are smaller than the county's current minimum house size.
Under current ordinances, single-family homes in most zoning districts must be at least 1,725 square feet.
And mobile homes that are currently occupied can be replaced with a similar mobile home, or a site-built home of 1,725 square feet.
In August, Coweta County Commissioner Tim Lassetter asked county staff to consider changes to allow existing mobile homes to be replaced with smaller site-built homes as a way to increase housing options for Cowetans, particularly in the "starter home" price range. He also asked staff to consider changes that would allow for improvements at mobile home parks.
Lassetter said at the time that he has heard from people who have property with a trailer on it, who would like to build a home there, but can't afford a 1,725-square-foot home.
The first option in the proposed ordinance change would allow Community Development staff to administratively approve the reduction in size to 1,250 – or the size of the mobile home being removed, whichever is larger – if the mobile home currently sits on a lot of record, there are no other dwellings on the parcel, and it is a legal nonconforming use.
Properties that don't meet that criteria, such as mobile homes that are not on a lot of record or mobile home parks, can go before the commissioners for a special use permit to allow for site-built houses to replace mobile homes. Under the permit, the commissioners can establish alternative minimum standards "which do not increase the overall density nor increase the level of non-conformity."
An older mobile home park, for example, could be converted to site-built homes on individual lots under a special use permit.
For the first option, the home must be a legal nonconforming use. Once a non-confirming use, such as a trailer that doesn't meet the current zoning standards, is "abandoned" and not lived in for five years, it ceases to be a legal nonconforming use. And that means lots with dilapidated or vacant trailers wouldn't be eligible under the proposed ordinance changes.
The commissioners discussed coming up with a way to change that.
"One thing we have here in Coweta is a shortage of homes," said Commissioner John Reidelbach. "If somebody had the opportunity to go buy an abandoned trailer lot for X in the hopes they could put a 1,200-square-foot home and be able to live there and own that – then I would say they should be able to have that opportunity."
There may also be some trailer parks in the county that have a mix of occupied and abandoned trailers. Reidelbach said someone likely wouldn't want to make the investment to put newly built homes on some of the lots in a trailer park if homes wouldn't be allowed to replace the abandoned trailers.
Commissioner Bob Blackburn asked about pre-built modular homes and whether they would be excluded.
The ordinance presented to the commissioners states that homes approved under the special use permit "cannot be a manufactured (or mobile) dwelling."
The county does allow new manufactured homes to be placed on lots in the county, but they must meet certain standards such as being placed on a permanent foundation, and be approved by the county's Compatibility Standards Review Committee. To be approved, the manufactured home must be "substantially similar or superior in size, siding material, roof material, foundation and general aesthetic" to homes in the general area and proposed development in the same zoning district or general area.
Under the current ordinances, to replace an abandoned mobile home with another mobile home, the new mobile home would have to be approved by the compatibility review committee.
Not allowing the abandoned trailers to be replaced with small site-built homes "sounds like we're preserving blight," said Commissioner Al Smith.
"There ought to be an avenue" for improving the lots with the abandoned trailers, Smith said. If a mobile home is dilapidated and needs to be torn down, there ought to be a simple way – and not a convoluted one – for people to redevelop the property with a better structure.
Fixing the abandonment issue might not be as simple as tweaking the proposed ordinance.
The language defining abandonment for the purpose of nonconforming use is in another part of the county's ordinances, and that might need to be changed, according to County Administrator Michael Fouts.
"We would need to be able to look at it from a consistency basis," Fouts said.
"It sounds like, to me, that the whole objective is to give relief to a blighted area – by allowing a stick-built home to take the place of a trailer that is in disrepair," Smith said. "To say there is no option for a person to pick up an abandoned lot – it preserves blight."
No one spoke at the public hearing on the ordinance. The commissioners voted to continue the public hearing to allow for more discussion and for staff to incorporate the recommended changes into the ordinance.