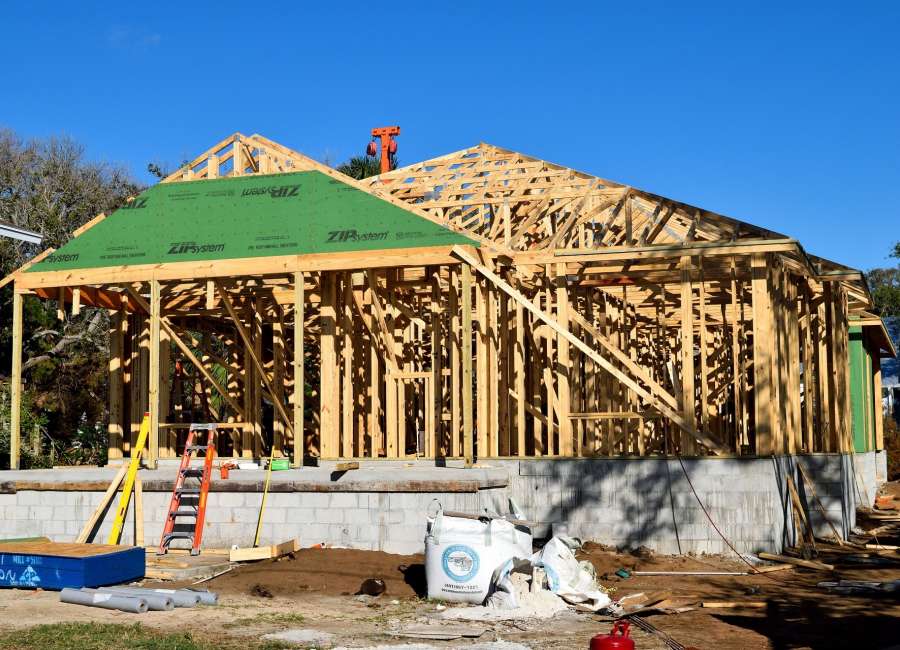 As homebuilders grapple with supply chain issues and difficulty finding workers, some seem to be ignoring major parts of the permitting process.
Coweta County has seen an alarming number of homes being built without the proper permits or inspections, and last week the Coweta County Board of Commissioners approved a new ordinance that will put some teeth in the county's stop work orders.
The violations have run the gamut from a developer grading and doing site prep without a permit and then calling for a foundation inspection for a foundation that was never permitted, to calling for a roofing inspection for a home that never had a site preparation permit, foundation permit or building permit, according to Community Development Director Jon Amason and Assistant Community Development Director Angela White.
The final straw, though, was when an inspector showed up to do the final inspection on a new home for its certificate of occupancy, according to Amason.
The inspector knocked, and walked in, as he normally would. Then he encountered the resident of the home.
"She said, 'Why are you in my house?'" Amason said. The woman had already closed on the house and moved in – something that never should have happened before a CO was issued.
It wasn't the first issue with that particular house, Amason told the commissioners. Work had begun on the house without a permit, and a stop work order had been issued earlier in the construction.
"That is what triggered us to look back and see how many of these we were dealing with," he said. It's an issue the county staff had already been talking about because it had begun to take up a lot of staff time.
They found about 40 instances over the past two years, Amason said.
When it's discovered that a permit or inspection wasn't done correctly, "we spend a lot of valuable time dealing with these problems," he said.
"We could be spending that time helping our valuable customers who chose to follow the regulations," Amason said. "Having to spend so much time with people who are not following the regulations is clogging up our system."
Under the new ordinance, the first stop work order comes with a written warning.
But on the second violation, a citation will be issued and the stop work order will remain in place until the citation has been adjudicated.
With Magistrate Court schedules, that will typically be at least a week and could be a month, according to White.
If a contractor has a third violation, the stop work order will stand until there is a hearing before the county commissioners. And the contractor won't be able to pull any other permits until the hearing before the commissioners.
"Our first goal is to educate, and then when we have these same people make these same mistakes, we just needed more tools in our tool bag to help persuade these builders – who should know better – to do the right thing," Amason said.
He said that in talking to contractors he hears that they are having scheduling problems and having issues getting subcontractors lined up and the demand is so high.
"But it really doesn't excuse the fact that they should do their paperwork with our office in a timely manner," he said.
The Community Development Department launched its new software system, Accela, in September, and contractors can now request permits online and pay online any time of the day or night.
"Now there is no, 'Y'all weren't open,' or, 'It was Saturday,'" said White.
The community development staff tries to work smart and be efficient, but dealing with the violators can take two or three days, White said.
Staff "want to help people. They want them to be successful, but we need them to help us and follow the building codes," she said.
When builders don't get the permits – and inspections – it costs them in the long run. Because if inspectors can't check something because it's already been covered up, the builder has to get an engineer to provide a letter saying that the work was done properly.
Moving forward without permits or inspections is not because folks have to wait a long time for inspectors, either, White said. If a request is in by 3 p.m., "they are out the next morning," White said. One inspector was on-site at 6:45 a.m. Friday, she said.
The county contracts with SAFEbuilt for building inspectors, and SAFEbuilt can pull inspectors from surrounding communities if there is higher demand in Coweta, according to White.
The goal with requiring inspections is to make sure every building built in Coweta is built correctly and safely. "We're making sure when they move into that house that we have done all of our due diligence," White said.
"We would really like everybody to just do the right thing – and we wouldn't have needed to do this," she said.