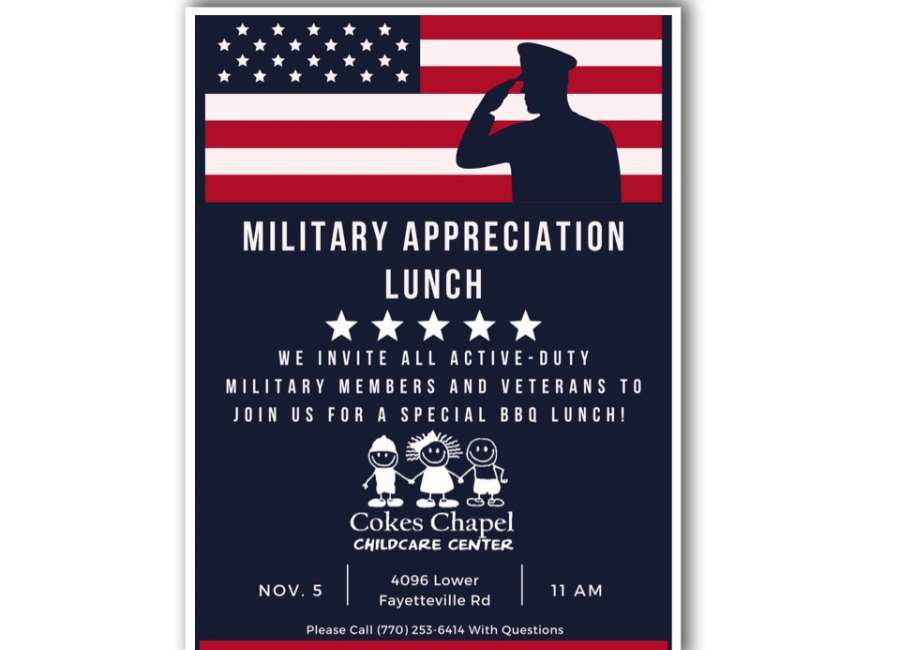 For the first time in nearly two years, Cokes Chapel United Methodist Church Childcare Center will be hosting its annual Military Appreciation Lunch next week, Friday, Nov. 5.
Amber Moore with Cokes Chapel UMC Childcare Center said the church center started hosting the meals in 2018.
"We wanted to host a meal to give thanks to the men and women that have served our nation and given us our freedom," Moore said. "Last year, we had to postpone the event because of COVID-19, but we are so thankful to be able to host it again this year. It was put on our hearts to do something for these amazing men and women."
Moore said the church thought it would be a good idea to host a military appreciation luncheon after visiting a local assisted living facility the church normally volunteers for and visits with.
"While at one of our visits, we noticed all the veterans that were there and we wanted to show them how thankful we are for them and what they have done for our country," Moore said.
Moore said the appreciation luncheon is not only to honor and appreciate men and women of the country's armed forces, but also to teach their students at the child care center to appreciate the country's military.
"We strive to teach our students the importance of what these men and women have done or are currently doing for all of us," Moore said.
She said the appreciation luncheon is only a portion of what the child care center does for the country's military.
"We even get the students involved in doing soldier boxes for soldiers that are deployed overseas," Moore said. "These boxes are either full of their favorite snacks and goodies or with toiletries. The students also love to send drawings and stuff to these soldiers as well. We have actually received an American Flag from one of the soldiers that we supported. He had the flag flown at their military base in Eastern Africa during combat times. These are just a few ways we love to support our military."
Moore said students will give a brief performance at the luncheon. A BBQ meal with all of the fixings will follow immediately after. There will also be door prizes and giveaways. Moore said family members of military members are also welcome.
"We understand that when you have a loved one that served or is serving, that it is a family commitment and everyone has to sacrifice," she said.
The luncheon will be hosted at Cokes Chapel worship center at 4096 Lower Fayetteville Road and will begin at 11 a.m.
For more information, call 770-253-6414.