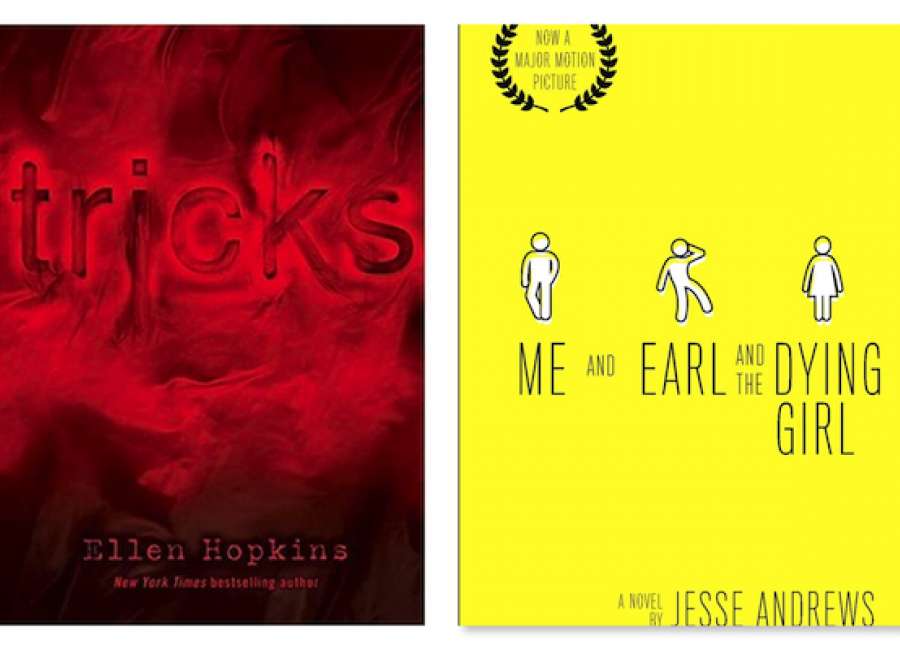 A Coweta resident said she was unaware a child was present when she used graphic descriptions of what she called "inappropriate" material in the county's public high school libraries.

In a Nov. 9 presentation to the Coweta County Board of Education – which was also streamed live on YouTube – Xiomara Castro explicitly described references to sexual acts found in two teen-centered books, urging the board to change its policies on reviewing material for the school system's media centers.
"I did not know there was a child in the room," Castro said in an emailed response to questions from The Newnan Times-Herald Monday night. "If I would have seen a child, I would have probably warned beforehand.
"However, I would still present it as it is," she added.
Students from Northside Elementary School had demonstrated some of their Veterans Day activities to board members early in the meeting.
"I have asked people that were in attendance and none remember seeing a child after the school's presentation," Castro said.
But a 12-year-old child remained on the front row for the entirety of the meeting, and Castro said a board member later informed her of the child's presence. Regardless, Castro said, objectionable books are also available in the schools attended by children of that age.
"Boys and girls her age, 12 years old, are already being exposed to these types of materials in our Coweta County schools as we speak," said Castro, who has lived in Coweta County for five years. "If she is 12 years old, then she goes to middle school. They are there as well."
She said she discovered the inappropriate books – "Tricks" by Ellen Hopkins and "Me and Earl and the Dying Girl" by Jesse Andrews, which she said contain pornography, rape, teen prostitution, online gambling and resources for teens in trouble – through due diligence, because they are public record.
"We are in the process of uncovering inappropriate materials in the schools," Castro said. "No child should be exposed to materials that include rape, drugs, sexual misconduct, etc. no matter where or by whom. Some schools are doing that right now."
Castro is head of the Coweta chapter of No Left Turn in Education, an organization which lists as its mission "To revive in American K-12 education the fundamental discipline of critical and active thinking based on facts, investigation, logic and sound reasoning."
"The chapter was established in August of this year," Castro said. "I became a leader because of my concern for our children and our nation's future and … because I am the one that established it in Coweta County."
She said she reached out to NLTE because she believes God guided her to the organization.
"I don't know what you believe in, but I am a Christian and I pray," Castro said. "God leads my path and guides me into what I need to do."
No Left Turn in Education's Facebook network lists about 1,700 Georgia members and about 90 in the Coweta chapter. The controversial conservative group was founded by Dr. Elana Yaron Fishbein, a doctor of social work. On her Twitter page, Fishbein calls herself a "domestic terrorist" and describes NLTE as "a movement to combat racial indoctrination in our K thru 12 education system."
Other self-identified members of the group spoke at the Nov. 9 meeting, saying parents need to "band together to take our schools back" and objecting to what they called "massive overreach" by schools. A headline in the Times-Herald's initial story published on Nov. 13 called the organization an anti-indoctrination group – a description Castro said is accurate.
"You had it correct when you said that we are an 'anti-indoctrination' group," she said, adding the NLTE aims to "bring community awareness."
According to Castro, the organization wants to partner with the school board to update policies and procedures for approving the books and materials in school media centers.
"(We will) work with the Board of Education on the current and outdated policies, if they are willing to work with us, and take these materials and other issues that are affecting our children out of our schools," she said.
However, Coweta school officials said the Nov. 9 board meeting was the first time Castro had communicated any objections to either the review policies or specific books or materials – despite an exchange between Castro and Superintendent Evan Horton in October.
According to documents received as a result of a Georgia Open Records Act request by the Times-Herald, Castro sent a letter to Horton on Oct. 8 identifying herself as the Coweta County chapter head of NLTE. In the letter – which also was signed by three other members of the Coweta chapter – Horton was asked several questions, including whether the school system has measures in place to avoid inappropriate materials in school media centers; whether Coweta Schools teach critical race theory or use materials from the 1619 Project; and whether the district "actively promotes or discusses transgenderism."
Horton responded in detail to each question, with references to Board Policies IFA-R, IF, IFA and IFB-D, which covers the adoption of books and other materials by school media committees – composed of teachers and parents – and the process for re-evaluation of those materials should objections be raised. The review process typically originates at the school level, according to Coweta Schools Public Information Officer Dean Jackson, but members of the community are encouraged to contact the superintendent's office with concerns as well.
However, "(Castro) never mentioned or raised an issue about any specific books to the superintendent's office or our schools, either (during the exchange with Horton) or any other time as far as I'm aware," Jackson said. "If she had, we would have initiated a review of any books in question."
Castro, who said she does not have children in the school system, called herself a "straightforward and transparent person."
"I think it is clear why I went to the board of education's meeting," she said. "I'm not here for the BOE but for the community. This is a forum established for citizens to exercise our First Amendment rights. It is where and when the community goes to speak up about concerns, issues, etc. in our schools. So I am unsure what the confusion is. We have that right, and I invoked it by speaking in public about the situation in the schools."
View the Board Policy Manual, including policy regarding which covers the adoption of books and other materials by school media committees, here.
•••
Xiomara Castro/No Left Turn in Education-Coweta chapter letter to Superintendent Evan Horton: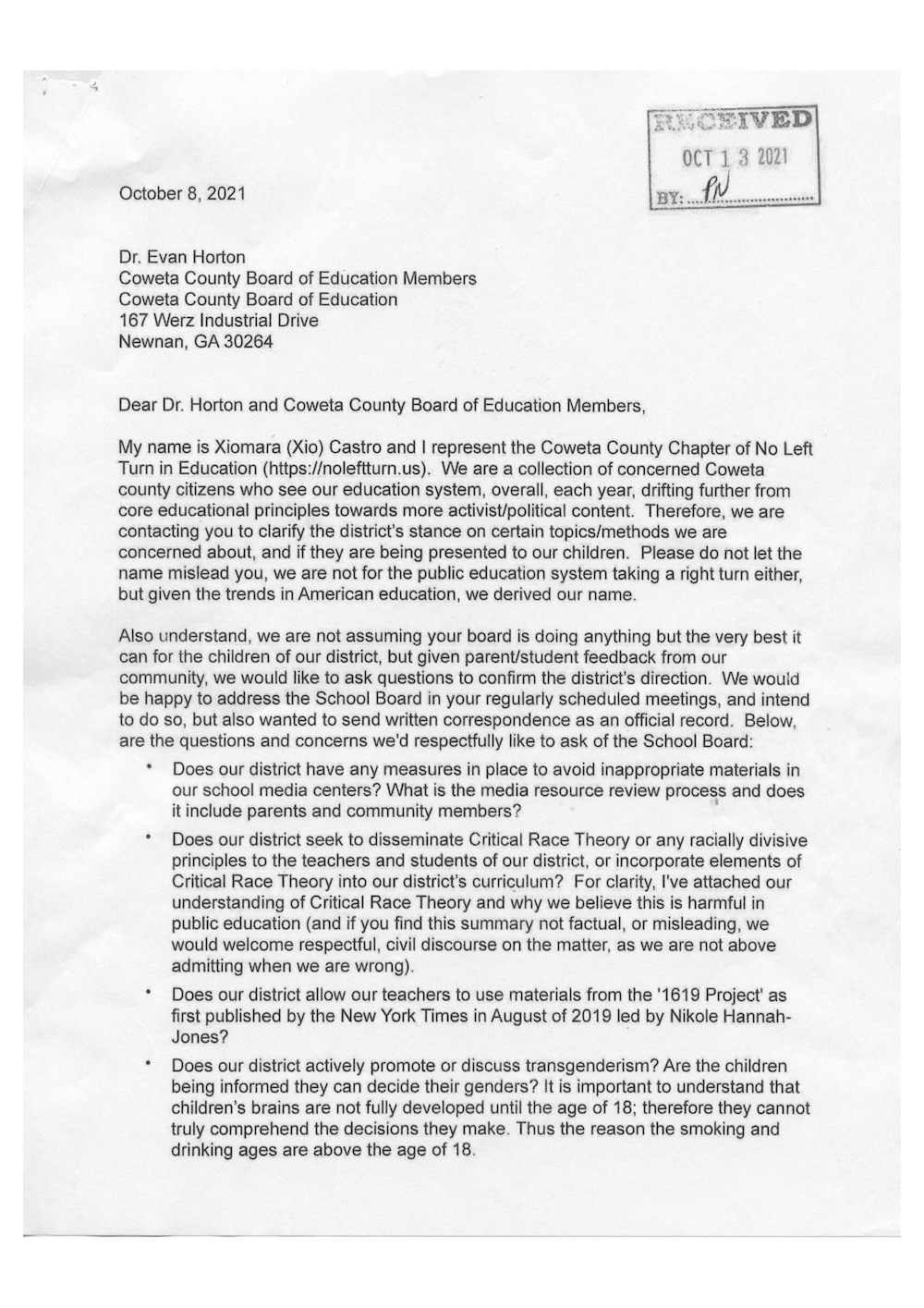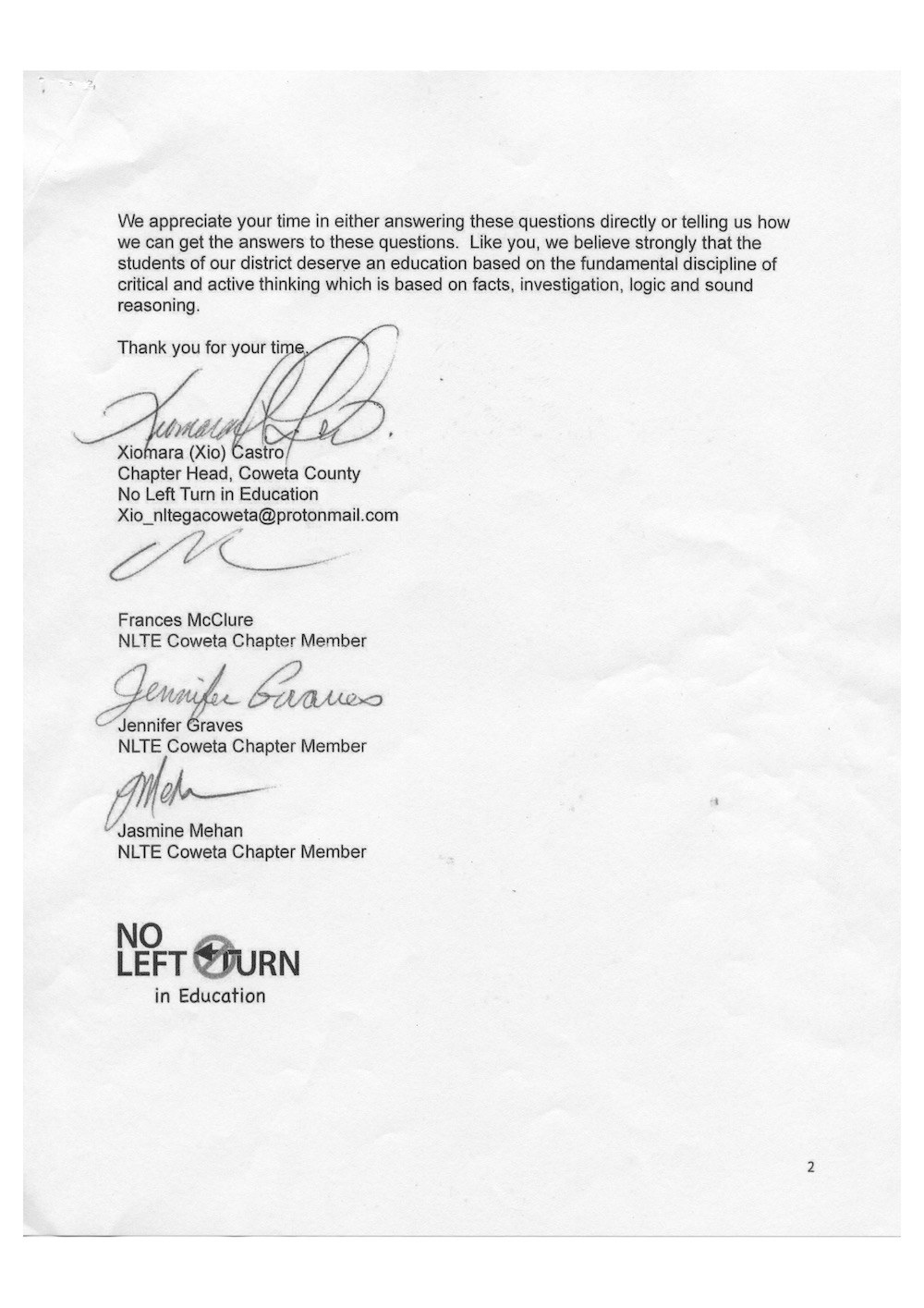 Superintendent Evan Horton's response to Xiomara Castro/No Left Turn in Education-Coweta chapter: