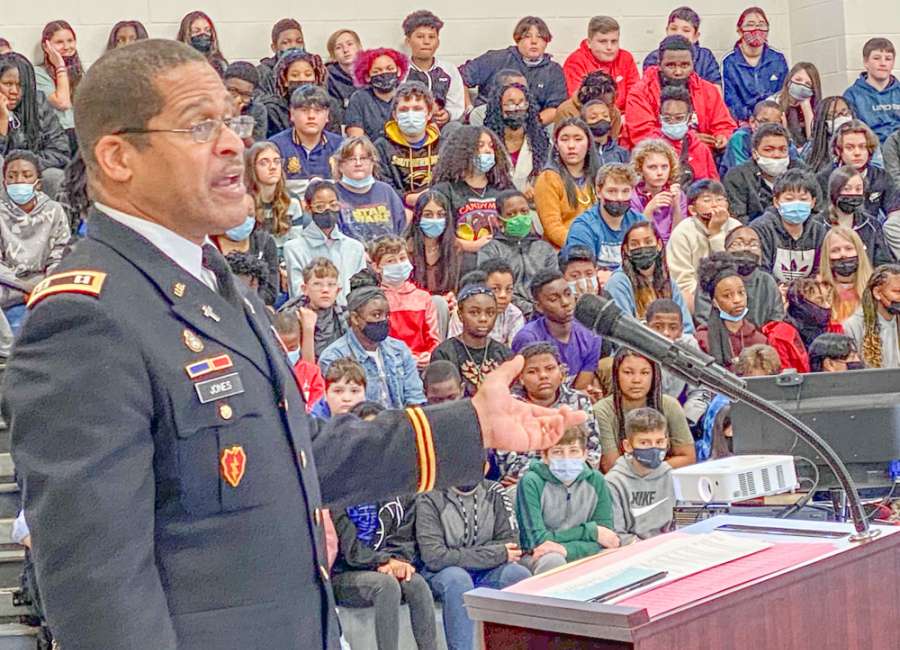 By Jessica Saggio
The energy in the room was electric as Chaplain Leland Jones threw his hands in the air and barked, "A roh!" at the crowd of seventh and eighth graders inside Arnall Middle School's gymnasium.
"A roh!" They howled back to the keynote speaker at the school's Veterans Day event on Friday.
"I believe someone in this room has a cure for cancer. I believe someone in this room knows how to address racial disparity. I think there's somebody that can deal with global warming. You are going to change the world. Say, 'I am going to change the world!'"
"I am going to change the world!" They hollered back.
The room of both young and old rose to their feet as Jones finished his speech, roaring in applause. Tears poured down some students' faces as they reeled over the chaplain's powerful words.
Jones is currently chaplain to the Georgia Army National Guard and Tuskegee University Football team, as well as senior pastor of the Greater New Light Missionary Baptist Church. He headlined the event that honors local veterans and encourages students to respect and acknowledge military service.
"You make the difference every day," he said. "What you have is right now. You've got to find your place. Wearing a uniform isn't for everyone, but find your way to serve."
The annual Veterans Day program is a mostly student-led event featuring a lineup of presentations. It returned for its 22nd year after a hiatus last year due to COVID-19 concerns, said Principal Patrick Sullivan.
Some precautions were still taken to keep the event safe and somewhat socially distanced. Seventh and eighth graders were permitted to attend the event in person while sixth graders watched a livestreamed version from their classrooms. Veterans from the community were asked to RSVP.
"It's an educational experience for our kids, but it's also to honor the veterans and make sure they know they're not forgotten," said Sullivan.
The event began with the presenting of the colors by the East Coweta High School ROTC followed by the Pledge of Allegiance, singing of the National Anthem and a welcome from both Sullivan and eighth grade student Kai'Leia McCarty.
Each veteran in attendance was named and asked to stand for applause. All ages and branches were represented at the event, from World War II veterans to those who served more recently overseas in Iraq and Afghanistan.
Students also read aloud a series of essays about what it means to be a good American. The essays were part of a local Veterans of Foreign Wars contest.
Many of the students argued that respect, kindness, taking care of the environment and working together were among the most important qualities it takes to be a good citizen. Ariana Simmons, who was later awarded the first-place prize for her entry, spoke of modeling positive behavior.
"As an American, I have to stand with my people and stand with those who aren't my people," she said, emphasizing the need for unity.
Simmons was chosen out of 101 student entries from across Coweta County. The VFW also honored Arnall Middle School teacher and Navy veteran Priscilla Letourneau.
However, the room reached another level of excitement as Jones took the podium. Jones, who also has a history in the entertainment industry, has played a number of roles on television and the big screen.
He was on the TV series Meet the Browns as well as in hit movies, such as the 2019 remake of "Shaft." Still, his message wasn't about any of that. It was about being in the "right now," he said, and making a difference in the world.
"You can pick up the trash, or if you're not careful, you can mess around and be the trash," he said.
As students were dismissed back to classrooms, a number were shaken by his words.
"I teared up," said McCarty, chatting afterward with a group of friends. "I felt the passion when he spoke to us."
"It made me feel like I can do anything," added Angelina Boscarello, an eighth grader who was among the students who read their essay.
Simmons, whose essay also had her peers excited, said she feels "led to go do something."
While the event has been going on for many years and with many great speakers, this may have been the best one yet, said Assistant Principal Lawanda James.
"It was profound," she said. "It was everything we need to encourage, motivate and inspire our children, and it appeared we achieved that goal today … they had the connection to what was going on."