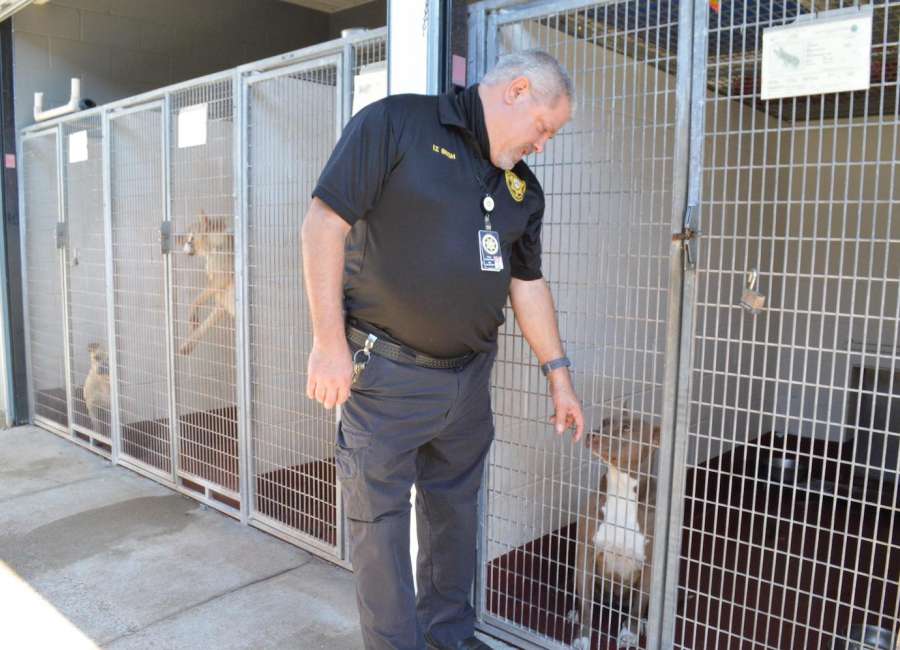 The Coweta Animal Services Shelter is staying near or at capacity these days, and officials hope to encourage more people to adopt dogs and cats.
Meanwhile, local rescue organizations have a significant need for more people to foster dogs and cats until they can be adopted.
The shelter has been running an adoption special, with a flat $25 adoption fee, for several months. The fee includes spay or neuter surgery, vaccination, and an identification microchip.
It's a tremendous value. The vaccines alone would cost $25 to $30 from a low-cost provider; microchips typically cost $25 or more, and spay surgeries for dogs can cost hundreds of dollars, depending on the provider.
And people are adopting. But not enough to keep up with the constant influx into the shelter.
The shelter's designed capacity is 92 dogs and 92 cats. By closing the access door between the indoor and outdoor section of the dog runs, the facility can hold 132 dogs.
The week of Thanksgiving, the shelter had 132 dogs and 87 cats.
"We've been in the high 120s and low 130s for a month now," said Lt. Thomas Bush, shelter supervisor. "We're doing what we can to get them out the door. We need some more adopters."
Many seem to no longer want their pets
Animal control officers are picking up a large number of strays, and Bush said he suspects there may be some Cowetans who adopted in the early days of the COVID-19 pandemic who now no longer want their pets and are dumping them on the streets.
When officers see or get a call about a stray animal,, "we do everything we can not to bring them in," Bush said.
They're scanned for a microchip in the field, and, if the pet has one, the owner is contacted.
"We will sit around and wait for the owner to come back if we can get in contact with them," Bush said.
If they can't reach the owner by phone they will send out a letter.
"We do everything we can to get it back to the owner," he said.
The shelter doesn't accept "owner turn in" pets, but local rescues have been inundated with calls from people who want to give up their animals.
"I must get five calls a day from people wanting to get rid of their dog," said Gail Lustig of Hearts 'n Homes Rescue.
The reasons vary. Lustig said she got a call from a man who wanted to get rid of his 10-year-old lab that he has had since it was a puppy. He and his wife just had twins and they didn't want the dog around the babies.
Lustig said the man didn't say the dog had had any problems around the babies or had any aggression, they just didn't want him around anymore. Another man was seeking new homes for five Chihuahuas.
Rather than taking in animals people no longer want, Lustig said they would much rather help people with the resources they need.
"We're happy to help people with crates, with food, with vaccines," she said. "If you don't have the money to afford it, we can help you," she said.
She said if somebody could keep their pet if it was just spayed or neutered, she would have plenty of people willing to cover those costs.
The Newnan-Coweta Humane Society can also help people keep their pets with various resources. NCHS operates a pet food pantry, and can offer help with training for behavior issues. The organization can also help people afford spay and neuter surgeries and other medical care.
"We want these people to be able to keep their pets if at all possible," said Katie Whittington, dog team director for NCHS.
"But most of the time, people have already made the decision," said Linda Earhart of NCHS. "We've tried to help with training, litter box issues, issues with biting and giving them ideas of what they can do. But our biggest issue is by that time they're done with it."
Foster homes needed for dogs and cats
Oftentimes, rescues simply can't take in any more animals because they don't have enough foster homes for them.
Fostering can also be a great way to decide if you want a pet. The problem is, many foster parents fall in love with their foster pets and decide to keep them. And that's great. But "we lose all of our fosters that way," Lustig said.
If there were more fosters, they could pull more dogs from the shelter, Lustig said.
The Newnan-Coweta Humane Society is in much the same boat when it comes to fosters. NCHS fosters both dogs and cats, while Hearts 'n Homes is strictly a dog rescue.
"NCHS and Hearts 'n Homes both need more foster homes to pull more pets," said Sandy Hiser of NCHS.
Many of the smaller rescues and humane organizations that used to serve Coweta are no longer in operation, which puts more pressure on NCHS and Hearts 'n Homes.
Last year, NCHS took in more than 600 cats and kittens and about 100 dogs, Earhart said. She said she expects to total about 500 cats this year.
A wider variety of dog breeds at the shelter
For the past several years, the overwhelming majority of dogs at the shelter were pit bull mixes and Staffordshire terrier mixes, but that's not as much the case anymore. There is more variety in breeds and sizes.
Rescues work with the shelter in many ways, including with adoption events. Hearts 'n Homes recently held an adoption event in Senoia and took shelter dogs to the governor's mansion for an adoption event. None of them were pits, Lustig said. Adoptable dogs also will be featured in the Newnan Christmas parade.
Expanding heartworm treatment
The shelter sees a significant number of dogs who have heartworm disease. The shelter has started to treat all of the new dogs that come in with heartworm disease with the "slow kill" treatment. They're also treating the dogs who are already at the shelter, adding 10 dogs per month.
The slow kill treatment, known as the "moxi-doxy protocol," uses a combination of 30 days of treatment with the antibiotic doxycycline and monthly treatment with topical moxidectin, one of the active ingredients in Advantage Multi.
It can take up to a year or more to totally clear a dog of heartworms, but the slow kill treatment is much more affordable and accessible than traditional treatment with arsenic-based injections. It can also be significantly easier on the dog.
Coweta Animal Services is located at 91 Selt Road in Newnan. Adoption hours are 10 a.m. to noon and 1-4:30 p.m. Monday through Friday; and 10 a.m. to 1:30 p.m. on Saturdays. Animals up for adoption can be viewed on PetHarbor.com . For more information, call 770-254-3735.
For more information on Hearts 'n Homes, visit Heartsnhomesrescue.org or call 917-873-7408.
For more information about NCHS, visit www.nchsrescue.org .