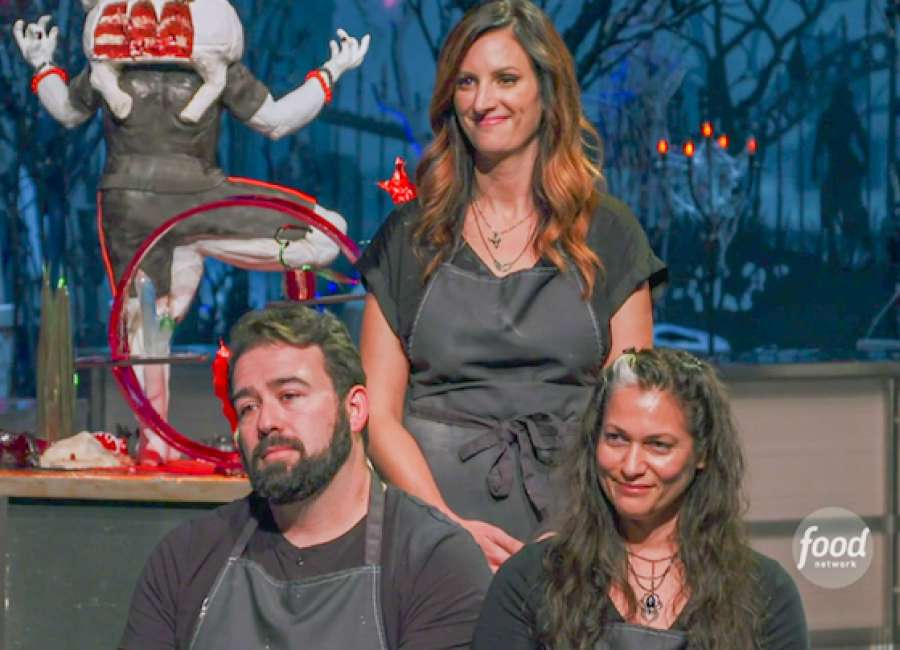 After three winning creations and a trip to the semifinals, "Halloween Wars" came to an end for Newnan's Bonne Bedingfield Sunday.

And despite the weeks of not seeing her family, brutal time constraints and grueling pressure and stress, Bedingfield said she'd do it all again in a heartbeat – especially if it meant working with her teammates, Travis Martinez and Laura Ramirez, again.
"I would jump right back in, especially with Travis and Laura," she said. "We couldn't have gotten along any better."
It was an element that served the trio well during the filming of the Food Network show last summer.
Contestants were on a rigid schedule of prep one day, film one day, and Bedingfield said she and her teammates spent a lot of time in their hotel's restaurant, brainstorming possible creations into the early morning hours.
Originally trained as a painter, Bedingfield has gained widespread recognition for the realistic cake sculptures and stunning wedding cakes she creates through her business, Beautifully Baked By Bonne. Her work has been featured in multiple media outlets including Martha Stewart Weddings.
Bedingfield is used to working at her own pace, planning and baking and creating alone in her kitchen, often late at night. It's a huge departure to work as part of a team with just days to turn an idea into a competition-worthy submission.
"It was the most strenuous work I've ever done," Bedingfield said. "These were cakes I'd have spent a year on."
After winning three consecutive challenges with a snake god, a fire demon-possessed carousel horse and a wendigo, Pumpkin to Talk About faltered in Episode 5. The team's ghostly basement-dweller dragged them into the bottom two, but the team was spared and headed into the semifinals along with two other teams.
Pumpkin to Talk About was eliminated after presenting its vampire-themed cake in Sunday's episode.
"I can speak for all three of us when I say it wasn't our best work on that last go-round," Bedingfield said. "We came in very hot, very fast, and then we had complications with the basement cake, and it just kind of took the wind out of our sails. We weren't able to recover.
"But we were able to show what we were capable of, and that makes it OK," she added.
Bedingfield said she learned "an insane amount" during her time on the show, particularly from the sugar artists and chocolatiers among her fellow contestants. However, it is the relationships forged along the way that she most values, and she remains in close touch with many of the competitors and behind-the-scenes crew, she said.
She also appreciated a chance to redeem herself after her 2019 appearance on "Food Network Challenge," where she and three teammates made a disastrous attempt to create a cake version of the iconic leg lamp from "A Christmas Story."
"I feel like I represented this time and made Newnan proud," Bedingfield said. "Winning the whole thing doesn't even matter. Showing that hanging in the competition is important, and we accomplished that."
While she has been approached about other opportunities, Bedingfield does not have immediate plans to film another show. For now, she said, she is content to relive the Halloween Wars experience.
"I'm open to anything, but I don't know what would top this," she said. "The hardest part wasn't that we lost – it has been letting go of it. I can't be present in it, and that's sad for me. It was that grand of an experience."