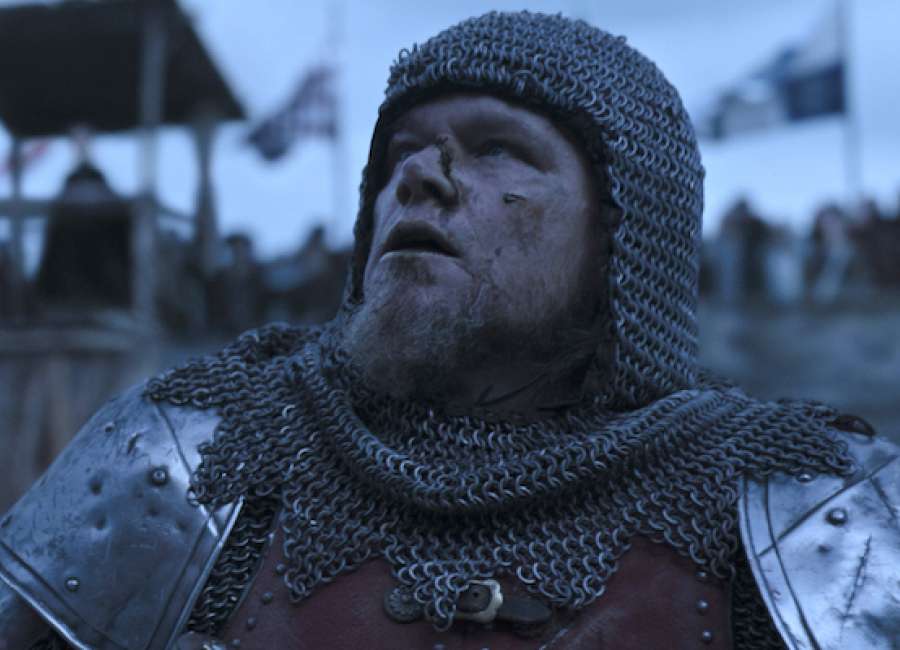 Review by Jonathan W. Hickman
Review Rating: 8/10

"The Last Duel" isn't exclusively the story of two pompous men viciously jousting, attempting to skewer the life out of the other.
That deadly, physical conflict forms the penultimate moment, the last but one. It is the ongoing battle of the sexes that remains.

Set in Medieval France, Matt Damon and Adam Driver play friends who distinguish themselves on the battlefield during the devastating Hundred Years War with England. Damon plays Jean de Carrouges, a roughhewn nobleman who, like his father, is pledged to protect his homeland with his life. The pious Carrouges is a fierce but impulsive fighter capable of heroic deeds whose recklessness often tempts defeat.
Driver plays the more contemplative Jacques Le Gris, the son of a Norman squire. Le Gris does not have Carrouges' pedigree, and he uses his wits to rise in French political circles and the hedonistic, male-dominated society. While he's loyal to Carrouges, Le Gris' ambitions cause
him to curry favor with the rich and powerful Count Pierre d'Alençon (a blonde and terrific Ben Affleck). This close relationship, both personal and professional, brings Le Gris into a disagreement with Carrouges.
This argument between old friends comes to a head when Carrouges agrees to marry Marguerite ("Killing Eve's" Jodie Comer), the beautiful daughter of the disgraced but wealthy Sir Robert de Thibouville (Nathaniel Parker). The Count's financial interests are Le Gris' top priority, which means Carrouges will lose a sizable portion of his wife's promised marriage dowry. And because Le Gris has his hand on the levers of the French justice system, Carrouges' efforts to wrest away what was unfairly taken from him fall on deaf ears.
While this true story will end in a bloody conflict, the last state-sanctioned duel of its kind, the political and social clashes leading up to the mano a mano standoff prove to be bruising and damaging. Initially, Marguerite has, at least, two disadvantages: her father fell from grace when he backed the wrong people in politics, and she's a woman in 14th Century Europe.
All the money in the world can't make her equal, and only through marrying the right man is there hope that someone will hear her voice. But marrying the uncompromising and peacock-proud but insecure Carrouges only adds to his difficulties.
These dismaying dilemmas make her vulnerable. While her husband is away collecting payment for his latest ill-fated military campaign, she's visited by a lovesick Le Gris, who may have misread Marguerite's parting glances following a social gathering. What he sees as signals of affection might be something else altogether. But having found his footing with the all-powerful Count, Le Gris intends to act on his feelings, even if those feelings are one-sided.
The aftermath of Le Gris' clandestine encounter with Marguerite sets in motion legal machinations, ultimately leading to trial by combat. And despite Le Gris' superior intellect, besting a true warrior, especially one led by supposed a moral imperative, might be an impossible task.
"The Last Duel" is based on the 2004 book by Eric Jager. The culmination of a decade of thorough research, Jager's rich source material provided screenwriters Damon, Affleck, and Nicole Holofcener (Oscar-nominated for "Can You Ever Forgive Me?") an excellent jumping-off point to explore universal truths. And it is their examination of three distinctly different perspectives that make up the spine of this thrilling, tragic tale.
Carrouges and Le Gris are free to tell their side of the story. But their reputations require them to be the hero, and truth, at least the whole of it, is sacrificed. That's why Marguerite's decision to go public with the sexual attack on her by Le Gris is so unique and embarrassing to these two supposed political and societal titans. Denial, words alone, is not enough; a visceral, juvenile showing is required. And this wrong won't be settled by a schoolyard fight with fists and a black eye.
Presenting the narrative from three perspectives, each written by a separate writer, may prove to be frustrating to the uninitiated. This subtle looping, storytelling skill is a part of classic cinema. Japanese directing master Akira Kurosawa utilized this structure in his 1950 film "Rashomon," a movie the screenwriters and director Ridley Scott are channeling here.
These filmmaking techniques make "The Last Duel" more ambitious than your typical period set
historical epic. It begs the viewer to find the truth in between. Her truth? His truth? His truth? The answer isn't a mathematical calculation, but for Le Gris, the numbers don't lie.
There's a scene in Le Gris' story that is most telling of his possibly psychopathic personality. He's visited in the middle of the night by the Count. Le Gris has been calculating the Count's business affairs for hours and hours. The candlelit room is outfitted with desks adorned with ledgers, and he pours over an abacus making complex calculations. The Count beckons him to come out for a night of debauchery. But Le Gris wants nothing but the numbers; the carnal pleasures can be scheduled and performed when the math permits it.
Le Gris only sees Marguerite as an object in one of those ledgers. A woman, even another man's wife, is a possession of some determinable value that can be acquired. And sadly,
Carrouges shares in that arcane belief. The misogynist French legal system of the time bolsters their convictions; only through Carrouges can Marguerite's claims be heard by a court of law.
That is why when Carrouges demands trial by combat, a duel to the death, that truth takes a backseat to the male ego. Such maneuverings, possibly far less deadly, persist even to this day. The woman behind the man is now slowly becoming the man behind the woman in our political landscape. Voices of truth rise to meet the forces of oppression.
And "The Last Duel" is a compelling story of one woman's impossible position: live with the dehumanizing memory of rape without justice or die challenging the power that caused the sexual attack in the first place. Marguerite's dangerous decision is brave, and when she has a chance to escape, it is her bravery that shines brightly.
Don't let the 14th Century European setting distract you, "The Last Duel" is a modern telling of an almost forgotten historical event. Aside from the narrative import and current social relevance, the filmmaking demonstrates director Ridley Scott's years of experience in capturing large, sumptuous sequences.
Using his trademark multiple-camera approach, he and long-time collaborator cinematographer Dariusz Wolski create a continuous sense of urgency in the images. This visual tension keeps the already taut screenplay engaging even when each perspective repeats elements from the previous view. What begins as disorienting settles down with purpose, and the whole project is compelling with each competing frame.
The cast comports themselves well despite the abandonment of authentic accents. Damon brings his everyman personality to bear on Carrouges. He plays Carrouges as an earnest and loyal subject who lacks the capacity to compromise on anything. Damon is an expert at this kind of character, and his familiar work helps to make Driver a formidable foil. Driver is less a sneering, mustache-twilling villain and more an intellectual lacking empathy.
And Comer must delicately play a forward-thinking woman in Medieval times. She never tips her hand and credibly makes us understand Marguerite's plight. Overplaying her role would have damaged the effectiveness of the narrative, and thankfully, Comer gets the tone right, tenderly emoting when required and providing fiery moments behind her large, expressive eyes.
Finally, Ben Affleck delivers a scene-stealing performance that continues to make me reevaluate his talents. Sure, he's won two Oscars, but a few acting missteps (remember "Gigli") have been hard to erase from my memory. I'm eager to see him in George Clooney's upcoming "The Tender Bar."
"The Last Duel" is a complex and ambitious film; it's Ridley Scott's best work since 2015's "The
Martian." It will challenge viewers with essential questions that are relevant today. At the same time, this minor historical epic will satisfy those looking for the action of the duel. This bloody carnage ultimately brings closure but fails to resolve the nagging questions.