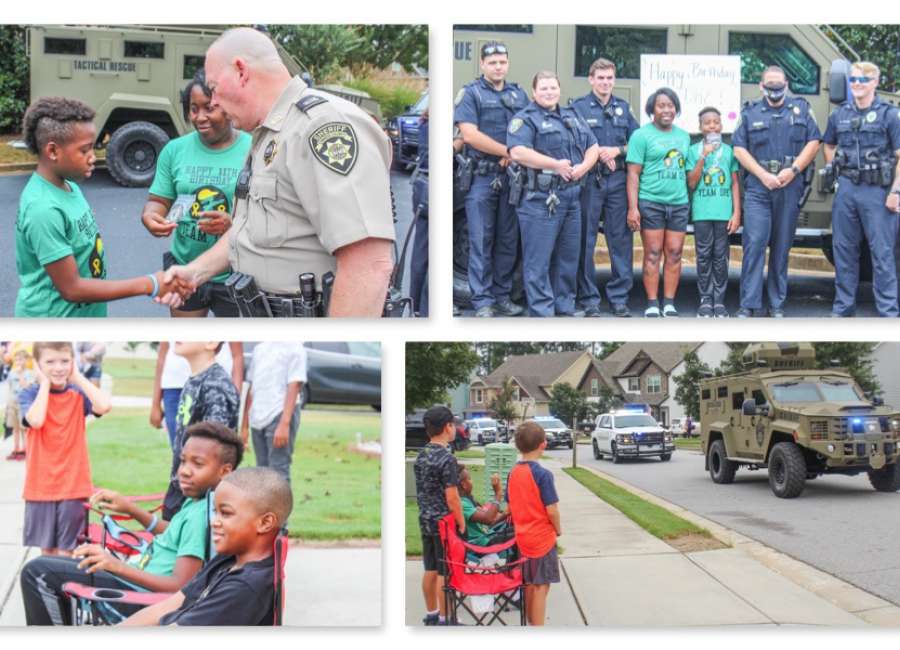 On Saturday, Dre Johnson celebrated his 11th birthday at his home in Newnan – something he hadn't been able to do in four years.

To celebrate his birthday, Johnson had some very special guests come over and wish him a happy 11th birthday. First responders from the Newnan Police Department, the Newnan Fire Department, the Coweta County Sheriff's Office and Coweta County Fire Rescue paid him a visit to wish him a happy birthday.
And so, on Saturday, Johnson and some of his friends sat in the front yard of his house as first responders paraded past his house, as sirens blared from some vehicles, while from a police vehicle or two, the "Happy Birthday" song played from the loudspeakers.
Other law enforcement officers got on their loudspeakers to wish Johnson a happy 11th birthday.
Afterwards, Johnson and his friends, as well as the first responders, made their way over to the clubhouse in the neighborhood. For the first responders and the other adults, it was for coffee and doughnuts, while for Johnson and his friends, a video game truck arrived for them to enjoy their favorites.
The day took on a special meaning for Johnson, with it being his first birthday at home in four years. Johnson has a form of brain cancer known as medulloblastoma.
Dre's mother, Sherice, said that Dre is a patient at St. Jude's, and he has been undergoing chemotherapy to try to wipe out the cancer. The battle, however, has been a grueling one for him, since he was first diagnosed with stage 3 cancer in 2019.
"We found out he was stage 3, so he has had cancer since 2017," Sherice said. "He kind of went through behavioral changes and personality stuff, but we thought it was him being a kid, and we didn't think anything of it, and it just went away. We were at a trampoline park, and he just kept complaining of headaches and started vomiting all over the place."
Sherice said it took eight weeks from that point before Dre was diagnosed.
"We were constantly going back and forth to the hospital," Sherice said. "It went from the headaches to him using the bathroom on himself to not being able to walk to his vision being very blurred. He wasn't able to attend school. Once we found out, they had the surgery Nov. 24, 2019, and then in December we left and went to St. Jude and found out about their medulloblastoma program."
The medulloblastoma program at St. Jude involved many rounds of chemotherapy. Since Dre was diagnosed with stage 3 cancer, the program involved a high-dose form of chemotherapy.
"We were supposed to do seven months of chemo per the protocol at St. Jude," Sherice said. "If we stayed at CHOA, it was going to be 15 months of chemo, and then 30 rounds of radiation with chemo. I thought that's a lot. He was already a little beanpole. We found a better solution with St. Jude."
However, after the third round of chemo, Sherice said Dre encountered a battle with sepsis.
"He was too sick to proceed," she said. "They decided, let's do one more round. We were against it, but it was the hospital, you know best, they're used to this protocol, this happens to kids all the time. We did the fourth round. He got sepsis, and this time he got a bacterial infection."
Dre encountered a wide variety of side effects, which led to the family spending more time in the hospital than they expected, and the hospital could not continue with its program at that point. Instead, the hospital had him stay to heal, and then they sent him home.
"He's home. He's back in school," Sherice said. "We've been in Newnan since November, and he's just my hero. He keeps fighting. He knows he still has cancer, he knows that the residual is still there. Even though they were able to remove the whole tumor, medulloblastoma still leaves residual in the brain and spine. That's what the chemo and radiation is for."
After celebrating his birthday, Sherice said that they had to return to St. Jude on Monday because of a change in their schedule.
"I wanted all the guys to get together," Sherice said. "He loves first responders. He has a firefighters' bed, he gets really excited about that stuff. I wanted him to have some sense of normalcy outside of the hospital, and to be able to celebrate him and what he's going through."
Sherice said that Dre had some idea that first responders would be on hand to celebrate his birthday, but not to the extent that happened on Saturday morning.
"He doesn't know the fire department is coming," she said. "He doesn't know the tactical truck is coming. They said they wouldn't be able to bring all this stuff because a car show is going on. This is a bit more than he was thinking."
On Saturday, Sherice said that Dre is doing all right considering the circumstances. But she said he suffers from neuropathy in his legs and some memory loss.
As a result of the memory loss, Dre has an IEP with his school, which helps him with math and reading.
"He's usually an A-B honor roll student and last year, he got all A's" Sherice said. "This year, when his grades kind of plummeted and we found out about the memory loss and the stuff that was going on, he kind of got a little discouraged. He always has a smile, he's always happy. He's a really good kid, and I'm happy to keep seeing the fight in him."
Sherice said she and Dre both dreaded going back for the treatment, but Dre has made friends at the hospital whohave also gone through treatment.
"Every day that he's here on this earth, I thank God for, and I try to do my best to make sure he's happy until his last day here," Sherice said. "I don't want to think about it or what the future brings, but I try to make sure every day he knows he's loved and appreciated."