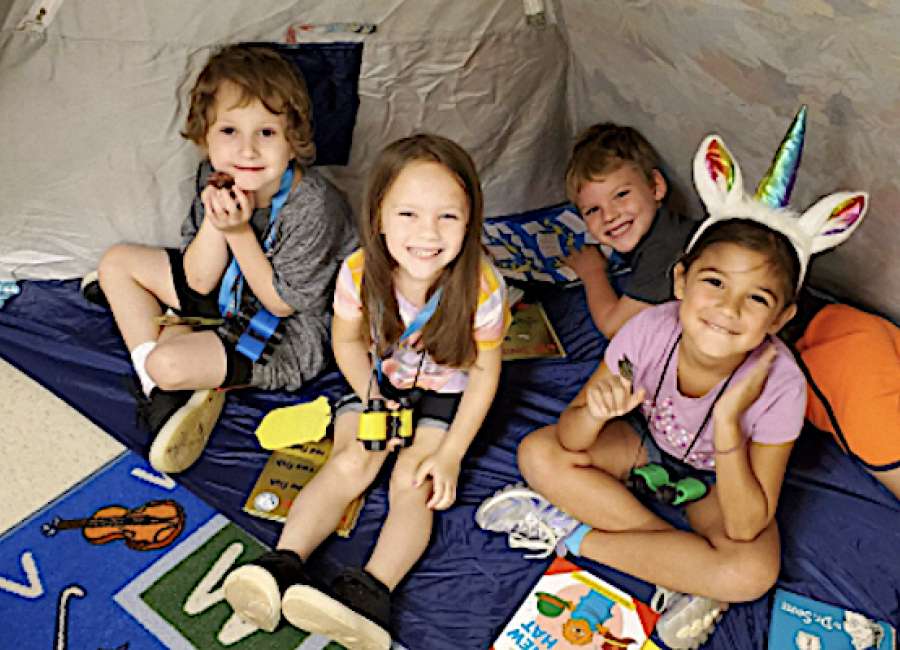 Sometimes it takes a little magic to help students learn.
Western Elementary School held its first Magic Day of the 2021-22 school year recently. Once during each nine-week term, staff members secretly transform the school – "magically" – into a learning wonderland.
What's so magic about it? Well first of all, students have no idea when Magic Day is coming.
"Magic day is a complete surprise to the students," Principal Cheryl McChargue said. "They leave for the day expecting to return to their normal classrooms and hallways. What they find when they return to school is completely magical."
For Magic Day, each team picks a different theme and bases all its learning activities around that theme for the day. Teachers wear costumes matching their themes, and all their educational content is delivered through that theme.
It's an effective tool for helping students meet state standards, McChargue said.
Students love Magic Day and think they are just having fun," she said. "But what they don't realize is just how much content we pack into a Magic Day. They work just as hard, if not harder, on Magic Day, but to them it (is) all fun. We are able to squeeze in some of our harder standards on Magic Day, since students are so excited and engaged."
Themes for the Sept. 17 Magic Day were:
Pre-K – Farm. Activities included shucking corn, visiting a tractor, waterplay washing farm animals, Farmer in the Dell, Duck Duck Goose, pretending to milk a cow and matching farm animals to their adults.
Kindergarten – Jurassic Park. Activities included digging for alphabet letters, fossilizing the letter "T," dinosaur stomping sight words and coloring/saying dinosaur sight words.
First Grade – Football tailgate. Activities included cornhole, "Make the Pass" (reading one-syllable words), earning concession stand treats by solving word problems and writing narratives using football vocabulary words.
Second Grade – Boot camp. Activities included "Battle of the Houses," noun relay, place value boot camp, battle men shadows and phonics obstacle course.
Third Grade – Carnival. Activities included "Punch a Cup" (prizes for sorting different verb tenses) and carnival games involving building subtraction problems, pulling ducks out of water to solve word problems, and creating a person on a trapeze.
Fourth Grade – Boot camp. Activities included placing top-secret fractions in formation on a number line to find enemy battleship locations and taking turns sinking the enemy by finding the correct fraction on the number line.
Fifth Grade – Construction. Activities included demonstrating how to find volume to create "cages" for animals that had escaped the zoo, constructing complex sentences, learning about the Wright brothers and constructing airplanes using Bernolli's principle of aerodynamics. Top fliers were able to add an electric engine to their airplanes and fly them outside at recess.
Specials – Camping. The gym was decorated with a real wood pile, wooden stumps and a wooden arch. Activities included sitting around a campfire and sharing a camping story with a moral, as well as learning to play checkers, horseshoes and cornhole. The music room was decorated like a campsite, and students learned campfire songs and went on a bear hunt.
In art, students drew themselves as hikers and created a fingerprint fire, including a s'more drawing. Each student created his or her own interpretation of the hiker and s'mores.
Western relies on community support for Magic Day, and thanks to a donation from Niagara Bottling in Newnan, the school was able to cover the necessary supplies for the latest event.
"They heard about our magic days from social media last year, and they reached out to us about becoming a local sponsor," McChargue said. "Niagara's donation supported the Sept. 17 Magic Day for our school. Because of their donation, we were able to pull off another surprise Magic Day for our students."