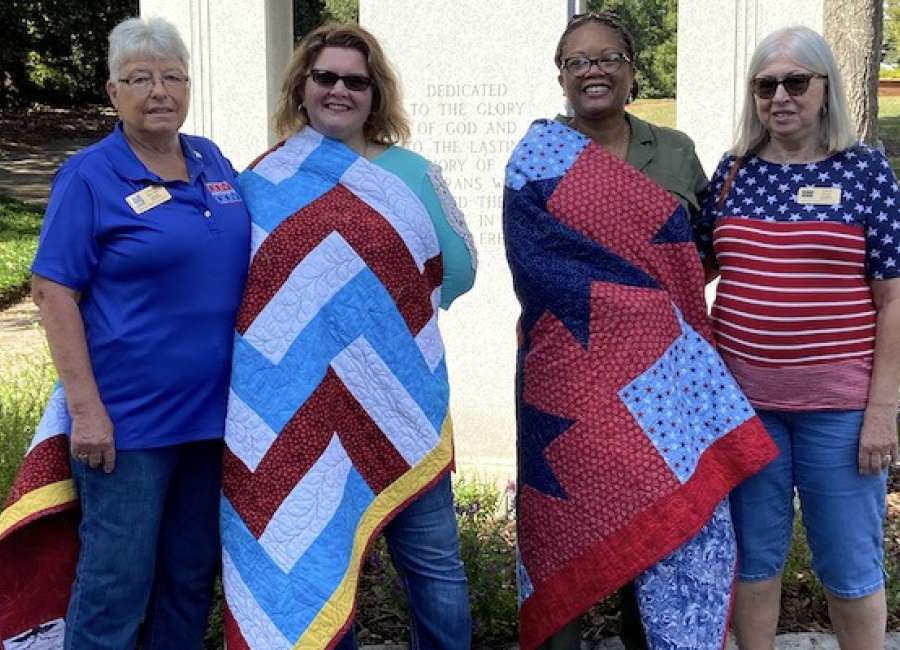 Vivian Kelley and Angela Vinson received the 674th and 675th quilts awarded by Coweta County Quilts of Valor during a recent ceremony at Veterans Park in Newnan.

Vivan Kelley
Kelley served from 1987-2009 in the U.S. Army and the U.S. Air Force. Her duty stations included Maxwell AFB in Montgomery, Alabama, Air University Regional Hospital and Air
University Regional; Ireland Army Community Hospital in Fort Knox, Kentucky; 42nd Field Hospital in Somalia, Africa; Martin Army Community Hospital in Fort Benning, Georgia; Dwight David Eisenhower Medical Center in Fort Gordon, Georgia; 86th Combat Support Hospital in Iraq; and Lawrence Joel Army Health Clinic at Fort McPherson, Georgia.
She received the following medals: Air Force Commendation Medal; Meritorious Service Medal with three oak leaf clusters; Army Commendation Medal with two oak leaf clusters; Army Achievement Medal; National Defense Service Medal with one oak leaf cluster; Armed Forces Expeditionary Medal; Global War on Terrorism Medal; Korean Defense Service Medal; Army Service Ribbon, Overseas Service Ribbon; and Air Force Training Ribbon.
Kelley also was inducted into the Order of Military Medical Merit.
She served in multiple capacities, taking care of service members stateside, overseas and in combat. Kelley said she enjoys taking care of those who served our nation, and she continues to contribute as a member of the Veterans Health Administration.
Carol Kelly pieced and bound Kelley's quilt, and it was longarmed by Jean Raines.
Angela Vinson
Vinson served from 2000-2010 in the U.S. Army. Her duty stations include Fort Benning, Georgia; Fort Stewart, Georgia; Baghdad, Iraq; and Nasiriyah/Camp Adder in Tallil, Iraq.
She was assigned as a member of the Advanced Echelon to Iraq, where medical equipment and supplies were received and inventoried. She led, supervised and trained medical specialists to provide immediate care to wounded or ill patients.
Vinson also worked with Special Forces 5th Group doing medical civic action programs, establishing priorities for emergency care and assisting physicians with patient care and treatment.
She provided medical support on many missions during placement of barriers for the first elections in Iraq that established 22 polling sites in the Triangle of Death, where 62,000 citizens voted.
The 48th Brigade conducted a unique brigade-wide change of mission in October of 2005, taking over the Iraq Theater of Operations – a nine-month deployment during which soldiers provided base operations support, security, training and force protection.
The 48th brigade headquarters relocated to Camp Adder in the vicinity of Nasiriyah, Iraq, and the brigade had elements stationed from Kuwait in the south, Mosul in the north and the Syrian border in the west.
Upon her return to Fort Stewart in May of 2006, Vinson was recognized for maintaining 100 percent accountability of $1.5 million worth of medical equipment for the entire deployment.
Vinson received the following awards: Two Army Commendation Medals; Army Good Conduct Medal; National Defense Medal; Iraq Campaign Medal; Global War on Terrorism Medal; Army Service Ribbon; Overseas Service Ribbon; Army Lapel Button; and Armed Forces Reserve Medal with M Device.
Louise Sinclair pieced and bound Vinson's quilt, and it was longarmed by Margaret Watson.
Quilts of Valor are handmade quilts that are machine or hand quilted by volunteers and awarded to service members or veterans who have been touched by war, according to the Quilts of Valor foundation. The quilts are made to a specific size requirement, labeled, awarded and recorded.
The Quilts of Valor Foundation was founded in 2003 by Catherine Roberts, whose son Nat was deployed in Iraq at the time. Roberts' vision was of volunteer teams who would donate their time, materials and expertise to comfort and thank service members and veterans for their service.
Nearly 284,000 Quilts of Valor have been presented nationwide since 2003. For more information on the Quilts of Valor Foundation, visit www.qovf.org .