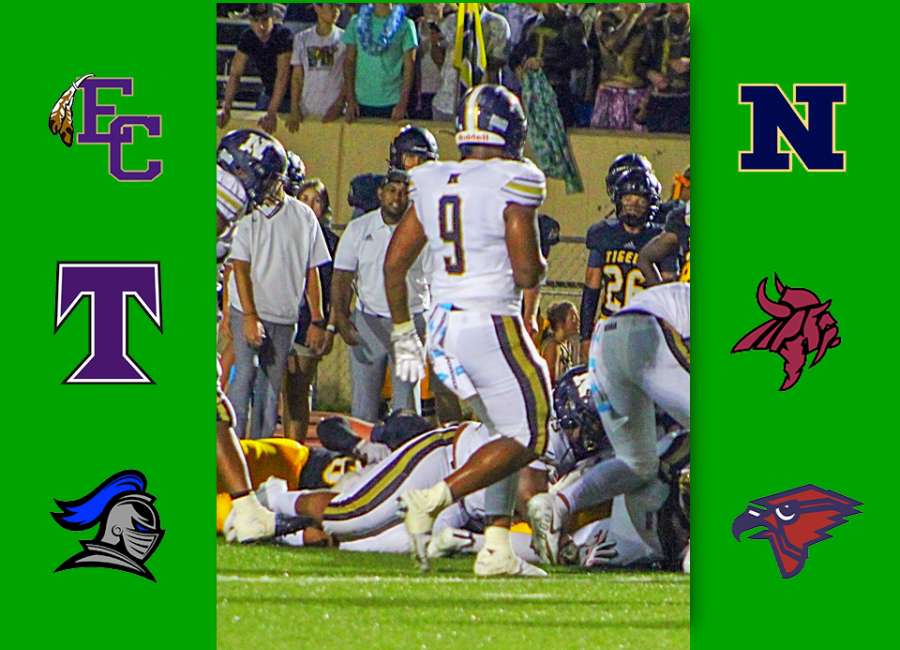 Northgate Vikings (1-5) at Northside Columbus Patriots (3-3) on Thursday at 7:30 p.m.

After starting the season 3-0, the Patriots lost their next three games, all Region 2-5A opponents.
Northside-Columbus is going with freshman quarterback Caden Clay this season. Against McIntosh two weeks ago, he completed 8-of-14 for 117 yards and a touchdown.
Malachi Hosley led the offensive attack with 116 rushing yards on 15 carries and two touchdowns. He also added a pass reception of 59 yards for a touchdown.
The Vikings played their best game of 2020 in a 45-17 win over the Patriots at home.
This game is a must-win for the Vikings 2021 playoff hopes.
Heritage Hawks (0-6) at Landmark Christian War Eagles (2-5) 7:30 p.m.
The War Eagles are in their first season under veteran head coach Tommy Lewis. They got off to a strong start, winning two of their first three but recently had some tough sledding.
Their schedule strengthened considerably. They faced Trinity Christian, St. Anne Pacelli and Brookstone back-to-back-to-back and could not muster a score.
In Landmark's game against Pacelli, quarterback Archie Burgess threw for 79 yards on offense and had an interception and two sacks on defense.
His top receivers are Tobias Lewis and Cody Lee.
Harvester Christian Academy Hawks (5-1) at Central Christian Crusaders (2-3) at 7:30 p.m.
The Hawks went into last week's game against Pinecrest Academy undefeated but took their first loss of the season, 28-14. It was their first loss in the past 15 games.
The Crusaders had the week off after their 38-8 victory over Fullington Academy.
Harvester Christian is led by running back Brent Brown, who has committed to play at Carson-Newman.
The offense is under the field leadership of 6-foot, 206-pound quarterback Jake Read.
The two teams last met in November 2015 when Jared Farlow led the Crusaders to a 68-41 victory. Farlow had 331 yards passing and 145 yards rushing in that game.
Newnan Cougars (2-3) at McEachern Indians (3-4) at 7:30 p.m.
After a week off, the Cougars travel to Powder Springs to play the McEachern Indians. Last week, the Indians took care of business against Campbell with a 36-7 victory.
McEachern is led by senior quarterback Bryce Archie who completed 13-of-18 passes for 228 yards and three touchdowns. Archie is committed to playing college football and baseball at Coastal Carolina. He is ranked as a three-star prospect by 247Sports and ranked as the 51st best quarterback in the country.
While the Indians had a balanced offense, senior receiver Kaleb Webb was the star of the game. He caught eight passes for 194 yards and three touchdowns.
This will be the fourth meeting between the two teams. Their first meeting was in 1993 at the Georgia Dome in the Corky Kell Classic. The fourth-ranked Cougars held on to defeat the eighth-ranked Indians 19-17. It will also be the Cougar's first trip to McEachern's Walter Cantrell Stadium.
In the 1993 game, Tony Portress led the Cougars with 140 yards rushing and two touchdowns.