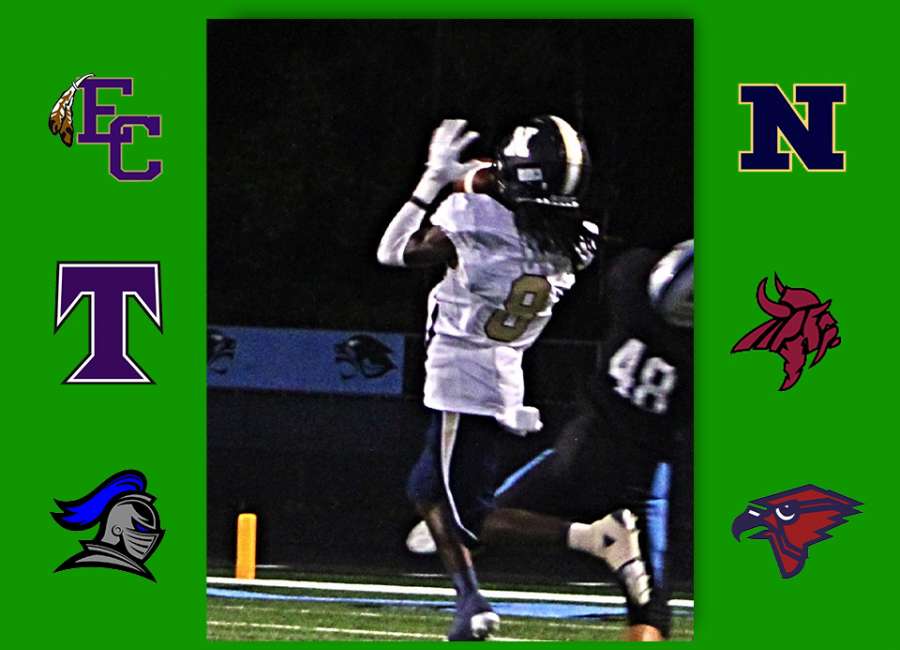 Whitefield Academy Wolfpack at Trinity Christian Lions Chargers on Friday at 7:30 p.m.

Last week, the Wolfpack (5-1) got a massive game from junior running back Caleb LaVallee. He had 184 yards rushing, 54 yards receiving and four touchdowns.
After that performance, Whitefield Academy Head Coach Coleman Joiner said LaVallee was the best player in Single-A Private. That will be interesting to gauge this week against Trinity Christian's talented roster.
The Wolfpack are led by quarterback Cole Peterson who finished 14-of-24 for 178 yards.
Last year, a Wolfpack defensive lineman rolled up on quarterback David Dallas and took him out of the lineup for a few weeks.
This season's lone loss for the Wolfpack was a 29-28 defeat to the Lions region mate, Brookstone.
Harris County Tigers at Northgate Vikings on Friday at 7:30 p.m.
Harris County (2-3) got back on track last week with a 38-7 victory over Jenkins. Cooper Corey threw for 195 yards, and Miguel Sevilla ran for 109 yards.
That helped the Tigers take the sting out of their opening region loss to Starr's Mill, 42-20.
Harris County's high-powered offense kept Newnan off-balance all night. It will be up to the Vikings to establish a pass rush and keep Cooper out of a rhythm.
This is an important region game for both teams. With Starr's Mill, Whitewater and Griffin fighting for the top spot, this game will be important for earning the fourth seed.
Heritage Hawks at Chattahoochee County Warriors on Friday at 7:30 p.m.
The Hawks travel to Cusseta, Georgia, to play the high-flying Warriors (5-0) from Chattahoochee County.
6-foot-1 quarterback Cody Duffy leads Chattahoochee County. He has talent on the outside with receivers Naketa Ellington, Eric Josey, and Cameron Swanson.
Duffy has completed 71 percent of his passes with 15 touchdowns.
Heritage will need a solid night on defense. The Warriors have only been held to less than 30 points and scored 79 last week against Central Talbotton.
Pebblebrook Falcons at East Coweta Indians on Friday at 7:30 p.m.
For the first time in school history, the Pebblebrook Falcons (5-0-1) are unbeaten through their first six games of the season.
Under Head Coach Leroy Hood, Pebblebrook finished fourth last year and qualified for the state playoffs for the fourth time in five years.
In their 50-21-win last week over North Atlanta, Pebblebrook quarterback Qamar Grant threw for 307 yards and four touchdowns.
The Falcons also had a strong running game with 136 yards rushing from Dwight Phillips, 64 from Travone Finney, and 61 from Shannon Payton.
This winner of this game will have an inside track at the region championship.