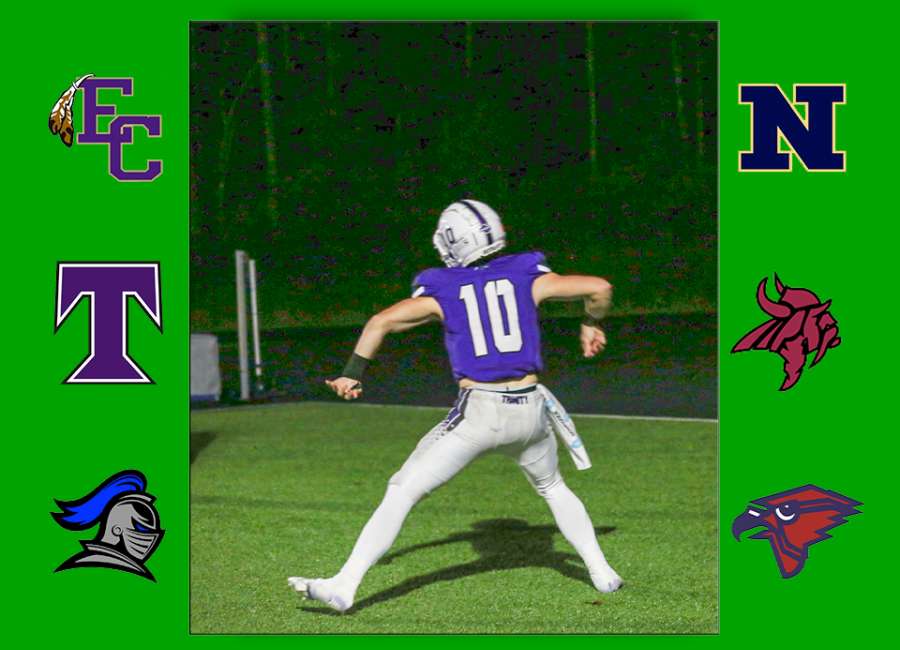 Griffin Bears (3-4) at Northgate Vikings (1-6) on Friday at 7:30 p.m.

Both teams are coming off a region loss last week. The Vikings fell in a heartbreaker to Northside Columbus by one point while Griffin lost to Starr's Mill 28-20.
The Bears are under the leadership of Head Coach Rusty Easom, who coached at Rutland High School in Macon the past two years before taking the Griffin job before the season. Easom has local ties to the area; he was the defensive coordinator at East Coweta from 2014 through 2018.
The Bears' defense is anchored by senior linebacker Kzion Clevelad, who patrols the middle. The Vikings must get a hat on him to spring open the running lanes for their stable of backs.
Clevelad had 11 tackles last week in the Bears' loss to Starr's Mill.
This will be the fourth overall meeting between the two schools. Griffin has won the previous three.
St. Anne Pacelli Vikings (5-1) at Heritage Hawks (0-7) on Friday at 7:30 p.m.
The Hawks open their region schedule with the Vikings from Columbus. The game will be The Heritage School's homecoming.
The Vikings went into last week's game with Eagle's Landing Christian Academy undefeated but fell 45-0 to the Class A Private powerhouse.
Senior dual-threat quarterback Caleb Perry leads Pacelli. Cooper Trombley is one of his favorite receivers.
The head coach for the Vikings is Dwight Jones, who was at McIntosh in 2006 and 2007. Heritage Head Coach Jake Copeland was the quarterback at Northgate back during that time and faced the Jones' lead teams back then as a player.
Trinity Christian Lions (7-0) at Brookstone Cougars (6-1) on Friday at 7:30 p.m.
The top-ranked Trinity Christian Lions return to the road to face the Brookstone Cougars in Columbus. It is the opening region contest for both teams.
The Cougars' starting quarterback is sophomore Taft Middleton, who has already committed to the Auburn Tigers to play baseball.
Last year, the Brookstone game was a key to the Lions' championship run. With starting quarterback David Dallas out with an injury, backup quarterback Henry Brodnax led a last-minute drive, connecting with Danny Baird for the game-winning touchdown.
The Cougars have a stable of good running backs, including Joel Jones, Dylan Thornton and Jack Schondelmayer.
In the pivotal game last season, Jones had 95 yards rushing and two touchdowns against the Lions' defense.
Brookstone is under the leadership of Head Coach Blair Harrison, who is in his second stint as coach. He was there from 2003 to 2011 and then returned in 2017. He is the Brookstone all-time winningest coach.
Cougar linebacker Andrew Newton was an all-state performer last year.
The Cougars had a last-minute win earlier against Whitefield Academy on a hook-and-ladder play to end the game.
East Coweta Indians (5-2) at Campbell Spartans (3-4) on Friday at 7:30 p.m.
The Indians had a week off to think about their loss to Pebblebrook and are ready to get back into region action against the Spartans.
Campbell got off to their best start since 2006 with a 3-0 record, including an impressive opening win against East Paulding.
The sledding has gotten more challenging since then. They did have a heartbreaking one-point loss to Peachtree Ridge at the end of September.
Campbell's quarterback is sophomore Luke Marble. He got his first high school experience last year when he played against Newnan as a freshman.
Their running game will rely on Jomouri Phillips to find those same holes that Pebblebrook saw in the Indians' defense.
Central Christian Crusaders (3-3) at John Hancock Rebels (0-7) on Friday at 7:30 p.m.
No one gets more from less than Central Christian Head Coach Paul Frantz. His outmanned Crusaders squad had an impressive victory over Harvester Christian last weekend to even their record.
This week, the Crusaders go on the road to face the winless Rebels in Sparta, Georgia, a 106-mile road trip.
The Crusaders defeated the Rebels last season 18-6. Edward "Juice" Bolden had a touchdown run and a touchdown on a fumble recovery, while Cody Earle had two interceptions.
Newnan Cougars (2-4) at Pebblebrook Falcons (7-0-1) on Friday at 7:30 p.m.
The Pebblebrook Falcons are off to their best start since 2000 when they finished the regular season undefeated.
The Falcons showed they were for real three weeks ago when they beat a good East Coweta team on the road. Last week, they remained undefeated with a 31-14 win over Campbell to stay atop the Region 2-7A standings.
Quarterback Qamar Grant threw for 202 yards and two touchdowns in the Campbell win, while Dwight Phillips had 66 yards rushing.
The Falcons used several explosive plays to defeat East Coweta, so it will be up to the Cougars defense to slow them down.