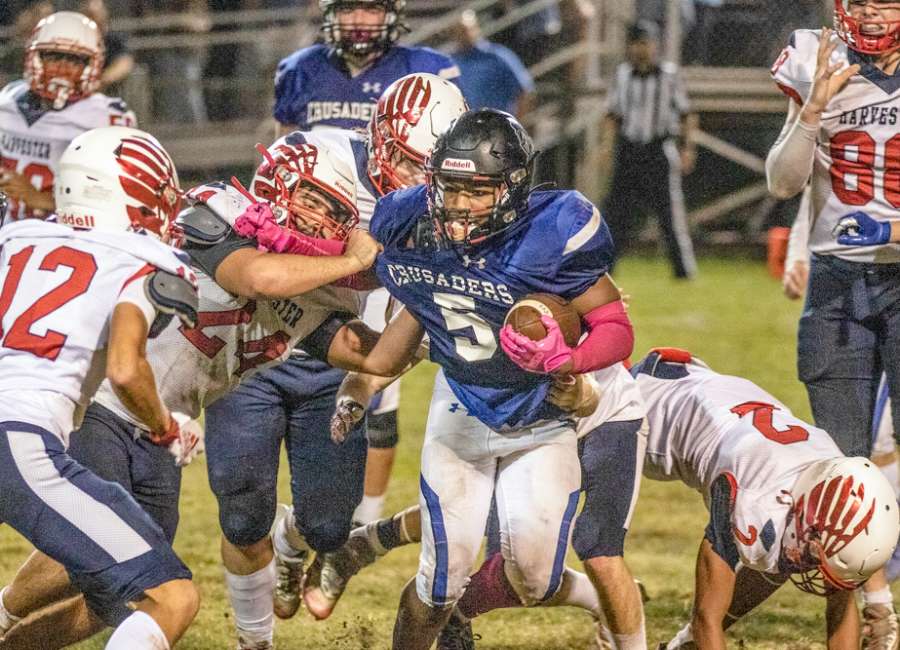 By Arvon Bacon
The Central Christian Crusaders returned to Roy G. Davis Stadium Friday night after a bye week to play the 4-1 Harvester Christian Academy Eagles.
It was a bittersweet night for the Central Christian seniors as they played their final home game but pulled out a clutch 19-16 victory.
After winning the coin toss, the Crusaders deferred their decision to the second half and then completed a successful onside kick they recovered on their own 45-yard line.
Quarterback Cody Earle opened the drive to Mark Harmon for a 27-yard pass. Edward "Juice" Bolden capped off the drive with his first of two touchdowns on the night, this one on a 2-yard running play.
Lightning struck twice on the ensuing kickoff, Crusader Head Coach Paul Frantz elected to return to the onside kick, and Central Christian recovered again.
This time, Earle found Bolden for a 61-yard over-the-shoulder pass for the second touchdown and the 12-0 lead.
Coach Frantz shared his philosophies on the onside kicks; he said, "I don't like kicking downfield, especially with the size of my team; it does nothing but increase the chances of injury."
The Crusaders increased their lead to 19-0 when Earle found Eli Rivers on a 30-yard bubble screen. An essential play on this scoring drive was a third-and-15 conversion by Earle to get a fresh set of downs.
The second half brought forth a different story for the Crusaders. The Eagles' running game started to gain traction, spearheaded by their 6-foot-5, 238-pound quarterback, Luke Tanner.
The Eagles' running game opened the passing lanes, which were unavailable earlier. While relying heavily on crossing routes, the Harvester Christian offense moved seamlessly up and down the field, scoring 16 unanswered points to make it a one-possession contest.
However, the Crusaders were well prepared to defend the Eagles in the final series of the game. With 38 seconds remaining, Harvester Christian was out of timeouts but executed flawlessly on working the clock.
With 14 seconds remaining, Tanner threw the ball over the middle, which was caught on the 5-yard line, but the clock expired, and the Crusaders had their third win of the season.
Now back at .500 (3-3), the Crusaders control their destiny as they look to keep their dreams of winning a state championship alive.
Up next, the Crusaders travel to Sparta, Georgia, to play the John Hancock Academy Rebels.