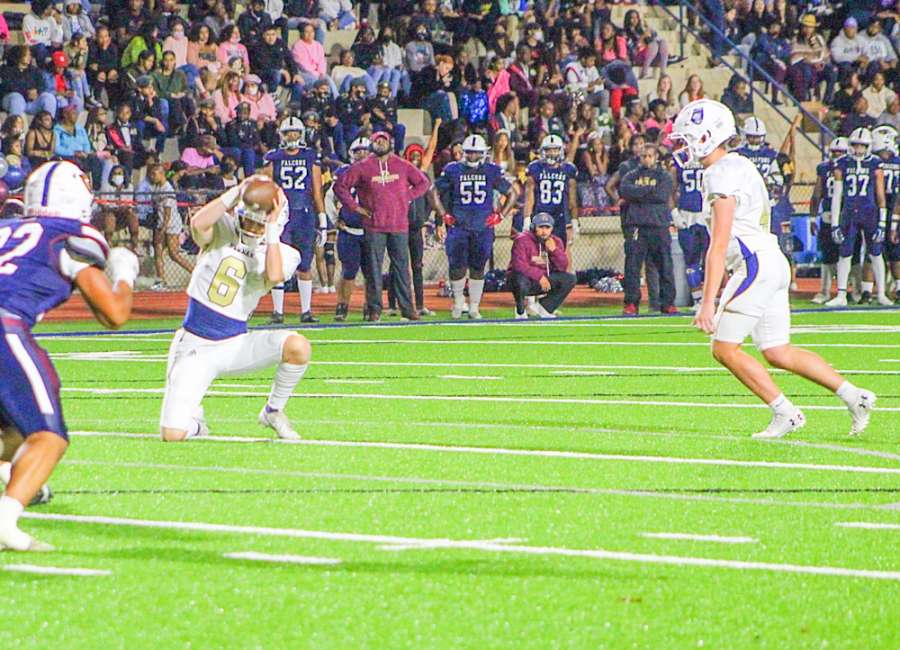 It was another oh-so-close night for the Newnan Cougars Friday night.

After scoring a game-tying touchdown with 15 seconds remaining, the Pebblebrook Falcons advanced into field goal range thanks to some late penalties and made a game-winning quick to win 31-28 as time expired.
With the Cougars sitting at 0-2 in Region 2-7A, their next two games are crucial for their playoff chances. For Newnan, the playoffs start Thursday night against the Campbell Spartans.
While trailing 28-21 in the final five minutes, the Newnan defense recovered a fumble to give quarterback James Paige and the Cougar offense one last shot to tie the game.
Paige calmly led a Newnan drive for the tying touchdown on a 5-yard pass to Justyn Reid. On the drive, Paige got a first down on a scramble, threw for a first down to Reid, and forced two Falcons penalties to set up the tying score.
The Cougars had an answer for Pebblebrook all night. After the Falcons scored their first touchdown on a 51-yard touchdown run, Newnan answered with a 5-yard touchdown run by Paige. Paige found tight end Drew Brooks on a fourth-down play for 28 yards during the drive to advance the ball to the 5-yard line.
Pebblebrook responded immediately by returning the ensuing kickoff back 80-yards to retake the lead at 14-7.
The Cougars sought to tie the game up after a Paige pass to the 1-yard line. Unfortunately, a fumble cost the Cougars an opportunity to score.
Undaunted, the Cougar defense created a turnover on an Aundre Carter interception. The offense converted when John Austin Cochran.
The other Cougar touchdown was on Newnan's opening drive of the second half, a 16-yard pass to Jakob Perry from Paige.
Each week, the Cougars have gotten better; they need an opportunity to put all facets of the game together at one time.
Paige led the offense with 190 passing yards and two touchdowns. He also added 88 yards rushing.
Quanard Arnold was the top receiver for Newnan with four catches for 71 yards.
This week, Newnan has a short turnaround as they welcome the Campbell Spartans on Thursday night at Drake Stadium. Two wins in their final two games will guarantee the Cougars a playoff spot and an opportunity to improve and grow the young football team.