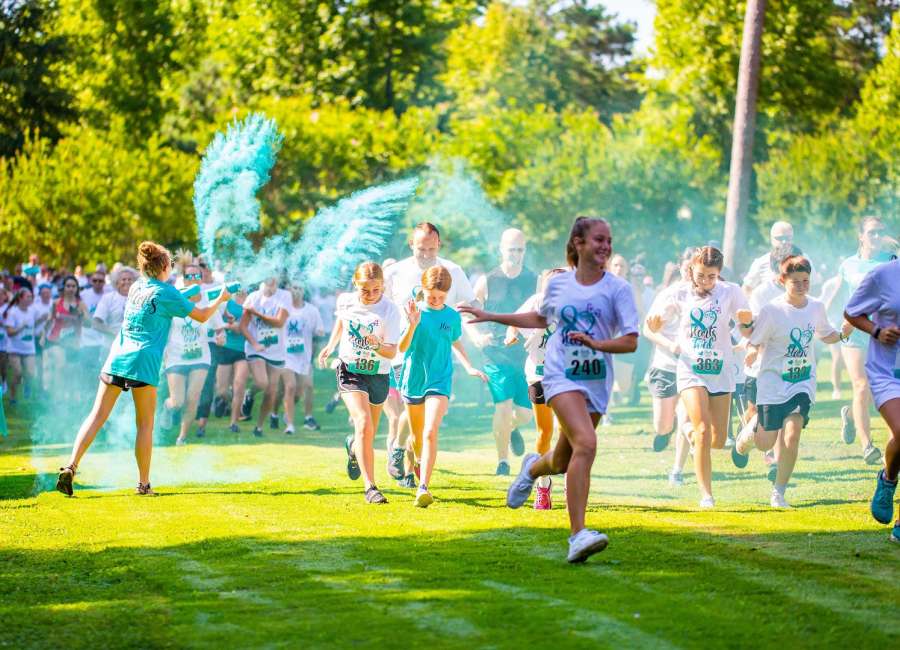 Harts of Teal, a local nonprofit that spreads awareness of ovarian cancer and raises money for research, originally started as a 5K run.
In early 2020, Kim Airhart was diagnosed with ovarian cancer and felt the need to put on a fundraiser.
She met Andrea Sisler, who is also an ovarian cancer patient, and the two organized a color run to raise money and awareness of their disease.
The two were able to connect because of their experience with cancer. Airhart had already started chemotherapy, and Sisler had a surgery that Airhart would need first.
"It's a very lonely cancer. It's not as common as breast cancer, so having someone else who knows what you're dealing with is really awesome," Airhart said. "We became instant friends."
The two coordinated a color run in July 2020, which morphed into Harts of Teal, Airhart said.
According to Sisler, the two expected there to be about 100 runners and to raise $2,000, instead they had almost 600 runners and raised nearly $72,000.
"That was our first event, and it was a huge success and we have since donated funds to two major organizations that do research and bring forth awareness at a regional level," Sisler said.
Harts of Teal donates the money it raises to the Ovarian Cancer Research Alliance and to the Georgia Ovarian Cancer Alliance.
In addition to the color run, Harts of Teal produced teal colored socks — teal is the color for ovarian cancer — for high school athletes to wear in September, which is Ovarian Cancer Awareness Month.
TEAL is also an acronym for women who may have some of the symptoms: take Time, get Examined, seek Advice, live your Life.
The nonprofit also made lunch boxes, ice packs and water bottles and gave them out to schools to serve as conversation starters about the disease, Sisler said.
According to Sisler, most women don't know the signs and symptoms of ovarian cancer, so creating conversation starters about the cancer is important.
Harts of Teal also made cards with the signs and symptoms of ovarian cancer printed to hand out to people.
According to the American Cancer Society, the signs and symptoms of ovarian cancer include bloating, pelvic or abdominal pain, trouble eating, urinary complications, fatigue, an upset stomach, back pain, pain during sex, constipaiton, changes in a woman's period and abdominal swelling with weight loss.
"How many people do you think we've reached just by these little things? We had one lady who came to the run and she reached out to us a couple weeks after the run and said she read the signs and symptoms and said, 'I have every one of these,' and went to her doctor," Sisler said. "She was diagnosed with early stage ovarian cancer."
Sisler said ovarian cancer is considered a terminal cancer — for eight out of 10 women, the cancer comes back.
"You wait and hope and pray that it doesn't come back," she said. "But if we can save one woman from this cancer, it'll be worth it."
Hart said the organization will do another race next year on July 16. For more information, visit www.hartsofteal.org .