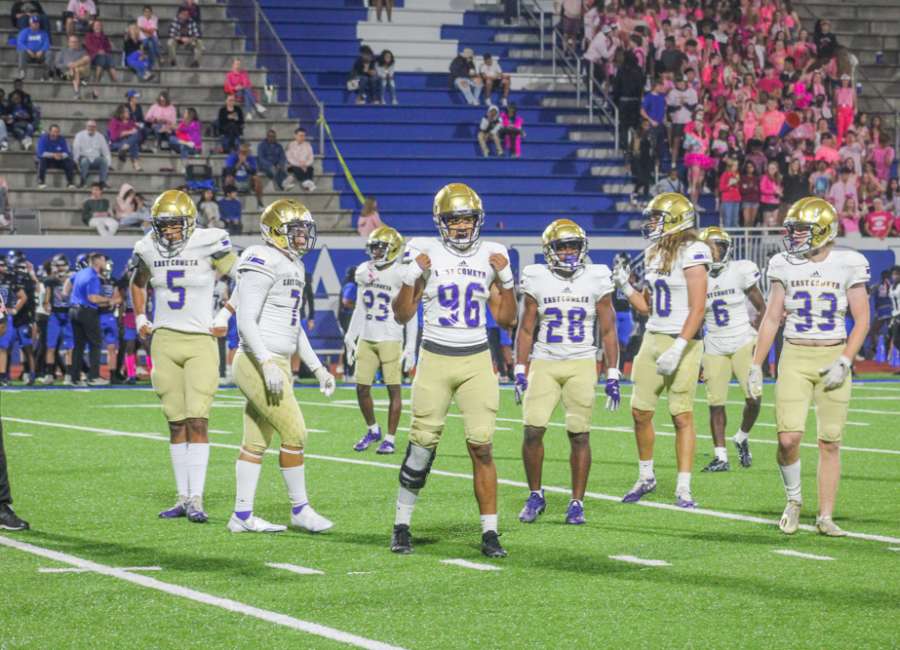 (Smyrna, Ga.) – After a couple of losses and two bye weeks, the East Coweta Indians found their way back to a win with a 26-6 region victory over the Campbell Spartans 29-6 Friday night. It was their first win since Sept. 17, when they defeated Northgate.

The Indians defense created five turnovers, and Lucca Labattaglia kicked four field goals to even East Coweta's region record to 1-1 and 6-2 overall.
Labattaglia made successful kicks from 47, 23, 38 and 27 to lead the Indians in scoring. Indians Head Coach John Small said of his senior kicker, "He kicked some bombs tonight. We get him down inside the 30 or the 35, we got a chance to get points, and we were able to do that tonight. So really happy for him and proud for him."
With those four field goals, he is now in second place in the state for the number of field goals made.
The Indians defense ball-hawked all night. Carlos Montgomery ended the Spartans' opening possession with a fumble recovery near midfield that Cosby Ellis created.
The Indians offense converted when DJ Reid scored on a 3-yard touchdown run.
On the second Indians drive, quarterback Daniel Shoch found Zander Simmons for a 9-yard touchdown and a 14-0 East Coweta lead. Simmons had four catches in the game for 100 yards, including a 50-yarder that put the Indians deep into Spartan territory on their first touchdown drive after the fumble.
A Shoch 31-yard pass to Amariyon Moss set up the Simmons touchdown catch.
The Indians produced four more turnovers, a fumble recovery by Malakai Dudek and interceptions from Keelan Kornegay, Michael Burse and Sullivan. The East Coweta Indians purple turnover belt changed hands throughout the game.
Unfortunately, the Indians could not convert those turnovers into touchdowns, which will be important in their final two games. Coach Small said, "We have got to score points after we get turnovers. Good teams do that, and we didn't do that tonight."
With the Indians driving late in the first half, there was a questionable call when Shoch lost the handle on the ball after his knees were down. Even though an official indicated that Shoch was down, the referee overruled and gave possession to Campbell.
Another questionable call was when punt returner Kaleb Harris fielded a punt over his shoulder on a bounce and returned it 80 yards for a touchdown. An official called a blindside block penalty way after the play ended.
Shoch led the offense with a 19-for-30 day at quarterback for 229 yards and a touchdown. Reid had 44 yards rushing on 15 carries.
Colt Cortez led East Coweta with five catches for 40 yards. Moss added four catches for 48 yards.
Christian Richardson led with 10 tackles on defense, while Kornegay and Brandon Johnson had two tackles for loss.
Coach Small summed up the win afterward: "There are a lot of things we still got to work on if we're going to be a great football team, and we're not there yet. But I know these kids and these coaches; they come back to work, but I'd rather be doing that after a win than a loss."
The win keeps the Indians in the region playoff hunt. They have a crucial game against the McEachern Indians (4-4) on Friday night with a potential home playoff game in the balance.