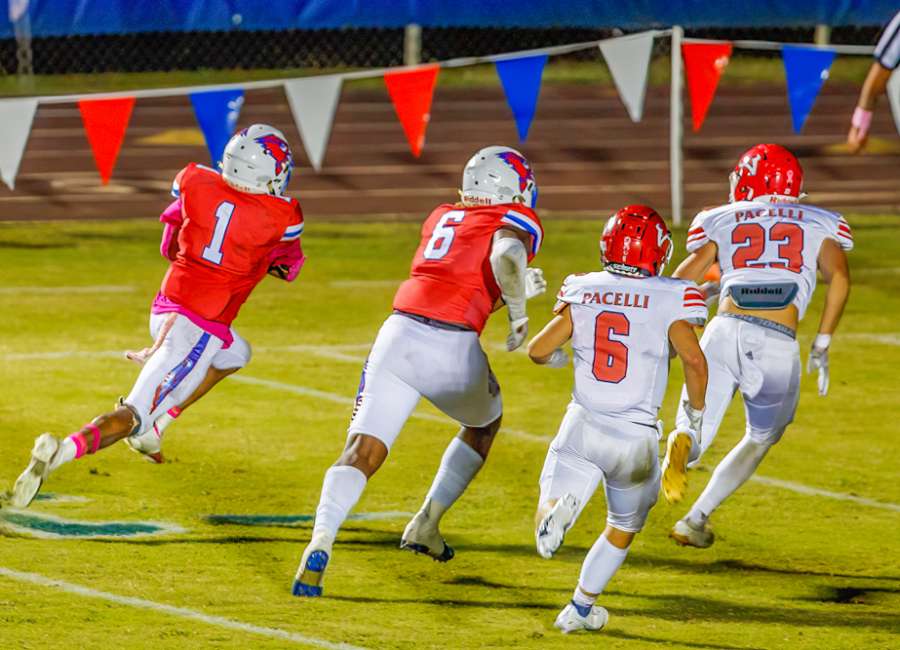 It was homecoming at the Hawks nest Friday night as the Heritage Hawks welcomed the eighth ranked St. Anne Pacelli Vikings.

After falling behind 21-0 in the first half, the Hawks kept the game close the rest of the way but lost 35-7.
Pacelli was coming off their first loss of the season to Eagles Landing Christian Academy the week before.
The Hawks sported their pink jerseys for Breast Cancer Awareness month.
The Vikings got three rushing touchdowns from quarterback Caleb Perry to take the 21-0 advantage.
The Hawks scored their touchdown on a 10-yard run on a jet sweep from Jamal Chandler-Fuller.
On their final drive, the Hawks got a 20-yard pass from Mack Mikko to quarterback Hugh Barbee. Mikko started the play in the slot, came across the line in jet motion but found a wide-open Barbee who had slipped out of the backfield to become a receiver.
The Vikings also got touchdowns on a 26-yard pass from Perry to Desi Morgan and a 1-yard run from Jalen Turner.
Next for the Hawks is a home game Friday night against their county rival, the Trinity Christian Lions. With a playoff berth already secured from their region, the Hawks look to continue to fine-tune their team for the most important games ahead.