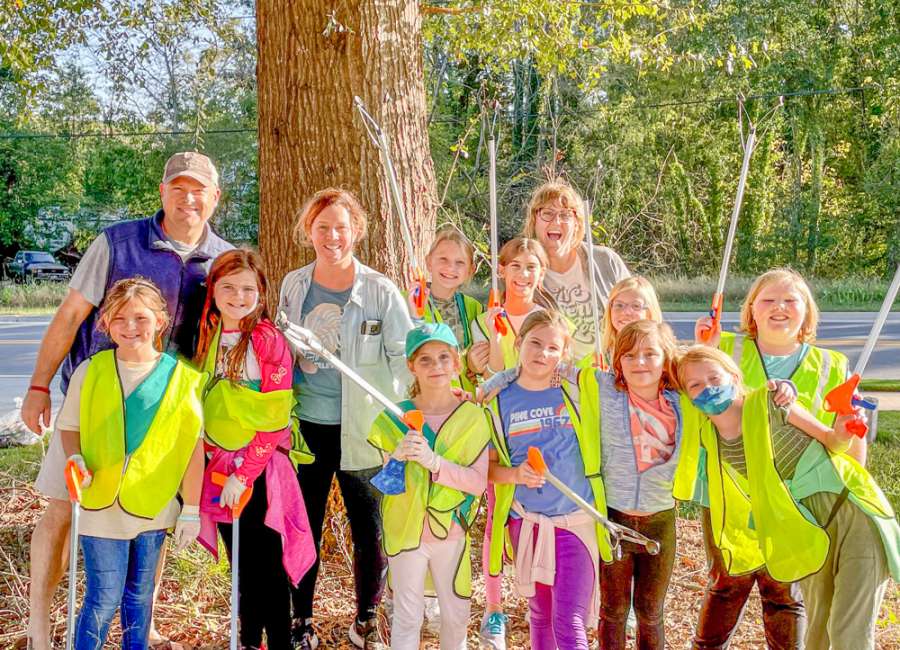 Eighteen Girl Scouts donned neon yellow safety vests and took to the streets of Newnan on Sunday, armed with trash grabbers, gloves and bags.

The girls from local Troop 19394 removed a total of five bags of trash from two locations, one in downtown along East Washington and East Broad streets and the other along McIntosh Parkway.
Page Beckwith, executive director of Keep Newnan Beautiful, supplied the troop with all the necessary tools for the job.
Junior Leader Stephanie Skinner said she didn't think there would be that much work for them to do at first but, "once we started really looking, there was a lot to pick up. We feel like we came in and did a good thing for the community."
The Brownies, whose motto is "Do a good turn daily," had fun fishing bottles out of the bushes along the gravel parking area near the train tracks. They were surprised by all of the different kinds of litter they found. "I definitely didn't expect to find a pair of jeans," said Charleigh Mullis, age 8.
Anna Neely said she had fun picking up all the cigarette butts. "There were a lot, and it was fun trying to get them with the grabber!"
According to data from Keep America Beautiful, cigarettes are the most littered item in the U.S., with approximately 85 percent of cigarette butts discarded on the ground.