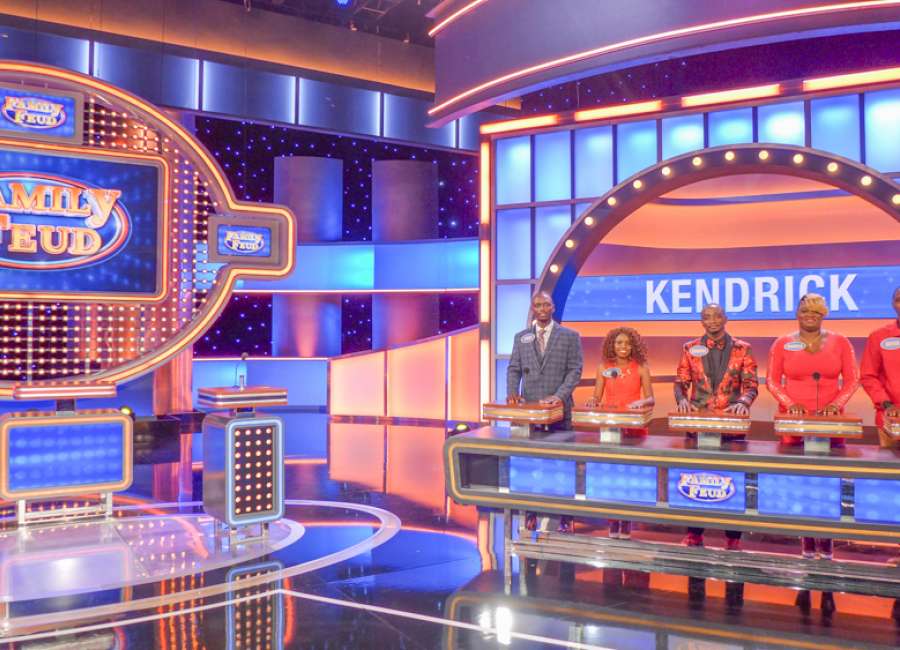 On Nov. 18, America will find out if a Coweta County family will win a car on Family Feud.

The Kendrick family has been on the show several times over the course of the last few years.
The long-running Family Feud game show pits two families against each other in an attempt to guess the top answers of a question. A number of answers, typically between three and eight, are on the board, with the most popular answer out of a survey of 100 people being the top-scoring answer to guess.
On Family Feud, families that win five shows and go on to the Fast Money round, where those that score 200 points can win $20,000.
And in the past, the family has been very successful on the show. A video on YouTube, called "The Kendricks are KILLING IT!" has over 90,000 views. In it, Pamela Kendrick scores 154 points in her leg of Fast Money, while Jimmy wraps it up in his end.
"For me, it was a great experience," said Edmund Kendrick, also known as E.K. "Fun, exciting, thrilling, tiresome. It was like a job. You're very busy, and they've got you running around, taking pictures of you all the time like paparazzi.
"When we did the audition, that was fun and nerve-racking," he added. "That's different from TV. You've got thousands of people that are there before you make it. I don't know how many thousands of people are there before you make it, so it's real intimidating. They're trying to narrow it down to so many families, so to be one of the families is a blessing."
In fact, the Kendrick family had originally been turned down to appear on Family Feud, but they were given some advice for the future and even put on a callback list after a moment that had an executive producer falling out of their chair.
Jimmy Kendrick spoke about being able to be there for host Steve Harvey's standup, and to interact with him over the course of the show.
Harvey, the sixth host of the Feud, has hosted the show since 2010, and is quite possibly the show's most famous host since the show started in 1975. Since the start of Steve Harvey's tenure, the show has become known for some hilarious viral hits on YouTube, and the Kendrick family at one point had one of those moments.
It happened when Pamela was asked to name a place where you might be caught with your pants down.
"Outdoors, in the shed," Pamela confidently declared.
In response, Harvey loses his composure and drops to his knees in laughter as the rest of the Kendrick family declares, "Good answer!"
"What shed? We don't have sheds!" Harvey quips, still down on one knee.
"We country, Steve, we country!" Pamela says.
"That's a country-ass answer," Steve says of Pamela's guess.
"It's there, Steve, it's there!" Edmund declares.
It wasn't there. It netted the Kendricks a third strike, giving their opponents a chance to steal the board and take the points, but that clip did get, as of Oct. 29, more than 810,000 views on YouTube.
Often, in the heat of the moment, contestants will provide unusual or hilarious guesses to questions, which can leave Harvey staring out into space, wondering about the answer.
The Kendrick family emphatically said that these answers aren't coached or encouraged by the production team, but rather come from a player trying to find something to get on the board, rather than get a strike against their family.
"We're trying to win," Edmund said.
"Your mind just goes blank," Jimmy said. "And then, your own teammate steals your answer, and someone takes your backup answer, and you're left there with a camera in your face and lights on top of your head, you've got nothing to say, you've got to say something."
"Sometimes you do run out of answers," Nicole said. "You have your answer, but your other family members took the one you were going to say, so you've got to be quick on your toes to make sure you have multiple answers lined up, so by the time they get to you, if someone took it, you have one. When you see people freeze up there, that's exactly what happened."
"It was very intense," said Jimmy. "When you bring five people together with strong personalities, you can have a clash of personalities, to say the least, and trying to come up with one answer can be difficult. As the captain, sometimes you go with them, and sometimes you don't, but you have a real chance of winning $125,000. That's real money. It was fun and games, but your job in the fun and games is a paycheck. This is money I can earn, and I didn't want to lose it."
Jimmy said there was a lot of pressure to get an answer that he believed was right vs. an answer that everyone else is telling him to go with.
"It's not only your money you're fighting for now, you're fighting for all of their money at the same time," he said. "That was an experience within itself working with different personalities and coming to a consensus about what you want your answer to be, and it could cost you your game."
"If you're the captain, and everything's on you, like, say, Jimmy got nerves a couple of times." Edmund said. "Everyone's going to look at him, like, hey Jimmy, you still picking the answer? One time he went with a different answer and got it right. But if he got it wrong, I'd be looking at him sideways."
The Kendrick Family will appear on the Family Feud on Nov. 18 at 7 p.m. on WUPA, the CW affiliate for Atlanta.