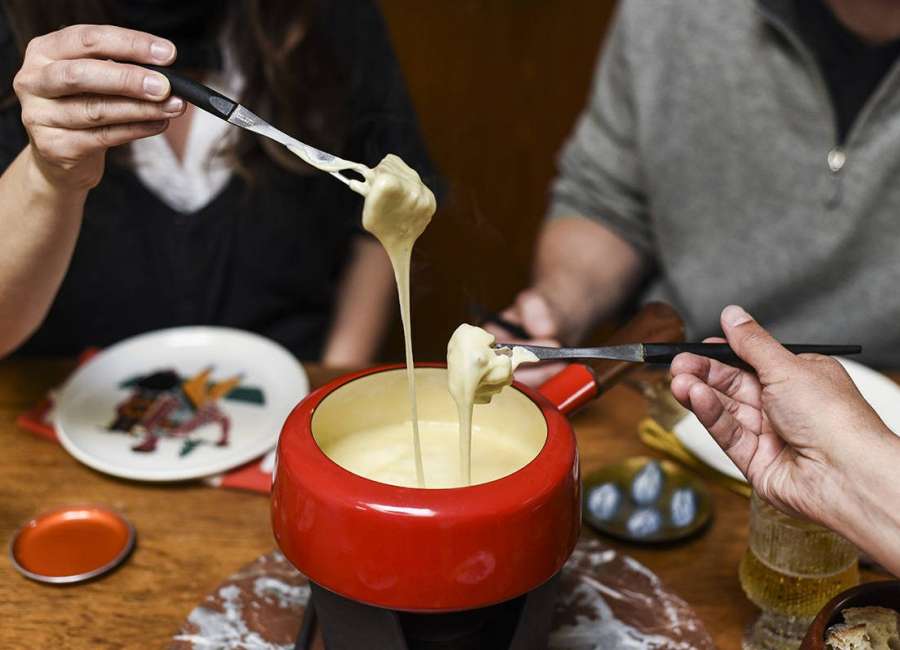 By Susie Berta
A couple of years ago I was thumbing through an old family cookbook crammed with notes and writings and clippings. When Momma's fondue recipe card dropped out onto my kitchen floor, I was thrilled.
The blue-lined, 3x5 index card bore her cursive handwriting in ink, clear and strong. Not the loose scribbles she could only manage in her later years.
That, alone, placed her cheese fondue recipe squarely in time and in my memory, during her active, middle-aged years. It would be a long time before she gave up cooking altogether, when she moved into her well-appointed retirement home. I'll never forget what she said to me a week after we moved her in.
"I don't like this place," she whispered, leaning toward me, resting her arms on her walker. "Too many old people! And the food is terrible!"
She was 82 herself, then, her mind still too sharp and her body too weak and getting weaker by the day. She had yet to meet her intellectual or culinary match there, and she was lonely for nourishment.
Her recipe card might as well have been a Proustian biscuit. It served as a vivid reminder of her fabulous fondue — the creamy, rich, biting flavor of Emmental cheese and dry Sauterne, the taste instantly on my tongue and the sharp smell of the cheese present as I inhaled the memory.
I saw our family in our kitchen on a Saturday night. Mom and Dad with dark hair, my brother and me as young teens — him with a flat top and pimples, me with a ponytail and young skin, all of us gathered around our glass-topped, wrought-iron kitchen table.
I felt the weight of the heavy metal chairs that wouldn't glide across the kitchen rug, requiring a hop-hop-hop forward while seated, both hands gripping the sides to scoot our legs and laps into place under the table. I could touch the ever-present woven blue and beige striped placemats on the glass. I saw the gleaming, copper fondue pot sitting on a metal base above a can of flaming sterno in the center of the table.
I heard our voices in conversation. Nothing specific, just a general, low hum. We always talked during family meals, as we sat down together every night at 6:30 p.m., undistracted. There was a rhythm to our routine and our discourse.
I also have a vivid memory of one wretched, family dinner time quarrel. It stemmed from one of us kids forgetting to tell Momma ahead of time we would be at some school function late, which meant not showing up for dinner. This sin of omission was the ultimate disrespect to my mother. She was incensed, vowing, "I AM NEVER COOKING ANOTHER $&@#%* MEAL IN THIS HOUSE!" She didn't mean it, really, but she sure meant to mean it. We were teens, still selfish enough not to fathom why it should matter.
The happy family fondue memory, however, and discovering her recipe card compelled me to make her cheese fondue again, this time while my brother and his wife visited us two Christmases ago, pre-pandemic.
I prepared the fondue according to the card's directions, then turned off the heat and let it sit in the pot to "meld the flavors" while we picked up my brother and sister-in-law at the airport.
Once in our car, bags stowed and seat belts buckled, my brother was almost childlike on the drive home when I told him what was for dinner. The anticipation was palpable.
Which is why, when we finally sat down to dinner, what happened next was so… impactful.
Everyone was seated at the table, wide-eyed like kids at a birthday party waiting for the lighted cake to parade in. I approached the cheese-filled pot on the island range and grabbed the handle of the whisk I had left in the pot. The whisk was immobile. The cheese was cement. No amount of reheating worked. The cheese sauce had broken, hardened and was horribly, irretrievably ruined.
Like the fabled sword in the stone, the whisk could not be removed. I raised my pot of shame by the handle of the embedded whisk, and held them both aloft, fused as one, to proclaim my place at the bottom of the ranks of fondue cooks. We all howled. I laughed so hard I thought I might wet my pants.
"Where did I go so wrong?!" I wailed, gasping for air between spasms of laughter. I could not explain it. No one among us could, either.
Times like these make you want to call your mother and ask that very question, even though you know you can't, anymore.
All I could do was try again, and not when it was important.
And that's what I did. Trust me, although it's not my mom's recipe, this one will do just fine and is a guaranteed good memory.
No-Fail Tried and True Cheese Fondue ( I promise)
For the fondue:
• Equal parts of three cheeses:
• 1/3pound (a tad over 5 ounces) firm, alpine-style cheese(Gruyere or Emmental or Jarlsberg or Beaufort)
• 1/3 pound Fontina cheese
• 1/3 pound Gouda cheese
• 2 tablespoons cornstarch
• 1 cup dry white wine
• 1 clove garlic minced
• 1 tablespoon fresh lemon juice
• 1 tablespoon brandy
• 1 teaspoon Dijon mustard
Platter of dippers:
• Baby new potatoes boiled in their skins. Cut in half or quarters if large.
• Barely steamed broccoli florets
• Barely steamed cauliflower florets
• Barely steamed asparagus
• Button mushrooms
• Cherry tomatoes
• Cubed breads: french, sourdough, pumpernickel, (or the Italian loaf from Publix bakery!) Barely toast some for a little crunch.
Instructions
• Grate all the cheeses into a bowl. Add cornstarch and toss well to coat all pieces.
• In a saucepan, bring wine, garlic and lemon juice to a simmer. Add cheeses a little at a time for a smooth fondue, stirring all the time. Once smooth, stir in brandy and mustard.
• Arrange platter with all the dipping items.
• Pour fondue into a fondue pot and serve with fondue forks or wooden skewers.

Susie Berta has many creative pursuits, including music, art, writing, cooking, gardening, entertaining and decorating. She has lived in Newnan with her husband, Rick, since 1977. They have raised two boys and have two grandchildren. She is retired from a long career as a vocalist/performer, having sung for many years in the Atlanta Symphony Orchestra Chorus and Chamber Chorus, as a staff singer at St. Mark UMC in Atlanta, and in many other venues, in addition to her one-woman show, "All Grown Up," at the Rialto Theater in Atlanta. As an empty nester, she returned to school in 2003 and earned a BFA in art at Atlanta College of Art and SCAD Atlanta. She is now pursuing her passion for writing and is currently working on her memoir, The Veterinarian's Wife.