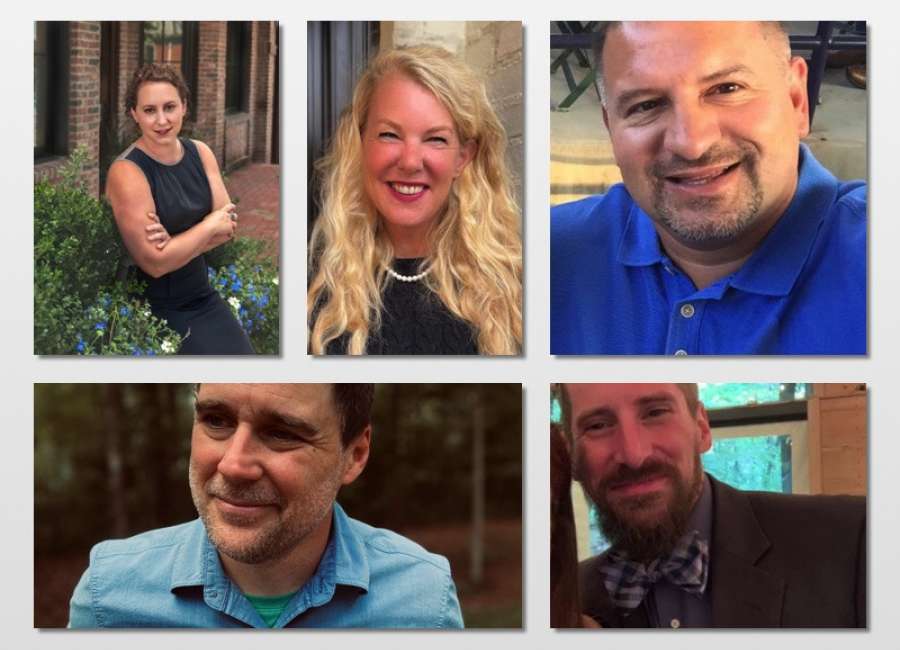 Five candidates are vying for two seats on the Senoia City Council.
Three men, Jordan Krabel, Matthew Foust and Tim Rada, are in the running to replace Councilman Chuck Eichorst, who is not seeking reelection.
And Councilwoman Tracy Brady, who took office in 2020, is being challenged by Rebecca Macedonia Anderson.
The Newnan Times-Herald asked the candidates to tell us a little about themselves and the issues that are important to them.
City Council Post 1:
•Matthew Foust

Foust is fairly new to Senoia, having moved here three years ago. He grew up in Fayette County and lived in Henry County before moving to Senoia. Foust said his brother lived here, and his family fell in love with the town. His wife is a teacher, and Foust works for Coca-Cola as an event producer.
"I've always accepted that to have a quiet place to live and raise our family I would always have a bad commute – so live in a place that makes you happy," he said.
Foust is running because local government is the one that most impacts people's day-to-day lives. It's the local government that maintains roads, water and sewer service, and is responsible for police that protect the community and parks where you enjoy time. Foust said he hopes to be here for 20 more years, and the best way to work to ensure a good future for Senoia was to run for city council.
"I believe it's possible to 100 percent love this city and all it offers while also being concerned for what the future could look like," he said. His goal is to work with the mayor and council, developers and businesses to improve their shared future. And that will require a robust and open dialogue among all the stakeholders in the community, Foust said.
Foust is passionate about communication and believes that a lot of issues can be avoided by having a conversation. When it comes to solving problems, the best answers usually come from the people, he said.
And while you're never going to please everybody, "it's better if you can do everything you can to make sure they're well informed and upset instead of just plain upset," he said.
For more information visit the Matthew Foust for Senoia City Council Facebook page.
• Jordan Krabel

Krabel has lived in the Springdale subdivision for nearly 20 years. He and his wife have a 9-year-old son and 13-year-old daughter.
"I have watched the town, and my family, grow in this special place," Krabel said. "Senoia has grown to be one of the most coveted places to live on the south side by balancing the old and the new."
Krabel currently serves on the Senoia Planning Commission and the Development Authority of the city of Senoia and has also served on the Historic Preservation Commission.
"I have learned a great deal about how decisions are shaped and made, and I am now ready to take my experience to the next level," Krabel said. "The citizens of Senoia deserve someone with knowledge and experience on the city council to help navigate this time of rapid growth."
Growth is happening in the historic district and in the subdivisions. "If development is to be successfully managed for the benefit of all citizens, then a proper understanding of and experience with the local legislative process is a necessity," Krabel said.
To learn more about Krabel visit the Jordan Krabel for Senoia City Council Facebook page or email jordanforsenoia@gmail.com .
• Tim Rada

Tim Rada is a New York native who moved to Senoia in 2015, after living in Peachtree City and Kennesaw. He is one of the three guys of 3 Guys Golf Carts. He has a 10-year-old son, and his family lives in the Morningside subdivision.
Rada is president of the Morningside Homeowners Association and feels that experience would serve him well on the council. His neighbor, Chuck Eichorst, encouraged him to be part of the HOA many years ago, and when Eichorst decided not to seek reelection, Rada felt running for council was a logical step.
As HOA president, Rada said he worked to negotiate a significantly better deal for the neighborhood when Georgia Transmission Corporation needed to buy some land for a power line easement. The company ended up offering an additional $6,000 for the land plus added $2,000 to buy any landscaping needed. When there were plumbing issues at the pool house he worked quickly to get the problem solved and recruited volunteers to save the association money on other projects, he said.
When it comes to city projects, "I want to make sure we negotiate hard," he said. "You'll want me on your side to make sure Senoia gets what's coming to it."
As HOA president, Rada said he believes in a communicative approach and improved communication between the organization and its residents. "My approach as president has been to keep the entire neighborhood up to speed on whatever is going on," he said. He'd like to bring that same emphasis on communication to the council, to keep residents better informed about city business.
"If you're not actively visiting the city website to find out what might or might not be going on, you're in the dark," he said. "It's your choice to be in the dark. But at the same time, I think they could have made a better effort to get us in the light."
Rada said he will take a common sense approach as a member of the city council. "I'm going to do my best for Senoia. I don't know all the answers," he said, but he will do his research and ask the right questions of the right people and put what is best for Senoia first.
You can reach Rada at 678-468-7232.
City Council Post 2
• Rebecca Macedonia Anderson

Anderson moved to Senoia in 2011 when she was pregnant with her first child. Her father was in the Army so they moved around a lot. "I'm not really from anywhere," she said. Her husband works in the aviation business, and after moving from Washington, D.C., they could live anywhere near Hartsfield-Jackson Airport. They chose Senoia, and "I don't want to move again," Anderson said. She didn't have stability and roots, moving so often, "and I wanted to be able to give that to my kids. I want this to be our forever home."
Because of that, she said she is really invested in the future of Senoia. Anderson is a stay-at-home mom and volunteers with the I-58 Mission. Prior to COVID-19, she volunteered as a tutor at Wellspring Living.
Anderson lives in Morningside and served as the HOA president from 2016-2019. "That is how I got involved with local politics," she said. "We had to work with the city on a lot of projects, and that is how I got to know people in city hall."
Anderson said she is concerned about a lot of the changes and development over the past few years.
When they moved to Senoia, "we loved that small town, Southern charm. It was safe, it was really special. It was different from Peachtree City, different from Newnan," she said. But development has picked up significantly, and there are several major projects in the works right now.
There is the new Publix and associated development, the city's new sewer treatment plant on highways 74/85 and the massive Keg Creek Landing subdivision, all happening within a half mile of each other.
Anderson said that when she is out talking to people, many are concerned that they don't know about major decisions on development until after the fact.
She said she's not opposed to business or growth, "but it seems like they're not taking any input from the citizens on what type of businesses are needed or where they want it to grow or how much growth is happening."
People are very concerned about parking downtown, as well as traffic, she said. The city council should be making decisions based on what is best for the most people, not just certain individuals, she said.
She's also concerned about the council granting variances for designs that don't seem to be in keeping with Senoia.
Other than Eichorst, all the other council members and mayor live in the historic district, very close to each other, Anderson said. So perhaps they aren't thinking about issues that affected people outside of the historic district.
Anderson loves the cart paths and would like to see better connectivity between the neighborhoods. She said she can see the lights of Ivy Ridge through the trees, and would love to be able to hop on a golf cart and ride there.
The council also skews older, said Anderson, 36, and no one on the council has small children. "I think they're not thinking about issues that affect families and people with small children."
One thing she hears people say a lot is that there needs to be another elementary school near Senoia. Her children and children on that side of town go to Willis Road Elementary School, and are on the bus for over an hour. Anderson said she has been active in the PTO and while obviously school location decisions are made by the Coweta Board of Education, Anderson said she feels like she could represent parents in advocating for another school closer to Senoia.
"There are a lot of things I think I can bring to the table that my opponent can't," Anderson said.
Fore more information visit the Elect Rebecca Macedonia Anderson to Senoia City Council Post #2 Facebook page.
• Tracy Brady

Brady joined the council last summer to fill the unexpired term of Dub Pearman, who resigned from his council seat to run for mayor, filling the unexpired term of Jeff Fisher. Both Brady and Pearman were unopposed, and Brady is now seeking a full term.
Brady moved to Senoia in 2014 from New York City. Brady said she has always felt drawn to the South and knew she would move here someday. She was reading an issue of "Southern Living," and the Southern Living Idea House in Senoia was on the cover. There was also a story about Zac Brown's Southern Ground, and she decided she needed to know more about Senoia.
Since moving to Senoia, Brady has been involved with the Downtown Development Authority and the Senoia Housing Authority, and owned and operated the Tomato House restaurant. She helped launch the Senoia Farmer's Market, serves on the Veterans Memorial Committee and mentors with Our Father's House. She's a member of the Senoia Garden Club and a few book clubs.
"I feel that my passion and engagement with the citizens really helps inform my work on the city council," Brady said.
She said when she is talking to people she hears an emphasis on connectivity. That's both connectivity between people and connectivity with sidewalks, trails and bike paths.
"How do we keep our city connected and vibrant and accessible for everyone?" she said.
There are a lot of developers interested in Senoia.
"While we can't completely stop it, I do think we can do a better job with managing the growth and making sure we have the ordinances in place to preserve the aesthetic and services that will help keep the charm of the town," Brady said.
Brady is also passionate about the preservation and expansion of greenspace in Senoia, she said.
Brady is spearheading the city's efforts to apply for a "Livable Centers Initiative" grant with the goal of a more strategic plan for growth and incorporating greenspace, she said, as well get resources to rework some of the city's ordinances.
The city has done some work in-house and engaged some outside experts to update some things. But the city needs to do a general update of all of the ordinances to focus on smartly managing growth with a focus on preservation, she said.
Brady said her care and excitement is for all of Senoia. "We have so many diverse neighborhoods and buildings with the crowning jewel being downtown and the parks that everyone is able to enjoy, but every person matters."
For more information visit the Tracy Brady for Senoia Facebook page.