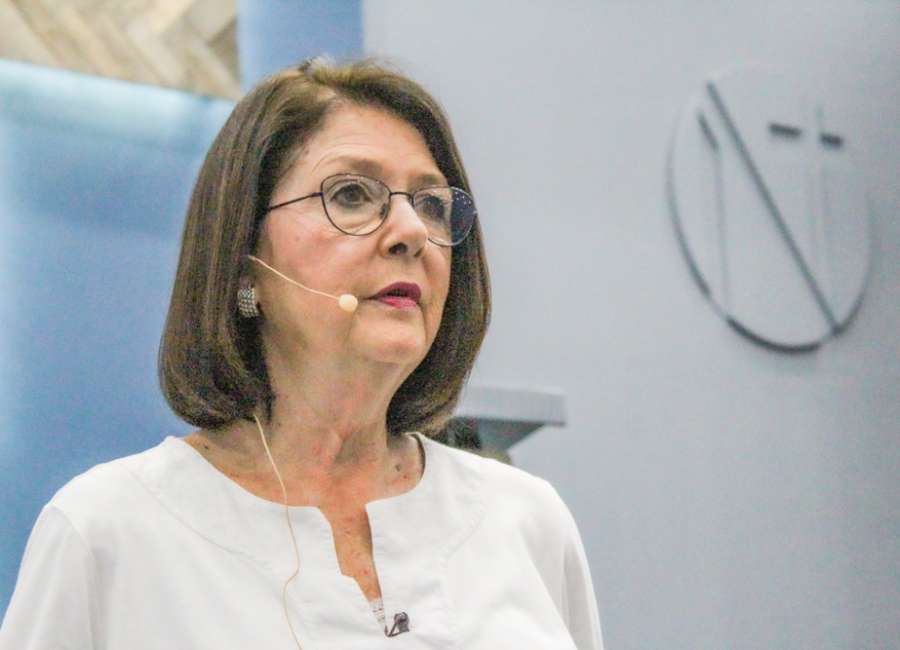 Commissioner John Reidelbach and School Board member Linda Menk addressed issues facing Coweta County residents at a town hall meeting on Thursday.
Reidelbach said at the start of the meeting that he ran for office on communicating with his constituents about development, growth "and things that are important to you guys out in my district," and was originally intending to hold the meeting alone, but Menk asked to join in as well to talk on behalf of her district.
The meeting covered a number of topics such as the county's growth, annexation, traffic and the upcoming ESPLOST referendum, which will take place in November.
ESPLOST: "We need to put the brakes on it"
Menk spoke at length about the ESPLOST program during Thursday night's meeting and raised the idea of voting against the ESPLOST sales tax in November in an effort to save money for Coweta residents in a time of uncertainty.
Menk cited the economic uncertainty that has occurred in the last two years with the COVID-19 pandemic, saying she had talked to parents who had been laid off from jobs eliminated due to the pandemic, as well as others that had been penalized for not taking a vaccination.
"On top of all of that uncertainty that people are facing with regards to income, how much money are they bringing home? They have to keep a roof over their children's head and food in their stomachs and clothes on their back. Are you paying attention to food costs and the cost of gas? Everything in our life is changing, and it's becoming more and more expensive to maintain."
As part of her argument, Menk also said that Coweta County Schools provides the biggest tax burden out of all the taxing authorities in the county. To support this argument, Menk provided meeting attendees with a sheet detailing the different taxes that a property owner faces.
In 2020, for instance, a home valued at $282,000 would have 40 percent, or $112,800 assessed for taxes. According to Menk's documentation, an estimated $593.36 would go to County maintenance and operation taxes, $1,916.84 would go to school maintenance and operation taxes, $337.18 would go to fire, and $16.92 would go to the fire bond for a total estimated tax of $2,864.31. The largest portion, going to the schools, accounted for 66.9 percent of the total tax.
In 2021, for a home valued at the same, with the rollback taken by the Coweta County Board of Education in August, the documentation states that the estimated tax for school maintenance and operation would be $1,899.11, or $17.73 less than the year before.
Menk also provided a document detailing how increasing average home sale prices would lead to higher school tax bills. The document showed the average home sale prices in Coweta County, according to Redfin.com, assuming fair market value, and then compared the tax burden on a property valued at the average price, year by year.
For instance, in 2019, according to Redfin.com, the average home sale price in Coweta, assuming fair market value, was $240,500, providing a school tax bill of $1,751.18. In 2020, with the average home sale price at $289,450, the school tax bill would be $1,968.39, and in 2021, with an average home sale price at $358,500, the school tax bill on a property of that value would be $2,423.60.
"And they want you to vote for a penny sales tax," Menk said. "I started thinking about it, and trust me, I have voted for the ESPLOST before. It's not that I've never voted for it, I have, because it's a penny tax. And I'm like, 'that's no big deal.' Well, then, I started thinking about it, how does that equate, if you're examining your budget, your income has been cut, your living expenses are going up, what impact does that really have as an individual, and we've got to start looking at taxation on an individual basis, not just the big picture. How does that impact you?"
Menk emphasized, however, that she was not calling for a permanent end to the ESPLOST program in Coweta County.
"But right now, we need to put the brakes on it, give the taxpayers a rest, and let's see what this recovery really looks like when people are going back to work and not being penalized because they're not taking a vaccination for whatever reason. Let's give it a rest."
Menk said the school system has $33 million in reserve funds, and has received around $50.7 million in COVID-19 relief funds.
ESPLOST, the education version of the Special Purpose Local Option Sales Tax, is up for a vote for a new program in November. The existing program expires Dec. 31.
Growth and annexation: A hot topic amongst attendees
One of the biggest topics of discussion Thursday night was the growth of the county. Many questions were raised Thursday about the county's growth, which has been booming as construction pops up all throughout the county.
"A lot of what's happening is the cities do landgrabs," Reidelbach said. "We did not have any high-density zoning ordinances in the county. There was rural conservation, one house per acre, and things of that nature, and years ago they came up with this land guidance program, and they started putting point values where growth was happening, like on the interchange corridors and in Moreland. They started putting these numbers together, but they still never addressed the high-density aspect of ordinances."
Annexation and higher density are closely related in Coweta County due to the different rules of density from the county to the city, the commissioner said.
"Say you own 100 acres in the county next to the city of Newnan or Senoia," Reidelbach said. "The zoning ordinances for your property and the county, prior to the PDP, was one per acre, one and a half acres. A land developer will buy 100 acres and the most he can put on there is 80 homes, and they're not going to make any money. So they'll go to the property owner and say, 'if I can get the city to annex your land into the city limits, I can put more houses and make it more worthwhile from a profit standpoint.'"
Before residential zoning regulations were changed in early 2020, all residential development in the county was on lots of 1.6 acres or larger, though conservation subdivisions could have lot sizes as small as 1 acre, with greenspace set aside to have an overall density equivalent of 1.6 acres per home. Under the new system, approved in March 2020, development in the more rural areas of the county will require 5-acre lots.
The medium density areas will continue to have the overall 1.6 acre per unit density. Under the PDP, which was recently approved, property that touches the cities and towns can be developed at four units per acre, as long as sewer is available. The commissioners would essentially have to vote on a rezoning for these high-density developments. Other residential development doesn't come before the commissioners.
Concerns were raised about some new development, including a high-density neighborhood being built near Hammock and Posey Roads, that one resident said would degrade her quality of life, due to increased traffic.
"I moved to the county so I could have space around me, and I wouldn't be in a high-density neighborhood," the resident said. "But now, it seems to me like someone wants to put up a high-density neighborhood and my quality of life is going to be degraded. Now I have all this traffic, and the noise, my quality of life is going down."
Reidelbach said that development, a Pulte project, has not yet come before the Coweta County Board of Commissioners for a vote, but has been discussed in meetings.
Reidelbach seemed to agree that traffic is a problem in Coweta County.
"When I go to a Board of Commissioners meeting to represent my constituents at 6 p.m., I have to leave at 4:45 to get downtown," he said. "I don't like it either, trust me."
As part of the discussion, Reidelbach implored residents to be involved in the process, lamenting the fact that only around 400 people responded to comprehensive plan meetings and surveys in the county.
And in fact, speaking to the issue of engagement, only about 40 or so individuals were on hand for the town hall meeting, while the flier advertised that it would be open to the first 250 people.
"Growth is going to happen in this county, and if we don't get involved and manage how we want to do it, the developers will do it for you," he said.
For instance, Reidelbach spoke about a recent conversation he had with a developer where the developer wanted to put an industrial facility on Ga. Highway 34.
"That's not going to fly," Reidelbach said.
Instead, he suggested any industrial development go to the north end of the county or near the Bridgeport site.
"If you have industrial out there, that's where it needs to be," he said.