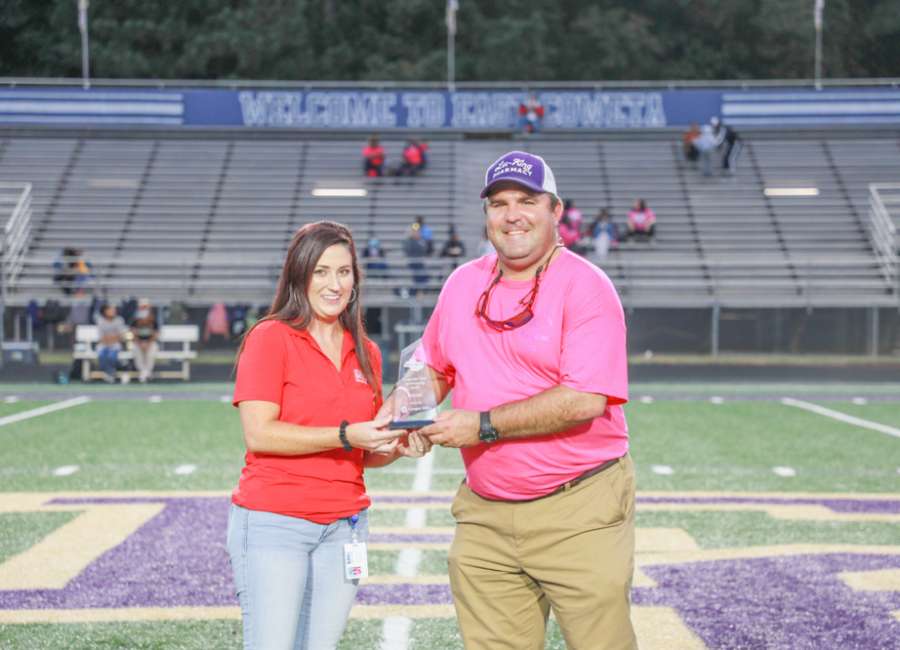 East Coweta High School recently was named one of two area winners of the Georgia High School Association Cooperative Spirit Sportsmanship Award.

The award honors GHSA member schools that exhibit outstanding sportsmanship during competitive events throughout the school year, reinforcing the GHSA philosophy that "students, athletes, coaches, spectators and all others associated with high school activities programs should adhere to the fundamental values of respect, fairness, honesty and responsibility."
"We believe in helping students grow, learn, and be the best they can be athletically, academically, and socially. This award is a true testament of that," said Hap Hines, East Coweta's athletic director.
The award is sponsored by Georgia electric membership cooperatives, including Coweta-Fayette EMC, which has been a sponsor since 2006.
On behalf of East Coweta, Hines accepted the award – presented by CFEMC representative Rachel Camp during a recent Friday night football game – saying he was grateful for the award. Hines said it is a testament of the hard work of all those involved in the achievement of the award.
"This award is a representation of the hard work of our student athletes at East Coweta High School, as well as the exemplary leadership and support from our coaches, faculty, staff and the community," Hines said.
McIntosh High School, another school in the area served by CFEMC, also was named a winner of the award. Principal Maggie Walls and Athletic Director Leon Hammond accepted the award on behalf of their school, and Hammond said he was thrilled McIntosh was selected two years in a row.
"This award is a huge honor for us," he said. "The student athletes at McIntosh High School work hard in the classroom and on the field, and to achieve this award, especially two years in a row, reflects that. We also give kudos to the parents of our student athletes for raising quality young men and women."
Cooperative Spirit Sportsmanship Awards are presented annually to the GHSA-member high schools in the 64 regions from the eight classifications by EMC representatives during fall athletic events and school assemblies.
These high schools displayed exemplary sportsmanship across a variety of athletics, ranging from student athletes to spectators. This award is not only an honor for the students and staff but an honor for the community as well, organizers say.