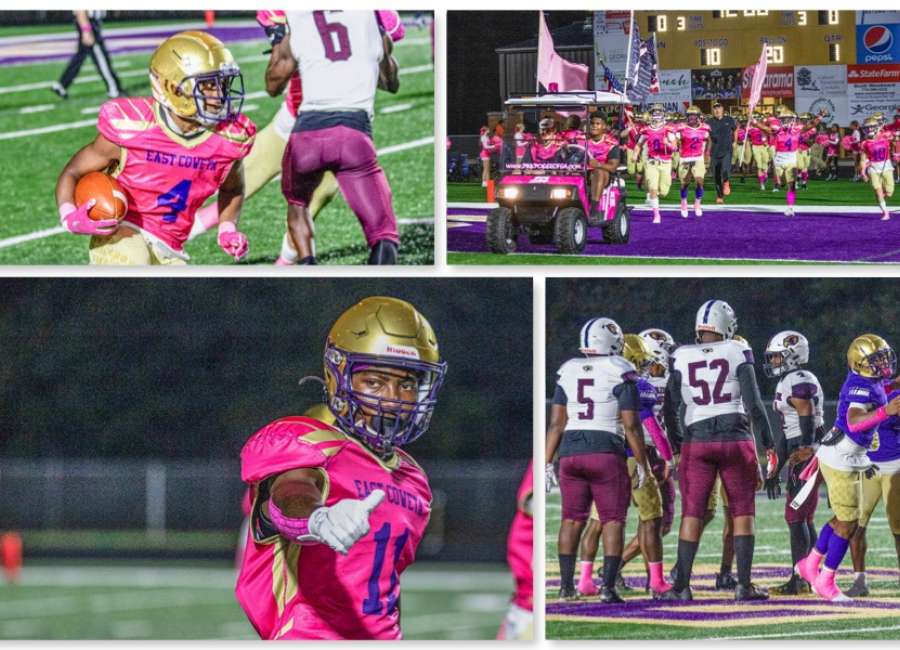 By Chris Girouard

Big plays usually lead to big wins. Conversely, allowing big plays can lead to big losses.

That is the lesson the East Coweta football team learned the hard way last night. The Indians dropped their AAAAAA Region 2 opener in front of the hometown Garland Shoemake Stadium "Pink Out" crowd by the final score of 38-21 to Pebblebrook.
While the Indians managed to win the second half 14-7, four big-scoring plays by the Falcons in the first half spelled doom for the home team.
Pebblebrook scored on plays of 51, 77, 84 and 57 yards during the first 24 minutes. They tacked on a 26-yard field goal in that time frame as well. For the most part, they featured a balanced offensive attack. Quarterback Qamar Grant was solid in the pocket. He threw the ball 22 times and completed nine passes for 205 yards and three touchdowns. His backfield partner, Dwight Phillips Jr., carried the ball 13 times for 239 yards (180 in the first half) and three touchdown runs.
East Coweta head coach John Small didn't mince words after the game, saying that his team did not play well, especially in the first half.
"We didn't play very well, and you can't do that against a good football team," Small said. "We got humbled a little bit tonight, and that starts with me as the head coach. I obviously didn't do a good job preparing this week. But I promise you, we'll get that straight."
The game's opening drive seemed to paint a much different picture of how this game would unfold. The Indians received the opening kickoff and took over at their 30-yard line. EC running back Trey Bowles and quarterback Daniel Shoch got the first two carries, respectively, and each gained 11 yards. Bowles' effectiveness running the ball continued with gains of 1, 7 and 3 yards on the drive. This opened the passing game for Shoch. The signal-caller connected with Zander Simmons for 13 yards, and Amaryion Moss for 5 yards as the Indians drove to the Falcons 16-yard line. From there, Shoch found Moss again with the 16-yard scoring strike. Lucca Labattaglia's PAT made it 7-0 just under four minutes into the game.
"We came out and scored on the first drive," Small said. "Then we had them stopped, but a facemask penalty. They're an explosive offense and they have some really good players, and you've got to get them off the field when you have a chance to get them off the field."
The Falcons answered back on their first chance with the ball. The first four plays yielded very little in terms of yardage gained. However, on the fifth play of the drive, Grant connected with receiver Briyar Powers on a 51-yard touchdown pass. John Diaz's extra point tied it at seven with 6:32 left in the first quarter. Diaz added a 26-yard field goal later in the quarter as the game appeared to be headed to a defensive battle at 10-7.
That was not to be the case. The Falcons came up big with three touchdowns in the second quarter. Phillips Jr scored on runs of 77 and 84 yards. Both came on the first plays of consecutive drives. Grant hooked up with Damion Thompson for a 57-yard score just before the half to make it 31-7 at the break.
Small said the Indians' defense did not perform to its usual high standards.
"They got us on two long runs, which is uncharacteristic for our guys to get out of position," Small said. "They were misaligned and went to the wrong gap, and they took advantage of it. They took their shots and made some plays. We had three opportunities in the first half to have three interceptions; we've been intercepting the ball, and we don't pick them off, and it keeps their drive alive."
The Falcons upped it to 38-7 with 24 seconds left in the third quarter. Grant again connected with Powers, this time on a 28-yard pass.
The Indians offense, to this point, had been productive in terms of yardage but not points. That was about to change and its next drive.
Shoch connected on his first three passes. Evan Prosser's catch was for 9 yards, while Simmons hauled in grabs of 14 and 23 yards. After three straight incompletions, Shoch took matters into his own hands, gaining 23 yards to the 11-yard line on one carry. He scrambled into the endzone from the 11-yard line two plays later, making it a 38-14 game.
On their next drive, starting at their own 23-yard line, the Indians struck one more time. Shoch found Dionte Jones for a 15-yard gain. A pass interference penalty moved the ball to the Pebblebrook 47-yard line. From there, Simmons hauled in a 14-yard pass to the 33-yard line. Then, following an illegal procedure penalty, Colt Cortez caught a pass from Shoch for a 36-yard touchdown and the game's final score.
"This is high school football," Small said. "We're not going to feel sorry for ourselves. I promise you. We've got a lot of kids in that locker room that are going to go back in there and fight and get ready for the next one."
Shoch finished 17 for 32 passing with 206 yards, two touchdowns, and one interception. He also ran eight times for 54 yards and one score. Bowles carried the ball 17 times for 52 yards.
With the win, Pebblebrook improved to 6-0-1, 1-0 in the region. East Coweta dropped to 5-2, 0-1 in AAAAAA Region 2.
Photos by Michael Clifton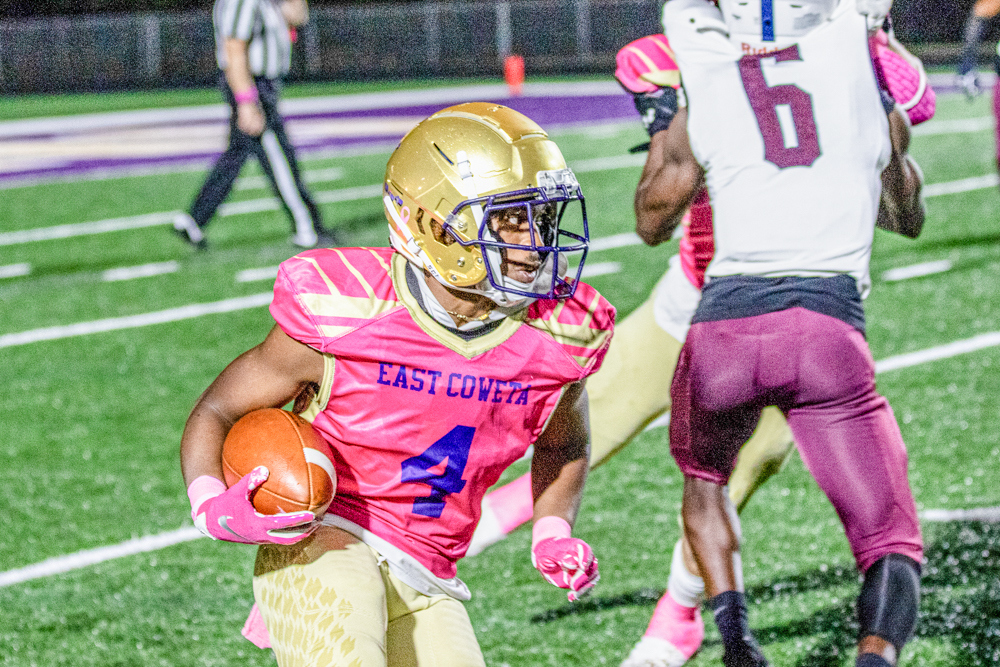 Amariyon Moss scored the first touchdown of the game on a 16-yard pass from Daniel Shoch.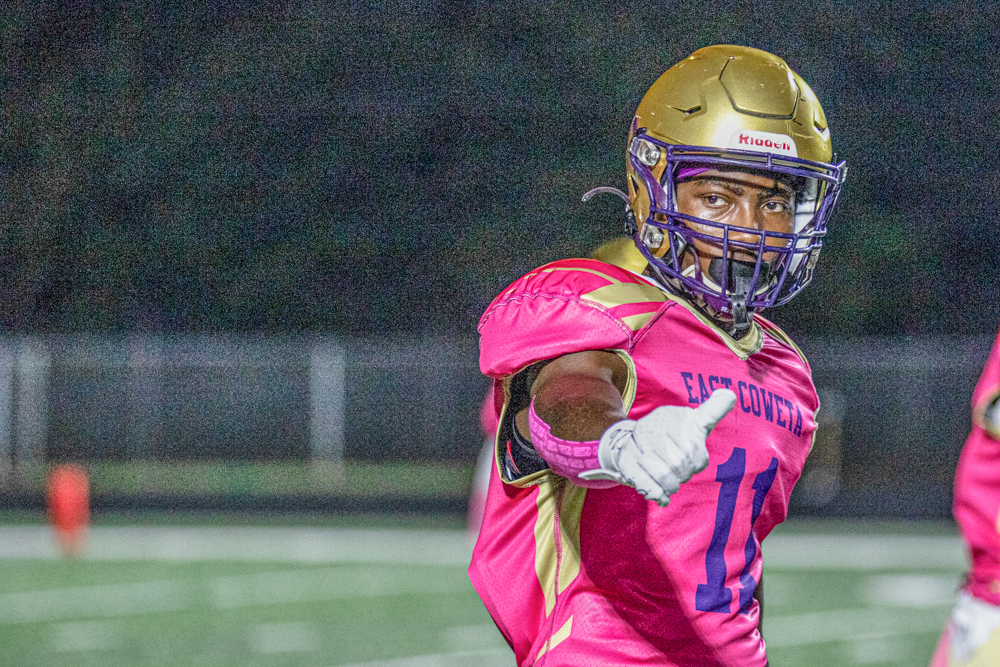 Zander Simmons led the Indian offense with six receptions for 93 yards.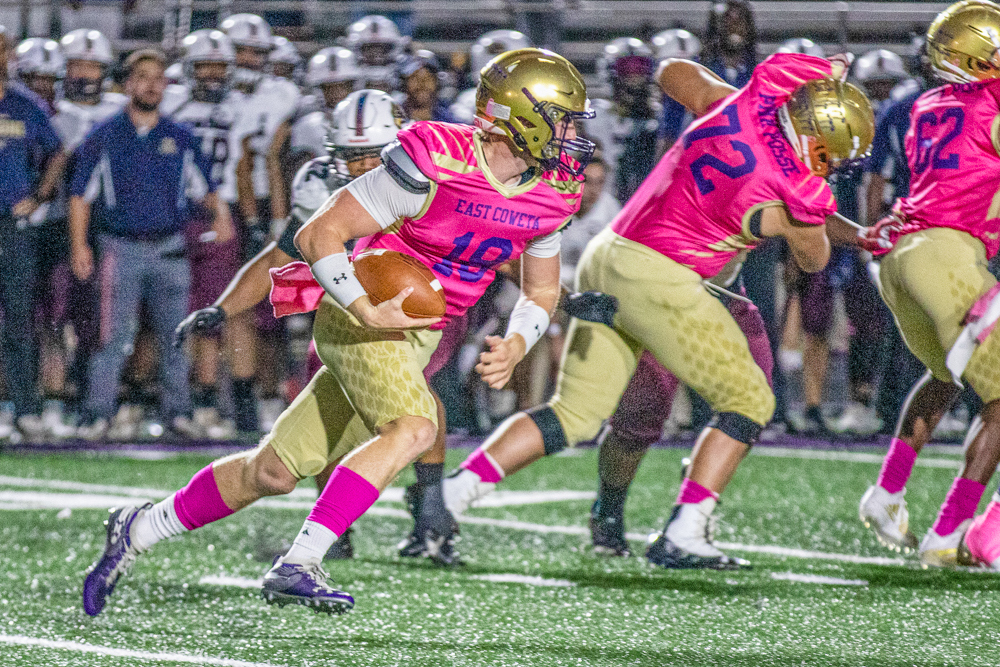 Quarterback Daniel Shoch finds an opening with the help of blocks from CJ Stubbs (#62) and Zach Clayton (#72).
The East Coweta Indians captains were in the traditional uniforms for warmups and the coin toss, but after a quick change, they …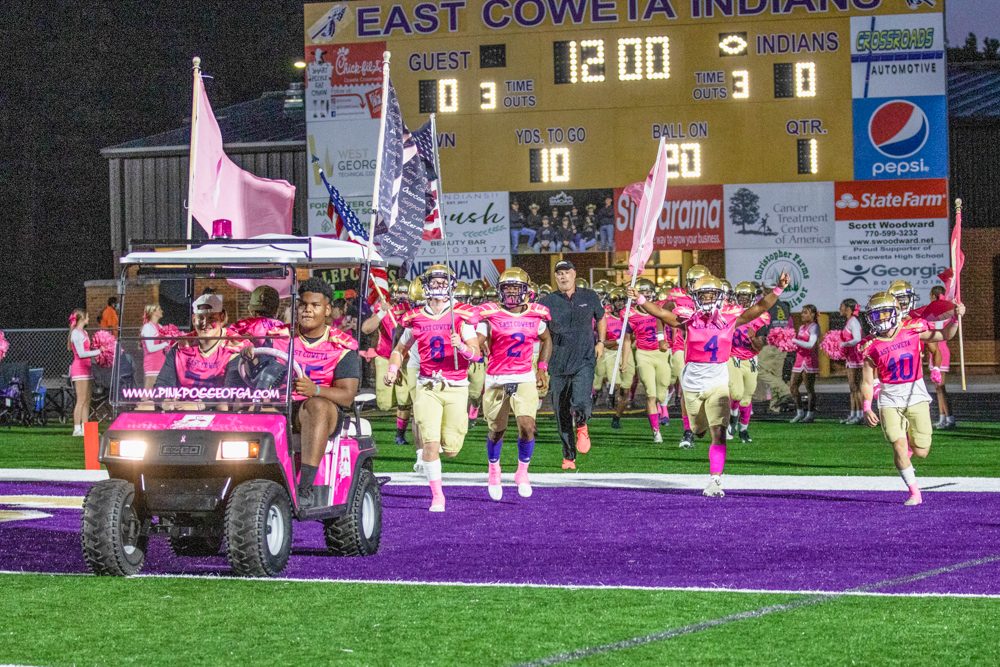 … took the field at Garland Shoemake Stadium in their Pink Posse uniforms to support Breast Cancer Awareness Month.