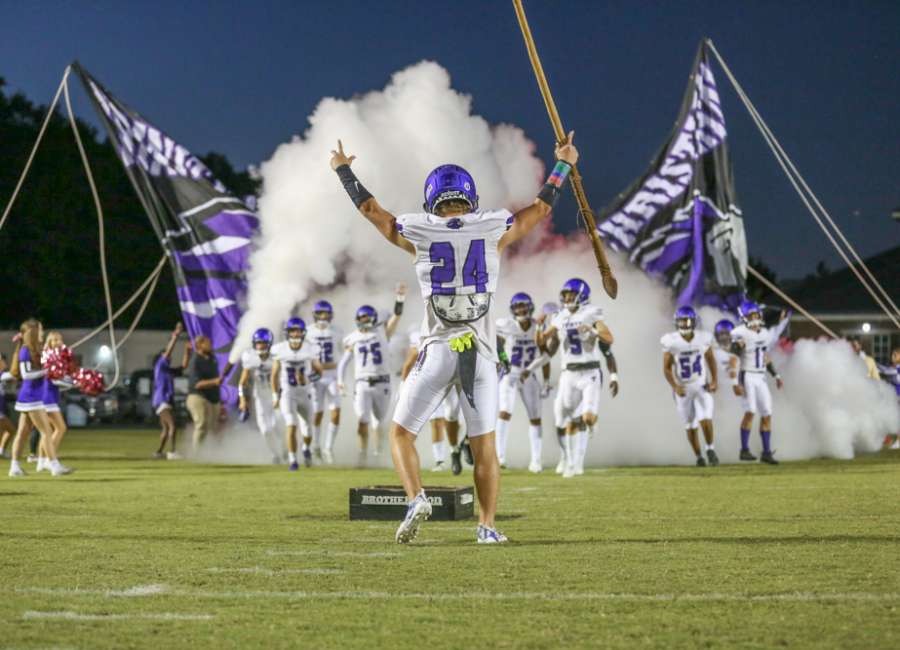 Every week, the Trinity Christian Lions get more impressive.
Even though they have staggering talent, it is their work ethic and unselfishness that stand out. There are weapons on every level, and in each game, someone else steps up.
The Lions destroyed the Brookstone Cougars 55-14 Friday night in their Region 4 Class-A Private opener.
In this game, the defense made the first statement. In the Cougars opening drive, Shawn Braxton tipped a Taft Middleton pass into the hands of Ryan Earl for an interception.
David Dallas and the Lions' offense took over from there. Aaron Gates caught two David Dallas passes for touchdowns, and Dominick Cosper scored on runs of 18, 26 and 55 yards to put Trinity Christian up 34-0 at halftime.
On Gates' first touchdown, the Lions put three receivers out to the left and left Gates alone on the right side of the formation against a one-on-one coverage. The Cougars defensive back was no match for the elite speed of Gates, who easily walked into the end zone.
Not to be outdone in the speed department, on Cospers' 55-yard score, he broke through the line of scrimmage untouched and raced past three defenders who had a better angle against him.
But as good as the offense was during that stretch, the defense was as good or better. Overall, the Lions' defense recorded eight tackles for loss, including three by linebacker Jimbo Batchelor.
Special teams showed up as well. Josh Dallas had an incredible 25-yard punt return where he bulldozed through the Cougars punt team. He refused to be brought down.
Bryce Wilcox and Josh Dallas caught third-quarter touchdowns to push the lead to 48-0.
David Dallas posted eye-popping numbers at quarterback. He finished 14-for-17 for 237 yards and four touchdowns. Backup quarterback Henry Brodnax also threw a touchdown pass to Javan Harrison to close out the Lions' scoring.
Josh Dallas and Gates each went over the 100 receiving yards mark. Cosper led the rushing attack with 128 yards rushing on seven carries.
Last year, in the game against Brookstone, Tyson Wall led the Lions offense with 155 yards rushing on 21 carries. Wall is a perfect example of the unselfishness this team has. With the emergence of Cosper at tailback, Wall took his considerable talents over to the defense.
With the loss, Brookstone fell to 6-2 for the season. The Cougars have a crucial matchup against St. Anne Pacelli Friday night where second place in the region and a home playoff game could be at stake.
For Trinity Christian, the win was their 16th in their last 17 games, the only blemish is a loss to Prince Avenue Christian in the Class A Private state championship last year.
This week, the Lions take a short trip across Coweta County to play the Heritage School. It will be the first meeting of the two schools separated by just 12 miles since 2017.