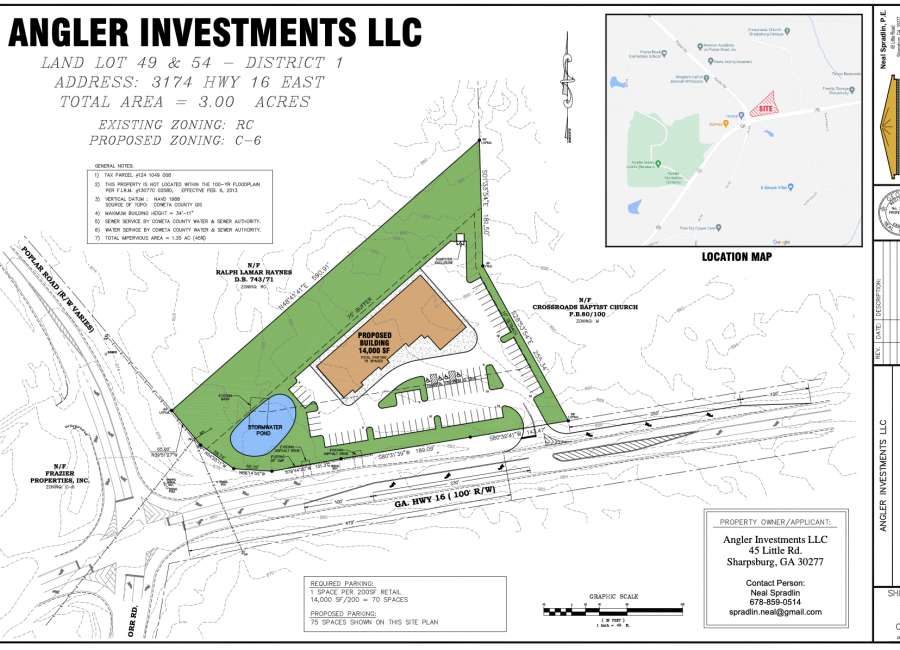 Three corners of the intersection of Poplar Road and Georgia Highway 16 are now zoned for commercial development.
The Coweta County Board of Commissioners voted this week to rezone a 3-acre tract at the northeast corner from Rural Conservation to C-6, commercial minor shopping district.
The third corner, southeast of the intersection of Highway 16 and Orr Road, has been zoned C-6 for several years but has never been developed.
The plans show one 14,000-square-foot building on the site. The site will have a full access driveway on Highway 16, according to engineer Neal Spradlin. The driveway will be at the easternmost part of the site, adjacent to the Crossroads Baptist Church property.
The site will not have access to Poplar Road.
Spradlin, speaking for the applicant, Angler Investments, said that they see the development as possibly an office building, restaurant, coffee shop or similar.
Commissioner Al Smith had asked if the drive was a right-in, right-out only, but Spradlin said that the Georgia Department of Transportation had approved a full access drive on Highway 16.
The rezoning came with 10 conditions, and the applicants are in agreement with them, Spradlin said.
Conditions include complying with the Quality Development Corridor District requirements and maintaining a 75-foot buffer along the northern property boundary. Once clearing and grading is done, the property will be evaluated to determine if supplemental buffer plantings are needed. The building size must also not exceed 15,000 square feet, in keeping with the Crossroads Character Area.
James Haynes, who owns 10 acres and a home on the property to the north, spoke with some concerns, particularly that the property is listed as belonging to a Ralph Haynes, a person who does not exist. "Somebody obviously did not do their homework," he said.
Haynes said that because there are no tenants lined up, the rezoning seems like a "blank sheet of paper from the commissioners."
"I feel like it would be detrimental to put any more commercial in that area," Haynes said. Traffic is already "the pits," he said, and adding more development will add more congestion.