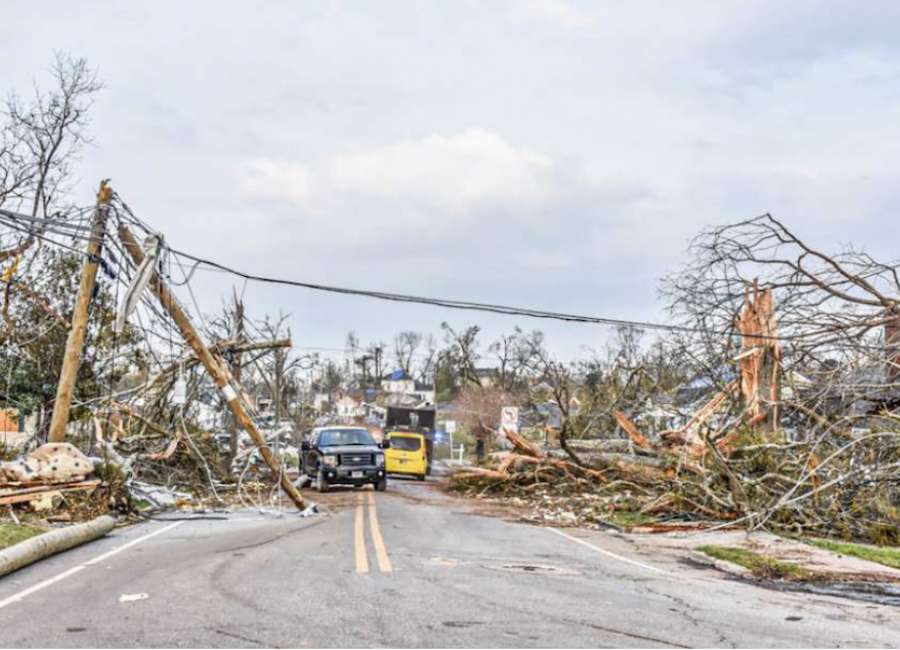 The story of the early hours of the city of Newnan's response to the March 26 tornado was told at last week's meeting of the Newnan Rotary Club.
Newnan City Manager Cleatus Phillips was the featured speaker.
On Thursday, March 25, the city was getting ready for potential impact from the forecast storm. Public works crews spent the day putting new blades on chainsaws, filling up fuel tanks, loading up equipment on trailers and strategically locating it around town, Phillips said.
Half the public works crew was sent home early in case they needed to be called up in the middle of the night. City and county emergency officials were preparing to open the emergency operations center.
"We were prepared. We knew there was a chance" of a tornado, Phillips said.
But no one was expecting what happened.
Phillips said he went to bed early and was woken up by his wife and children when the tornado sirens started going off. He started making calls to make sure public works and public safety officials were aware and ready.
The storm didn't seem to be coming anywhere near his home in SummerGrove, Phillips said. He was watching the news and saw coverage of a debris cloud over Newnan High School. He got in his truck, picked up Assistant City Manager Hasco Craver and decided to head into town.
He was surprised when he saw a traffic signal on the ground at the intersection of Lower Fayetteville Road and Newnan Crossing Bypass, because the storm wasn't supposed to be going that way. It took several twists and turns and a lot of backtracking, but Phillips made it towards Newnan High School.
We need help
He got a call from Public Works Director Ray Norton.
"He said, 'Boss man, we need help.' I said, 'What do you mean we need help?'" Philips said.
He figured the city was prepared and could handle any storm. No, said Norton. We need help.
It wasn't until he got to LaGrange Street that Phillips realized just how bad the storm was.
Public works crews had strategically located equipment, but they couldn't get to it because roads were blocked.
"So we went back to the shop and did something we've never done," Philips said.
Crews fired up the track hoes, bulldozers and big loaders and started driving them down the roads, moving piles of downed trees and power poles out of the way so vehicles could get through.
They followed equipment operator Chad King, and emergency crews followed behind.
"Chad King is an incredible heavy equipment operator," Phillips said. "If it weren't for Chad clearing the way, there is no way our emergency crews could have gotten through."
One public works employee who lived on Smokey Road "walked to work just to run a chainsaw," Phillips said.
The city didn't have enough manpower to handle the destruction, so the city started contacting local utility contractors and paving companies who had the equipment and the manpower the city needed.
"We have a lot of great contractors, great vendors, great people in this community," Phillips said. "We said we need help. Send everyone you have, every piece of equipment you have because we've got to clear the roadway."
And they did. Afterwards, "none of those companies wanted to send me a bill," Philips said. "I said please send me a bill. It just shows you how the community came together. It was just absolutely incredible."
This all happened in the hours after the storm, and Phillips still hadn't seen the destruction in the daylight.
"I'll never forget driving down towards city hall and looking over the LaGrange Street bridge for the first time," he said.
Prepared – but not for this
Several years ago, as part of emergency preparedness, local officials did a tabletop exercise of an EF-5 tornado hitting downtown Newnan.
"But even that tabletop exercise did not prepare us for what we were going through that night and the next day. We just did not have the resources," Philips said.
The next day Phillips got a call from a friend who works at an engineering firm. At first he wondered why the friend would be calling, knowing that he was busy. But he answered anyway.
"He said, 'My firm has an emergency recovery disaster division,'" Phillips said. "I said, 'I never knew that. Will you please get that division on their way to Newnan, Georgia?'"
Because Mayor Keith Brady had signed a state of emergency declaration in the early morning hours, city staff were able to engage in emergency contracts without having to wait for a council meeting. The council then ratifies those decisions at a meeting.
There were significant power outages, but one of the most pressing was the power to the Newnan Utilities Water Treatment Plant. It wasn't publicly announced but "we were really close to running out of water for our community," Phillips said. So for the first day and a half, crews focused on restoring the power to the water plant.
City officials knew that there would be a federal disaster declaration, and even though Cowetans were eventually denied individual assistance from the Federal Emergency Management Agency, officials felt certain FEMA would end up giving public assistance to help local governments.
Because of that, "from day one when we were spending money, we had to make sure we were eligible for FEMA reimbursement," Philips said. The day after the storm, the city had hired a debris removal contractor, and the day after that, a building inspection company was hired to help the city evaluate the damaged buildings.
Making progress
Of the over 450 homes that were inspected, 130 received a red card deeming them unsafe for human habitation.
"I am happy to report that while we are seeing some issues, about 71 percent have pulled permits and are making progress," Phillips said Friday. But that means about 36 homes "are still sitting there pretty much like they were the day of the storm," he said.
To date, the city has spent over $8 million on the storm response, Philips said.
The response was made much easier because the city maintains a healthy fund balance reserve.
"You may have heard some talk about our fund balance. You may have had some people question whether it is too much," Philips said. "Without that fund balance, we would have had a hard time responding to that storm the way we did."
In late 2020, the city purchased the former Caldwell Tanks property downtown, for over $4 million. Then the storm hit. The city was able to pay for both out of the fund balance.
"That stressed the importance of having a fund balance," Philips – and not having to go to banks to borrow funds to respond to the storm.
Over 400,000 cubic yards of storm debris was removed in the city. At first, city and contract trucks were taking the storm debris to the county's construction and demolition landfill, but the volume soon became overwhelming.
So the debris was then taken to the Newnan Utilities composting site where a new, temporary landfill was created for the debris. But even the composting facility couldn't hadn't it all, so about 100,000 cubic yards were sold to other users.
Some of that went to a wood-burning power plant, and the rest went to a company that makes mulch.
"So there's a good chance when you buy some mulch this spring, you might be buying some from your own trees," Phillips said.
While FEMA has gotten a bad rap for denying assistance to the people impacted by the tornado, "they have been excellent to work with on the city side," Phillips said.
FEMA will reimburse the city for 75 percent of what was spent on eligible disaster recovery activities, and the state will reimburse 12.5 percent. The city has already started to receive reimbursement money from FEMA – and that's much faster than Philips had anticipated.
"At the end of the day, we may spend up to $10 million," he said, meaning the city's final, unreimbursed cost will be about $1.5 to $2 million.
Blessed and proud
"That being said, we're very blessed, and very fortunate and super, super proud to be in this community," Philips said.
Rotarian Parks Avery, whose home was damaged, said he remembered standing in the front yard and seeing the large track hoe coming down LaGrange Street with Newnan Utilities and city workers behind it in their yellow rain slickers.
"They were knocking on doors and checking on people. It was amazing, really amazing," Avery said.
Phillips said he gives all the credit to the city staff, and how well they did their jobs.
"There were so many challenges that we could have never foreseen – just things as simple as trash services," Phillips said. "We couldn't even run trash service in the community."
And when people started rebuilding, where could they put building materials when lots were small and there was still so much debris?
"But we're getting through it. We're recovering. It's still going to be years; we know that," he said.
Philips said he is extremely proud of how the Coweta Community Foundation has stepped up to lead the long-term recovery process, and all the nonprofits and churches have stepped up to help those impacted.