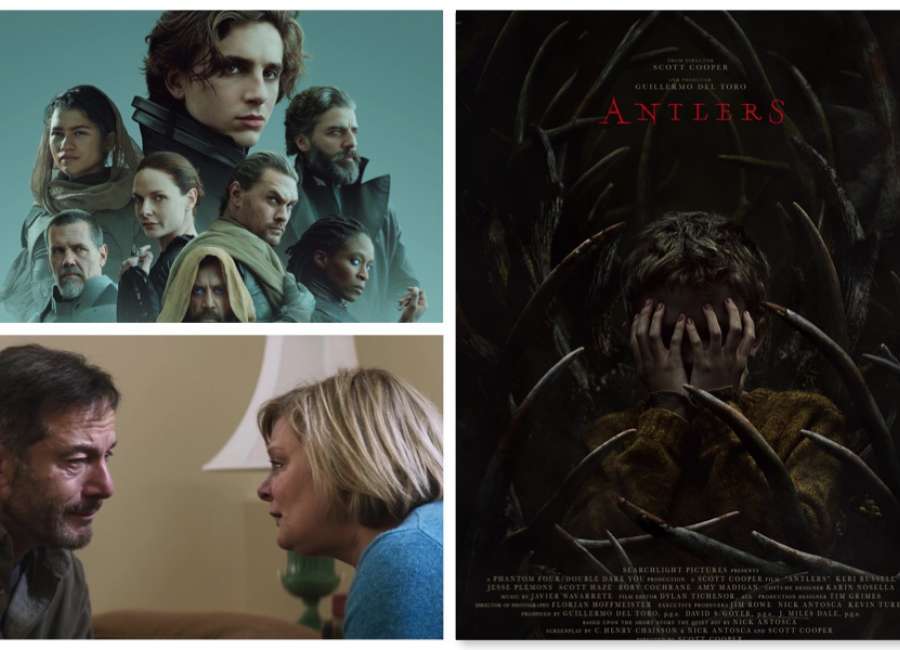 By Jonathan W. Hickman

Mass
Review Rating: 10/10
"Mass" is the impressive directing debut of actor Fran Kranz. He also writes this emotional powerhouse that features four of the year's best performances. The tense story concerns two couples brought uncomfortably together by an all-too-familiar tragedy. They convene at a church where they are expected to share their feelings.
The meeting starts with apprehension, anger and confusion. Is civility possible? The tears give way to shouts, and the foursome grapple to find a middle ground, a way forward in the face of egregious loss.
"Mass" is one of the most authentic, cathartic viewing experiences in recent memory.
Primarily set in one room and showcasing considerable acting talent, "Mass" is sure to be remembered for honors by the end of the year. Jason Isaacs delivers his finest work to date, and playing his grieving wife is Martha Plimpton in a career-defining turn. But unquestionably, Ann Dowd (see her in HULU's "The Handmaid's Tale") steals the show as a mournful mother who wants to tell her counterparts so much, but legal and societal restrictions hold her back.
A minimalist camera combined with sharp, insightful writing makes "Mass" one of the most provocative and consequential films of the year.
****
Antlers
Review Rating: 5/10
The long-delayed "Antlers" is an appropriate Halloween release, but it's a hard movie to recommend. In many ways, the film is a purposeful assault on the viewer. With its oppressive, bleak visuals and dour narrative, it's not what I'd call an entertaining experience. But maybe that isn't the point.
The first foray into the horror genre by award-winning director Scott Cooper (see "Hostiles," "Out of the Furnace" and "Black Mass"), "Antlers" has all of his sweaty, unrelenting hallmarks.
Set in an isolated Oregon mountain community, a troubled middle school teacher (Keri Russell) and her sheriff brother (Jesse Plemons) cope with a supernatural creature with Native American origins. Their dark family history only complicates their approach, as they understandably question the strange happenings.
Graham Green pops up playing a Native American former sheriff. He awkwardly explains the one-note mythology. It's hard to dismiss the whiff of appropriation or even exploitation, especially as the movie veers into cliched territory. Russell and Plemons are fine in the lead, but Jeremey T. Thomas is terrific as the little boy at the center of the supernatural nonsense.
"Antlers" is a purposefully unpleasant viewing experience.
****
Broadcast Signal Intrusion
Review Rating; 6/10
"Broadcast Signal Intrusion" is possibly filmmaker Jacob Gentry's best feature since 2004's "Last Goodbye." The movie is a slow-burn slurry of nostalgic conspiracy-infused ideas.
"BSI" takes place in 1999. "Glee" alum Harry Shum Jr., plays James, a television archivist charged with converting old shows from analog tape to digital disc. He runs across a news program from the late 1980s that was interrupted by mysterious hackers. They replace the regular programming with a strange performance video depicting the torture of someone wearing a frightening white rubber mask.
As James investigates this phenomenon, he discovers that this wasn't the only intrusion. The FCC confiscated all the available recordings of the event, but while poking around on the Internet (bulletin boards back then), he uncovered what might be a wide-reaching conspiracy.
A head-spinner, Gentry's trippy movie doesn't quite hold together, but the nostalgic use of retro technology, mainly the use of the much sought-after PXL2000 video camera (the one that shot on regular audio cassette tape) is fascinating.