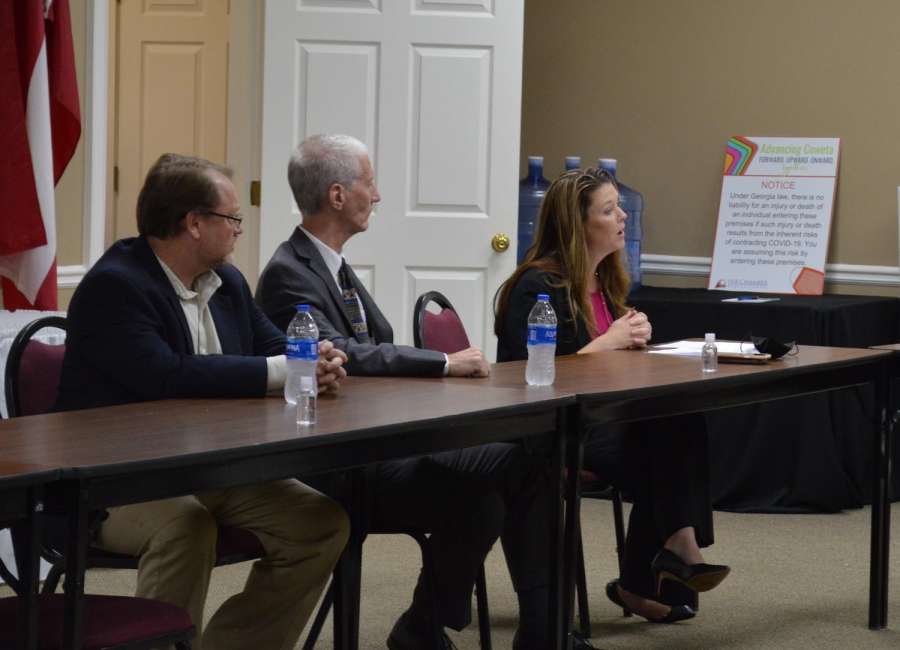 Georgia's ability to take care of its own was among the reasons that the Federal Emergency Management Agency gave for not approving individual assistance for Cowetans impacted by the March 26 tornado.
With the state of Georgia announcing a record $2.2 billion budget surplus for fiscal year 2021 – after filling its rainy day fund to the legal limit – will the state pitch in to help Coweta's tornado victims?
The possibility of state help was one of several topics discussed recently when staff members from U.S. Sen. Raphael Warnock's office met with members of the Coweta Long Term Recovery Group.
Cynthia Bennett of the Coweta Community Foundation said she remembered seeing news reports of a significant revenue surplus shortly after the tornado and asked others about the possibility of some state funds.
Bennett was told it would take a special legislative session. A special session of the Georgia General Assembly was called in 2018 to get aid for south Georgia farmers impacted by Hurricane Michael.
Even with a large swath of Georgia's agriculture devastated by that hurricane, there were legislators who were against using state funding to help, according to Bennett.
A special session is already set for approving Georgia's redistricting maps following the 2020 Census. Gov. Brian Kemp called that session Thursday, and it is set to begin Nov. 3.
While Kemp included a few other purposes for the special session, including ratifying a suspension of the gasoline tax in the wake of the Colonial Pipeline shutdown, there was no mention of disaster aid to Cowetans in the proclamation convening the special session.
Kelli Yeager-Nelson, chair of the recovery group and executive director of Bridging the Gap, said she's spoken to members of the local legislative delegation who want to see state funding considered for tornado victims.
"We are hopeful. In these situations, you're always hopeful," she said. "And then we follow that being hopeful with as much statistical information as we can throw at them."
A significant number of homes damaged by the tornado weren't insured. Even more were underinsured, and many homeowners are finding there's a big difference between what it will take to fix or rebuild their homes, and what the insurance will pay.
The problems aren't just with low-income homeowners and renters. Bennett said there were younger couples who bought historic homes in the last few years – or even months – in neighborhoods like Hollis Heights.
"Their insurance was actually quite adequate, but they bought charming historic homes that now need to have abatement for asbestos, abatement for lead, all the electrical system has to be up to code when it's done, and that's not covered," she said. "So there's this whole young generation of people who had committed to this community and now their homes are gone."
Other issues include the high cost of building materials – and the difficulty of even getting some materials because of supply issues. All in the midst of a pandemic.
"If this had happened two years ago, we would have been in a much different situation than we are now," said CCF Executive Director Kristin Webb. "There is a huge gap in what insurance is paying and what it is going to cost to rebuild."
While FEMA denied Individual Assistance, hope remains for federal funding, according to Mark Libell, Warnock's chief of staff.
In the next month or two, there will likely be some disaster assistance related to other disasters, including California wildfires or hurricane recovery in Louisiana.
The relief might be tied to a continuing resolution or other bill, and it's often the kind of thing that will pop up and get voted on quickly, "not the kind of bill that will be out there for weeks," Libell said.
Any time something like that happens, there can be changes to formulas used to calculate relief or other add ons. And communities that are ready and have paperwork together "may be eligible for some new things that pop up," Libell said.
"Even though it is going to focus on the most recent disasters, you can bet that everyone who has had a disaster in the last year or year and a half is going to make their tweaks as well," he said. "That's something the senator's D.C. policy lead will be following very closely."