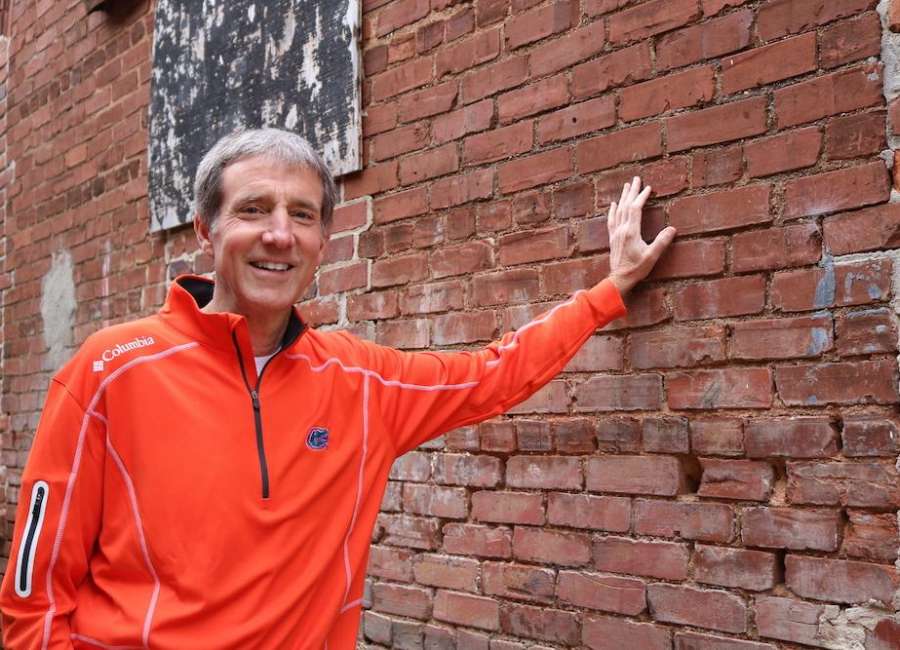 I admire people with passion. It doesn't matter what it's for, as long as they have it.
I can always recognize someone with passion: when they talk about it – whatever it's for - I can feel their devotion, fervor, and admiration.
And I can sense their inherent drive to keep that passion alive.
Years ago, when I was still working, I passed a white house in Tyrone on my commute twice a day. It always caught my eye: not so much the house, but rather the garage.
Between the garage doors was an old Sinclair gasoline pump and a Coca-Cola sign, and inside the garage was an array of exquisite vintage automobiles.
One afternoon, the garage doors were open so I decided to stop. I'm glad I did, because that was the day that I met Tommy Davis, a man with a passion for anything on wheels.
***
Tommy Davis has worked on cars since he was 10 years old, when his father Johnny ignited that passion by teaching him about restoration. Tommy learned his lessons well: to date, he estimates restoring in the neighborhood of 100 cars in the last 50 years. But that's only half the story: 'God gave me the ability, and my dad taught me how,' is how Tommy explains his incredible ability to turn cars that were made before JFK was President into something that looked like it just rolled off the assembly line.
Tommy worked for several years with the College Park Police Department. One night while on patrol he 'pulled over' a friend of his after spotting a 'cute blond' in the car. In 1994, he married Shirley, the 'cute blond. They have two daughters, Britney and Michelle. When Britney was married, she and her husband left the wedding in Tommy's White Ford Model A Shay 'Polar Bear' (I encourage you to Google it!).
After leaving the police department, Tommy spent 28 years with Delta. Ironically, the only job he didn't have with the airline – other than pilot – was mechanic. Shirley, meanwhile, worked for 35 years with Bank of America. In 2019, after living in Tyrone for 28 years and Fayette County since 1975, Tommy pulled up stakes – that is to say, rounded up his collection of everything on wheels – and moved to Coweta County in December of 2019. They chose Senoia to settle down for two reasons: (1) his collection had outgrown his residence in Tyrone, and (2) he and Shirley looked forward to the solitude and peace of mind the city had to offer.
***
Tommy says he has been a 'collector' for more than 50 years. Amongst his impressive collection is his late father's 1931 Model A, a car that Johnny personally restored, and a 1955 Chevy Belair that Tommy has owned since right after high school. (Technically, he didn't own it the entire time. It was stolen, stripped, recovered back in the mid-70's. In 1992 he needed some cash and sold his beloved '55. But one year later, he bought it back from the man he sold it to for the same price he sold it. When he bought it back, it had been repainted and reupholstered. Tommy explains his good fortune: 'The Lord has truly blessed me.'
Tommy's collection doesn't stop with vintage automobiles. He has old signs, model cars, gas pumps, Coca-Cola paraphernalia, bicycles (some made before the depression), coin-operated rides (like you'd find on the sidewalk outside of Woolworth's), pedal cars, and enough Americana to make Mike and the gang on American Pickers salivate. Among Tommy's favorites are a 1936 Chevrolet Coupe – one of his early restorations with his dad - and a 1932 four-way traffic light that formerly hung in the middle of the town square in Adel, Georgia. How he came across the latter some people would call luck. Tommy just says that 'God has truly blessed me:'
'I was buying a car from a man in Adel, and we were $500 apart on the price.
I noticed the light sitting in the corner of the man's garage,
and I said if you throw in the light, you got a deal.'
Today, the light hangs in the middle of Tommy's garage – he calls it a garage, but I have been in museums that aren't nearly as impressive – and to further illustrate his good fortune, all 12 lights (red, yellow, and green and all four sides) still illuminate!
***
Tommy spends an average of 50 to 60 hours a week on restorations in his garage. He only restores the cars he personally bought. He travels to 10 or more car shows and auctions every year, his favorite being the one in Hershey, Pennsylvania. He's always on the lookout for quality antique cars and trucks. He hopes to bring two or three back with him from the Keystone State.
After all, he says, 'I don't hunt, fish, or play golf.' Tommy Davis' passion will always be for antique cars and trucks.
***
Tommy told me I wasn't the first person to stop by his former residence in Tyrone.
Twenty-five years ago, a writer for the Atlanta Journal-Constitution dropped by.
Coincidentally, he also wrote a story about Tommy for the paper.
Truett Cathy stopped by many times to see what Tommy had. But they could never make a deal, because Truett usually offered about half of what Tommy was asking.
But they always enjoyed sharing their mutual passion for old cars.
After Truett passed, his vast collection of vintage automobiles was auctioned off for charity.
Tommy bought three of them.
Tommy, Shirley, and their '55 Chevy
Tommy's Garage

Scott Ludwig lives, runs, and writes in Senoia. His latest book, SOUTHERN COMFORT is his second collection of 101 columns. His first, SOUTHERN CHARM, and all of his other books can be found on his author page on Amazon. He can be reached at magicludwig1@gmail.com