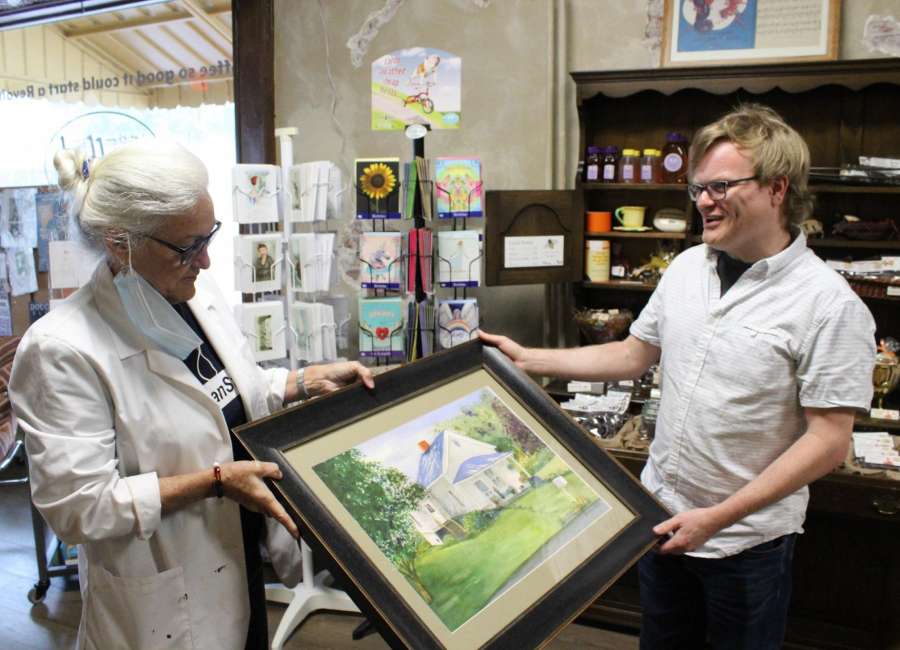 Newnan resident Jonathan Dockery received a surprise gift, a painting of his home that was destroyed during the March 26 EF-4 tornado, from Phyllis Graham, owner of Let Them Eat Toffee.
Dockery said he had lived in the First Avenue house exactly one year before its destruction.
Winds from the tornado blew a tree into the home and split the foundation, Dockery said.
Graham said she and her husband, Kerry, lived in the same home when they first moved to Newnan several years ago. A fig tree in the backyard is the inspiration for one of the items in their toffee shop.
The gift is a giclée, a high-quality print, of a painting by Martha Parish, Kerry Graham's aunt.
"He loved that house, and after the tornado, he couldn't really even talk about it without crying," she said. "I think he'll appreciate it, and it's not about us; it's about sharing goodness, love and talent."
Dockery was surprised when he received the painting. Graham invited him to her store without telling him about the gift.
"I had no clue. I was here for another reason," he said. "To have this in a watercolor feature is beautiful."
After moving into the home early last year, Dockery said he learned about the house's 110-year history. To honor it, the reconstructed home will resemble the original construction.
"I'm trying to restore it back to the way it looked with the white paint and characteristics," Dockery said. The construction should be completed by early October.
According to Dockery, there will be a few changes to the home after the rebuild. Some extra space will be added, and the bedroom will be moved from the front of the building to the back. It will also feature a storm shelter.